Timelapse #5: Digital painting of islands and skies
MITO HORVAT
---
With the whole world being redesigned, the floating islands that are in current state quickly became obsolete. This is where I come into play. I have painted a concept art with the new world that is currently in the making. A huge surface "island" filled with various biomes we developed in the past. It's cluttered with man-made assets and huge craters that will explain why there are numerous floating islands in the sky.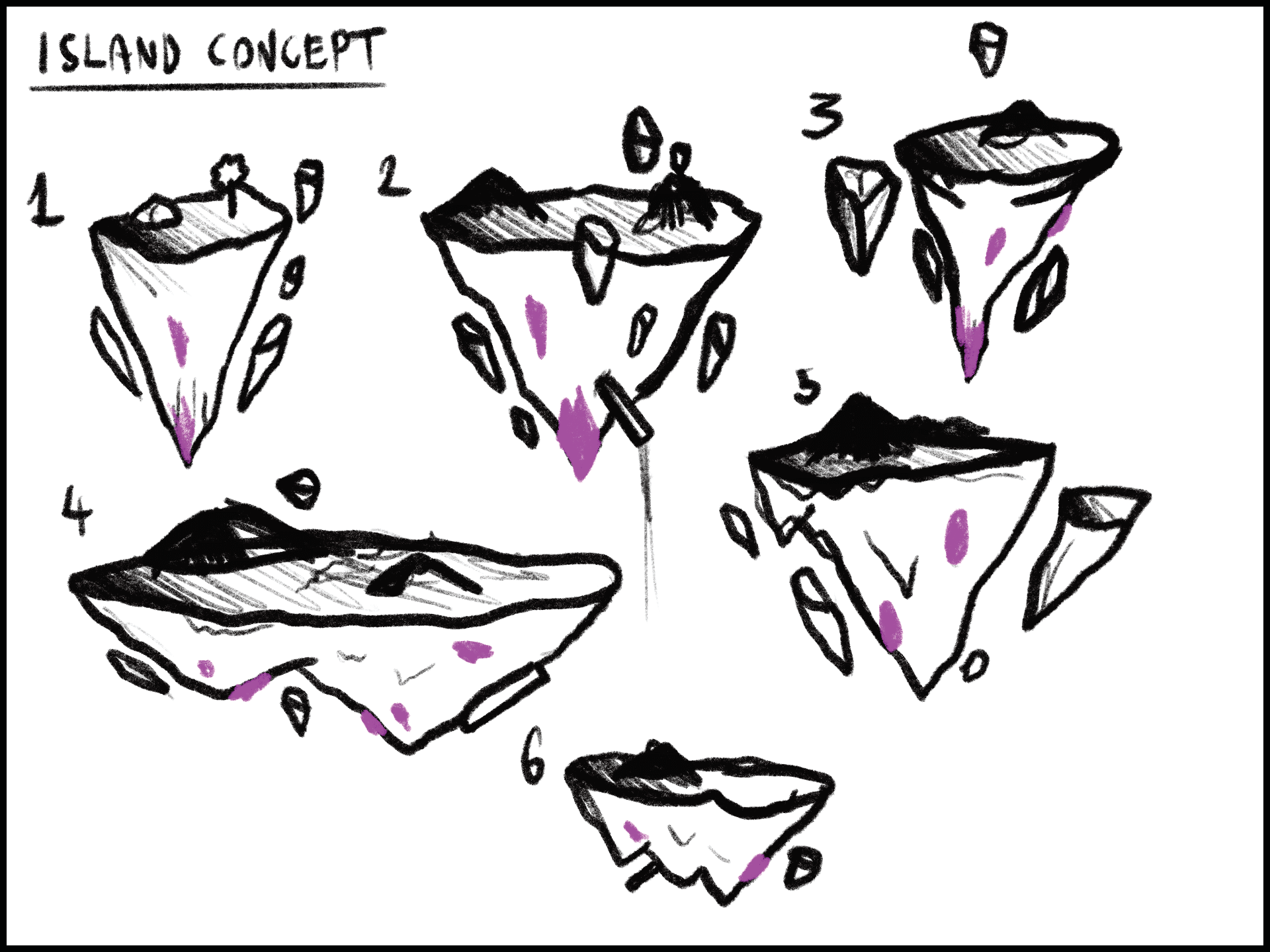 The purpose of the concept painting was to try to fit in the new island shapes that will soon be modeled by Andrej. Domen gave me a lot of freedom, so I explored various shapes and sizes that would somehow fit in our game. Since there aren't many islands on the painting (the game would definitely require more), I drew a bunch of concept sketches from different perspectives so we can handpick the appropriate shapes that will then be modeled. These new islands will have their own special flora, that's why my next task is to figure our what would fit on these islands.
RoboDog
ANDREJ KREBS
This week I made some more animations for all the functions the companion will need to fulfill. There are now animations for mining, healing and showing the inventory.

After that is started working on the robo-dog and made the animations for him. This will be another robot critter, similar to the sphere robot.
More on Floatlands Resources Helper
DOMEN KONESKI, TADEJ VRANEŠIČ
Me and Tadej continued with the work on our Item managmement application where you can easily edit every aspect of an item (or even add them). Item data gets stored in a large JSON file which will be loaded by the main game. There will be a lot of settings to play with, from World settings, Item definitions, Item bonuses and qualities, Loot drop tables, Crafting recipes and more. This tool is also a minor step towards modding the game, but more on this later.
Reducing loading times
VILI VOLČINI
I continued my work on optimizing terrain generation, to be more specific, foliage optimization – spawning grass, bushes etc. Right now the whole scenery takes about 1 minute and 30 seconds to generate. My goal is to reduce that to somewhere around 20 seconds. We don't want the players with less capable computers to be too influenced by the loading times.
Floatlands interview on IGDB.com
BLAŽ DROBNIČ
You may have noticed that we post Floatlands updates on multiple platforms. One of them is IGDB (indiegame database) and they are introducing their own blog. They were kind enough to feature an interview about Floatlands – the story behind it, our team, goals and much more. Head over there and have a read!