CRASHING BUG!!!
Im uploading a patch and a new installer today, but anybody who crashes in the laboratory ending with the barrel, for now do this:
"use" the barrel while you are IN monstervision.
Deeply sorry about that, I thought I got rid of that bug, but now I´ve made some major changes to the logic there so it works for granted... Sigh, what a letdown. The part after the rooftop is pretty wicked, my fave, so its worth a check. Edit: Here´s the patch.


Download links:

We made it, whoo!! Click HERE for the installer, or go to downloads. I´ll update this news post along the day when there are more download mirrors and such available.
Older Computers:
Also, I´ll release an "old computer" patch later on today, and update this newspost. Its so that the excessive use of particles doesnt kill a few older computers. So yeah, keep checking here. Edit: Added the older computers-patch
Other ramblings:
There´s ALOT of stuff going on behind Flesh right now, so this will definately keep me busy for a few days... expect more updates and rants here in the mod profile, as well as some other websites. Also, later on, I´ll make an version 2.0 where I take hearing impaired in notice (subtitles, more visual clues) Sorry for not being able to get that stuff in this initial release. But yes, there´s some cool stuff coming in a few days (or a week).
Oh and dont forget to vote on Flesh in MOTY competition this year. I promise CHANGE!!
So yea, while it download, or after you´ve tested it, I hope you´ll scroll a bit upwards and click the "vote" button somewhere above this article. Thank you in advance.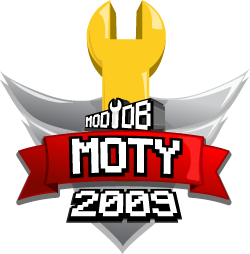 Enjoy the holidays, have alot of presents, good food, and fun with this mod!
-Henri