Hello everyone!
It's been quite some time since our last update, apologies for that. Quite a few things have changed with Flagship and we were holding off until we had something concrete to show you. Unfortunately things haven't fallen into place yet, but with it being over a year since our last update we thought we'd better post something anyway.
Game Scope
Firstly, we have decided to further reduce the scope of the game. While we're well into our fourth year of development this has always been a spare-time project - and that spare time has become scarcer with each year while the demands of the project keep growing. Despite putting a tremendous amount of effort into it, the strategy metagame was not coming together in a way we were happy with. Strategy at a galactic scale requires more depth than our '4X lite' approach could provide, and the menu-surfing nature of managing your fleet and economy was at odds with the faster-moving tactical combat, not to mention a bad fit for VR.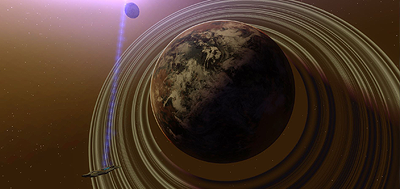 Factoring into this decision is the fact that space games are far less niche than they were when we first started work on Flagship; 4X especially has seen many good releases in recent years with many more on the way. Compared to these titles Flagship would likely be regarded as a weaker attempt at a 4X, and this assessment would probably be correct. So where does all that leave us?
Authored Missions
The very core of Flagship, the tactical capital ship combat with RTS-like control of a small fleet is more or less unchanged. But we're switching to a more linear, mission-based approach. This may come as bad news for some, but it comes with quite a few benefits. Firstly, it will allow us to get this thing shipped sooner. It allows us to really drill into the ship-to-ship combat, which up to now had been left underdeveloped while I focused on the strategy metagame and the various systems and interfaces that allowed players to move seamlessly around the galaxy. The more linear format also allows us to tell a story, and while we can't promise anything too epic (we really don't have the budget for it) the hope is to deliver a fairly interesting set of missions, each taking between 10-20 minutes to complete. There will also likely be a skirmish mode, and we're hoping to ship the game with a mission editor that will allow users to author and share their own missions and campaigns.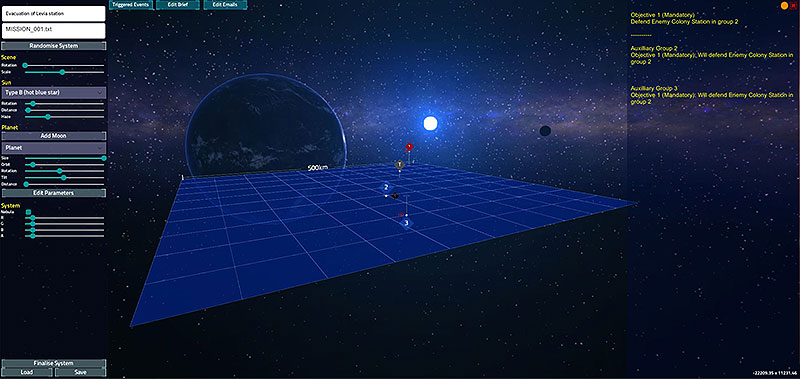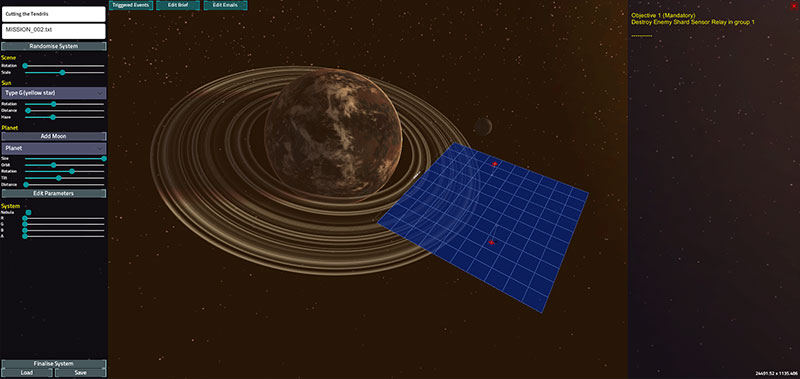 So where's the strategy?
The strategic component of the game now takes the form of a pre-mission planning table. This allows you to organise your fleet into groups, give each group preliminary orders and plan out the battle before it begins. Once you command your fleet to execute the plan, you can still command each group but if left alone they'll carry out the orders given to them at the planning stage. This is the last piece of the puzzle for us and it's something that's still at the design stage, so we can't really go into great detail just yet.
Input devices
We started development of Flagship at the very beginning of the VR revival and for a long time there wasn't a standard input device, so during the first years of development I was developing Flagship to be played with a keyboard and mouse. We expected motion controllers to become the standard and remapping mouse inputs to motion controllers seemed like the way to go. Those who have kept up with VR will know that while motion controllers pretty much are the standard, the HTC Vive is the only headset that actually ships with them included. This meant that Flagship had to work with 'gaze control', which in turn meant that the standard RTS-style map table needed to be scrapped and replaced with something better.
The Tac-sphere (working title)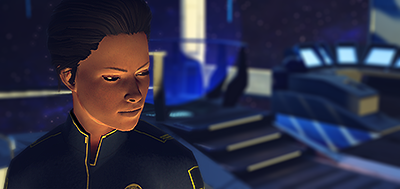 The tac-sphere is a podium that when stepped onto gives you an augmented reality overview of the battle. From here you can order your ships by group and track the movements of enemy groups within a planetary system. This is also where you'll be selecting targets for your own ship to fire upon, as well as manually firing weapons, launching countermeasures, performing evasive maneuvers, controlling power distribution and more. It's a bit more intuitive than the original map table and works with either a gamepad or motion controllers. It's even playable with just the Oculus remote.
Flagship is designed as a room-scale VR experience, and though it won't require a large playspace (one square meter should be fine) it is best played standing because threats will come from all sides. We are of course aware that not everyone is able to stand, and not everyone wants to, so we are doing our best to develop the game so that it can be played seated as well. For those planning to play the game without VR, it still works just as well on a normal monitor with keyboard and mouse, so a VR headset is not required to play.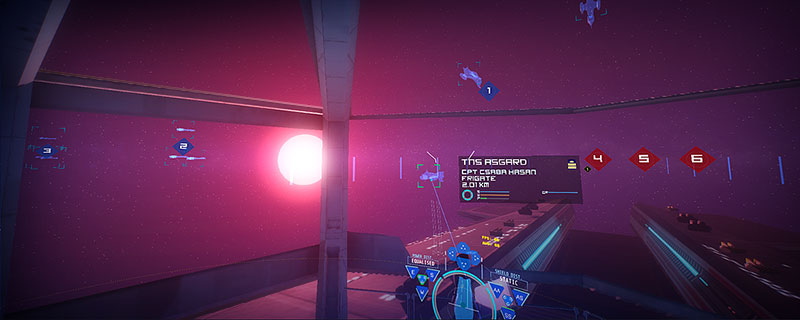 Voice Attack Support
We have often been asked about adding voice commands to the game and voice attack support is a commonly requested feature. This was previously impossible because of how the game originally played, but when developing the new tactical interface I bound each command to a different keyboard shortcut and have created a voice attack profile to go with it. This means that if you have Voice Attack you'll be able to just load up the Flagship profile and control most systems with voice commands. We can't promise everything will be covered (complex actions like group management and other strategic decisions will probably still require standard input) but most commands are supported.
Ahead Full
In summary, despite some hard cuts things are going well. Most of the game mechanics are locked in (with the exception of pre-mission planning), the game is hitting a respectable framerate in all but the most heavy combat situations and everything is starting to come together nicely. There is still a lot to do though, the UI needs a lot of refinement, missions have to be designed, crew dialog written, voices and music recorded, balancing and lots of other background bits.
Since so much has changed over the last 12 months a lot of the information currently out there is now out of date, as such we've rebooted the website and de-listed some of the videos from YouTube. News posts and image dumps probably won't be frequent again until we get closer to a release, but rest assured we've worked incredibly hard on this over the last 4 years and we're still fully intending to see it through to the end. I do post snippets on Twitter every now and then so follow me there if you want to keep an eye on things. For those not on Twitter, I'll post the most important tweets on the website (flagshipgame.com). It's possible we'll run a limited early access campaign though itch.io prior to our full release, if you want to get involved with that sign up to our mailing list here as those are the people we'll be contacting (Kickstarter backers will probably have first refusal).
Until next time, take care and thanks for your continued support.