Hello everyone!

Wow, it's been 4 months since our last update, that went by awfully fast. We knew updates would be slower but I didn't plan to leave it so long. TL;DR: We're still hard at work on Flagship.

Refactoring/optimisations
A month or so into my work on the core game systems I realised the current code wasn't really going to support what needed to come. Flagship started out as a rough prototype, and all the work done since then has been retrofitted onto the original code. By the time we ran the Kickstarter we had something of a vertical slice, but the code was inflexible and getting increasingly difficult to work with (also known as spaghetti-code). Sorting all of that out has cost a few months, but the game is in much better shape now and performing better than ever. It's also laid the groundwork for reading in game data from external text files - which not only makes localisation a lot easier but also means modifying unit, weapons and faction stats is just a matter of editing the appropriate file.

Core game
As for the core mechanics themselves, resource management is a lot more fleshed out and the system now keeps track of the human population, food, water and metal across the galaxy. Metal is required to build units (we may rename that to something more generic), while food and water are required to keep the human population alive. Each planet and station will have its own requirements that grow with the colony. A percentage of the human population will join your military, so keeping your colonies happy will be important (conscription is an option for those that aren't). At the moment resources have a flat percentage per-planet (based on planet type), but we're working on the probe system that will allow you to find richer deposits of ore, more fertile farmland or underground lakes etc.

Combat is coming along too, we're not quite ready to talk about how it works yet but we're keen to move away from the standard RTS paradigm of moving units around a map and hoping you've got more guns than the enemy.

Overall there's still a lot of work to do, but things are starting to click into place and I'm really pleased with the progress we've made.

Unity 5
I don't think we ever formally announced it, but we moved to Unity 5 a few months ago. There are various benefits to the latest version of Unity, but I'm most impressed with the new Global Illumination and physically-based rendering systems. We aren't making full use of either at the moment, but the game already looks much better. In the past I had to fake bounced light by setting the global ambience value, whereas now the ambient light on the bridge is automatically affected by the surrounding space.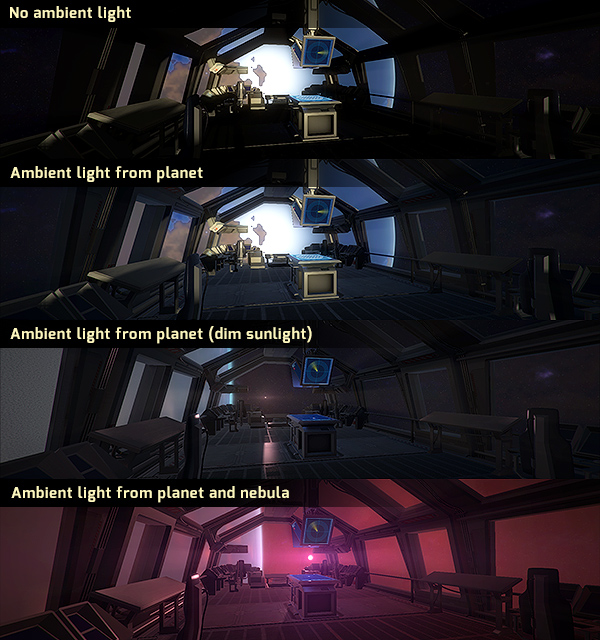 The top image is with ambient light turned off, this is roughly how it would have looked in Unity 4 (I say roughly because the screenshot was actually taken in Unity 5). The others are examples of the new physically based rendering in different environments. Unity 5 also has better physics performance, built-in support for VR and an integrated UI system that's the best I've ever used. Speaking of which;

UI improvements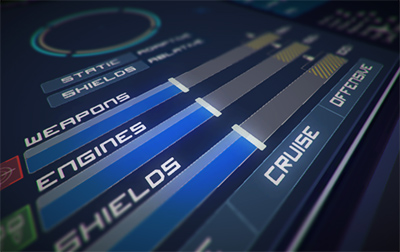 The old UI has been ported to Unity's new system. It's a lot more efficient than the system I was using before and does pretty much everything we need right out of the box. We're still roughing things out, UI design is a tricky business and the fact that we're operating in world-space presents some challenges. Luckily, a benefit of the new UI system is that we can dynamically switch between world-space and screen-space, so those not playing in VR will be able to view any of the in-game UIs fullscreen if they want.

The current state of VR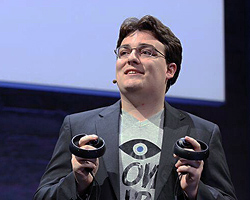 You may have heard that Oculus formally announced the consumer version of the Rift, due for release early next year. More importantly for us, they've also announced their input solution, which for us was a pretty major piece of the puzzle. We're currently using keyboard and mouse input, which works okay but isn't ideal for VR for various reasons. Luckily Oculus will be releasing motion controllers in the second quarter of 2016. We're yet to try them ourselves, and there's no word yet on a developer kit, but I'm fairly certain this is the input solution we'll be using for VR. Using hand gestures to manipulate the map and interacting with the world using your hands is what we've always wanted for Flagship.

We had previously planned to integrate the Sixense STEM system, but due to various unfortunate setbacks they still haven't shipped any hardware and it looks like they won't start shipping until late November. We're still keeping an eye on it though. Potentially it could still be a great input system, but with the exception of OSVR, the major VR players all have their own motion controllers and it's hard to see how the STEM fits into that ecosystem.

I'd just like to reiterate at this point that you won't need a VR headset or any motion controllers to play the game, we're designing it so that it can be played with a normal monitor using a keyboard and mouse.

Moving forward
We still aren't ready to talk release dates, but we are aiming to release something to coincide with the release of the Rift, providing the game is good enough by then. I think we're still on target for that, but game development is unusual in that the workload grows exponentially the closer you get to the end. We probably aren't going to be sharing many screenshots or videos for a while, partly because we're still pinning down our final art style (most of the art assets that you've seen up to now have been placeholder) but mainly because we're saving it for the runup to release.

We'll try not to leave it so long before the next update, but rest assured that Flagship is still being made until we say otherwise. As always, we really appreciate the kind words and support we've received over the last few months. Until next time!