STEAM UPDATES - Store.steampowered.com
Hey guys,
Holidays are almost here so it is time for some new updates!
We have been seriously considering all your comments and suggestions and came up with some new features that we hope are getting the game closer to fulfilling its potential.
Although there is still space for improvement, we feel that these new features do bring a significant change to the game.
Without further ado:
NEW FEATURES
Graphs Overview
By pressing the Graphs overview button in the lower right corner, now you can get the overview of all the important information of the flow your current game. Try it, tell us what you think!
This new feature helped us a lot to steer further development in the right direction. It took a lot of effort to implement, and left a little less time for balancing and proper explaining of the new features, but bear with us, these things will be addressed with upcoming updates.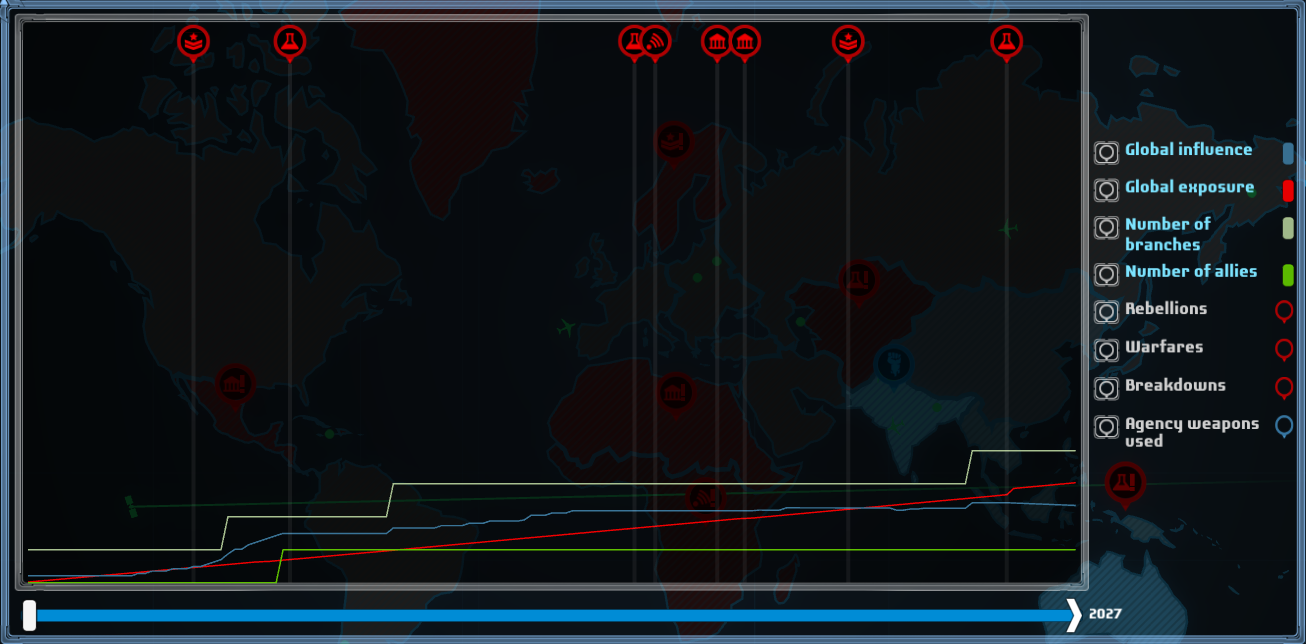 Monthly production overview
By hovering your mouse over the Resource Overview bar in the upper left corner, now you can see how much resources you are collecting every month. Very useful!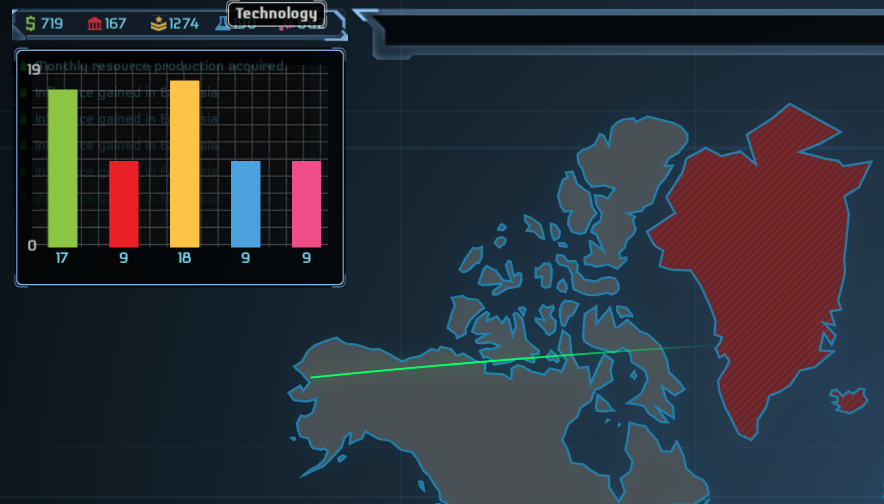 Operational Balance Sheet
Costs and profits of operations can now be seen in the Regional overview in operation description.

CHANGES
- Update tree got some love, upgrades are doing what they should do
- Breakdowns, Warfares and Rebellions now kick your exposure quite violently, beware!
- Breakdowns, Warfares and Rebellions duration and effects have been rebalanced
- Global exposure now CAN'T be lowered beneath the last Global Exposure threshold you reached anymore
- Allies are a bit harder to get, and harder to lose, and will earn you a bit of influence
- Agency Super Weapons have been slightly rebalanced to fit new gameplay
FIXED
- Fixed Rebellions and Agency Weapons loading from a saved game
- Fixed multiple issues with a refreshing regional view upon focus change
- Fixed multiple UI bugs
This update is applied to both the default and beta branch and since it brings many changes loading your old save game might have different results than expected.

We also implemented some new stuff that isn't localized yet so if you spot any discrepancies in the text and gameplay please let us know.