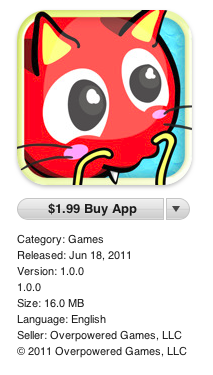 Download it here: iTunes Link (iPhone and iPod Touch -- iPad coming soon!)
The day has finally come! Here's to hoping all this hard work I've put in pays off! Regardless of how well it does, I'm sure it'll be a valuable learning experience going forward. What can you do to help? Tell your friends! Post it on Twitter, Facebook, or wherever else you share things! Rate it on the App Store and write a nice review :) -- word of mouth can help immensely!
I'm obviously super excited to see how the game is received -- I hope everyone enjoys it, but I'm also eager to get feedback so that future updates to the game reflect what people want. This website has a contact thing at the bottom you can use for now, but I'm also going to try and get some forums up and running soon. Staying in close communication with the community will be a top priority for me -- I want to know exactly what features people are requesting.
I've also decided that I'll be sharing sales info going forward -- I hope to be a valuable resource for the developer community by posting about my experience with the App Store, how I try to market and make my games, etc.