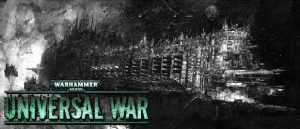 Our next big step towards completion of this mod, we have our first and second textured models! Thanks to gilly6666 on this nice bit of texturing, especially as his first ever texture to a 3D model, i must say im impressed. Here below you can see the New Chaos Hellblade Fighter:
And our the just completed Chaos Talon Bomber:
Over the coming weeks these models will each receive FOUR more textures for that unique look.
Thats all for now anyway, remember to keep checking back for more details and visit Warhammer40kuniversalwar.foren-city.de for future news and maybe some behind the scenes snippets of info on the forums. The best place to discuss the mod is on our forums as this is where all the mod members check most frequently and will be able to answer any questions. If the forums look dead, its because you havent registered there yet.
---
WH:UW Team!