Hello everyone!
First of all I would like to apologize for no updates in the past months but I was very busy and it was hard to keep all the social pages updated. You can check my development blog for all the past updates. I'll keep you updated from here on.
First of all I would like to start with the cool stuff to get your attention.
---
First official teaser trailer
(released few days ago)
---
~ New website ~
If you visited my webpage in the past you know it was a really humble one. Now, with the new video released I had to update or better said - remake the whole website. You'll find everything you need to know about the game including the support section where you can help me spread the word about the game. I invite you to visit www.courierofthecrypts.com.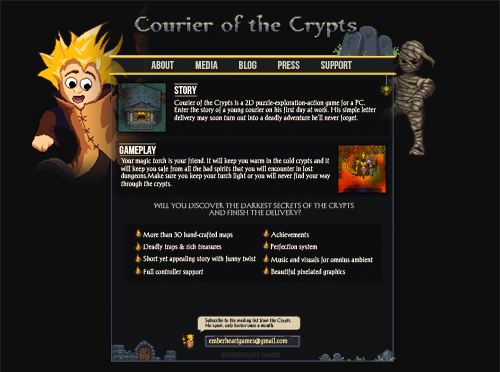 ---
If you didn't check the trailer then let me tell you - game will hit Kickstarter and Steam Greenlight very soon so if like this game and want to support me all the way, be ready and stay tunned.
That's it for now. I'll leave you with that and make sure you get fresh updates regularly from now on.
Comments and critics (constructive) are more than welcome :)