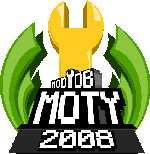 The results are in, and we're happy to announce that First Strike came in at fourth place in the 2008 Mod of the Year Awards in the Player's Choice: Mod of the Year category. The competition was stiff in a year which has been very strong for the modding community in general, and the winning mod this year was Project Reality. Congratulations to them and all the other teams who made it to the Top 10 Mods of the Year.
We here at First Strike would like to express our deepest thanks and appreciation to all of our loyal community members and everyone who voted for First Strike this year. Placing so well really means a lot to us, and helps make all the work and sleep deprivation worth it. We wouldn't be able to do it without your support.
To see the complete list of results for the 2008 Mod of the Year Awards, click the following link:
Once again, thank you for your support and dedication to the mod. We hope to make 2009 even better with exciting new content (including the ever popular Battle of Hoth), and improvements across the board.
See you on the battlefield!