South of the Grande Orieades mountains, there lies a vast desert land, mostly unknown to Anderian people. There's a reason for that: those regions are occupied by hordes of monstrous creatures - enemies of mankind.


Day and night, our brave men at arms defend three key mountain passes from their constant invasions. From the reports we've gathered, they seem to have evolved from mere reptiles into nearly human forms. A specialized group of scientists that was sent to accompany our soldiers on-site figured out that they (lizardmen) divide into two subspecies: Scarrlings, smaller than average men (also very agile and hard to hunt down from long range from what I've heard), and 8 feet tall Scarres of rock-hard skin and inhuman strength.
Here's a rough sketch of a Scarrling, possibly a scout, based on Captain Coryn of Ironwolves' description: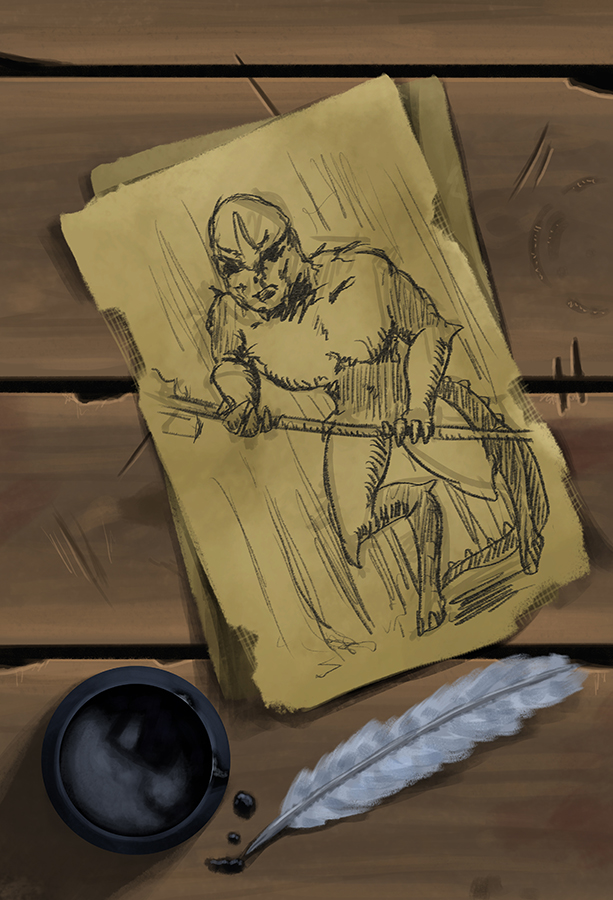 We have yet to have a chance to interrogate one of them, but so far we've figured out that they live in tribes and seem to be following some kind of powerful sorcerer called Harla Khar (I am not sure how to spell it), though he doesn't seem to be leading them, you know, contrary to how Mountain men see their king - he's trying to lead them but only those that want to follow him. Anyways, that Harla Khar, is the same guy that was involved in, what we call, 'the Trigoths' incident'.
[…]
Senus – 'Introduction to Scarres'
Using the technology they've developed, Scarres have mastered close-range combat. They are very efficient when using both thrown weapons and a wide range of axes, blunts, spears, and gods know what more. Their versatility comes from their varied physique that divides the race into two subspecies – small and agile Scarrling as well as big and muscular Scarres. Their troops are lead into battle by cunning Scarrling shamans. Their magic consists of rituals supporting their troops and offensive single-target debuffs.
More in-depth description of Scarre units: