Shop Keep
Let's try and put this in simple words. We all been there, buying potions, some general goods to go adventuring in all our favorite RPG games. Have you even thought if the work that poor NPC does is hard? Some have, some not so much. Now you got an opportunity to delve into the shoes of a merchant NPC running his own shop for all kind of adventure's all mages and warriors alike.
"Drop the N in NPC"
Progress
As of now the state of the game is that we are able to run a special developer build in which we can customize every single aspect of the games features, from how many customers will be walking around outside, down to how long the delivery of items takes. We are still not happy enough to release a demo or an alpha build at this stage, but it is very very close, as all the functionality and mechanics are in place and working flawlessly, we are pushing everything we got into the visuals, new textures and more items to sell at the moment, as we have a pretty small Database of items, but with it being very dynamic - it is very easy to make new items that fit your functions for now, so the database of what you will be able to sell will be growing every update, at least that is the plan. What will you be able to do in the alpha? It will be pretty basic, a showcase of what to expect int he future, you will be presented with a prebuilt shop containing shelves, pedestals, counters and tables to display your goods, you will be able to browse trough a list of items and find which you like or can afford to sell at this stage, wait until the order comes, and start placing stuff for customers to look at, this is a free play mode, that will get out of hand pretty fast when you will be flooded with customers so eager to spend their gold!
A small campaign will be presented that will span over 1 week, and you will be presented with specific goals for each day, such as sell a specific amount of mana potions, another day would be make this much gold with a tip that a guild of priests are in town (Stock up on some holy water and some staffs then eh?) and so on and on.

Ordering
Ordering is done in game via a special scroll that you carry around with you, just browse, click to add, and order! Simple enough?As of now we haven't decided of the way you will be presented with the goods you have ordered, for now when the order arrives it just Poof's into existence in the storage room, we are thinking of having special upgrades that will speed up the arrival time of orders and as well will change the way you receive them (Getting an order trough a portal seems a pretty fast way of getting it compared to a carriage)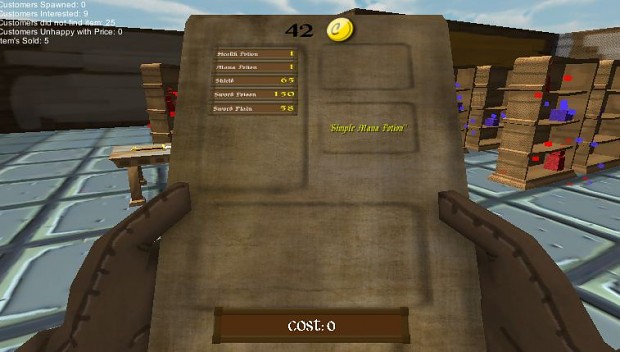 Placement of products
A shield will not fit where a small potion vial fits right? Some items will have to be placed in special counters, special shelves, pedestals on any other display case in order for customers to see them, all items have their physical properties that will determine where they fit in, in order to help ease in the gameplay for the player, whenever you have an item equipped all of the possible places will be highlighted. Before placing an item you have to set the percentage at which you will be selling the item, keep in mind, not all customers have enough gold with them or like over inflated prices! This will be your choice to maybe sell some items as wholesale or even cheaper when needing a quick gold influx into your treasury for the future, or just be a bad person and sell everything you got for 20x times their worth (Someone might actually buy it!)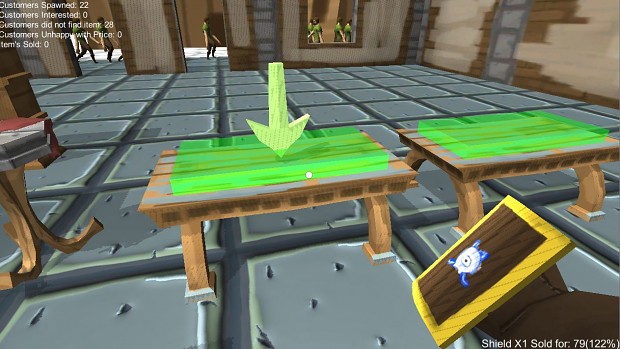 I hope not all of you said to yourself or others TL;DR as we are working to bring this game into the light very hard, so much will power was put into agreeing to show what we got as of now, we are perfectionist and everything you all see in the screenshots are highly WIP ranging from meshes, to textures, we will not be surprised if after a month everything will look like something brand new, but under the skin still the same game. Many now will put a big question - it seems slow. Every person who has had the chance to try out the prototype thought the same after reading a small summary we have put up, but the next message from them came after 4-5 hours, the game is highly addictive even in the early stages, it hooks you in, and does not want to let go, even while there are no goals, just gameplay, imagine it when we put up campaigns, scenarios and even later on Quests. We thank you for your time reading this, we are very excited to bring more news in the near future!