We're here again! Happy New Year to all!!
As I said in the comments of the other news ... The tests are delayed, I'm a perfectionist and the terrain is not yet finished. This week we will be up again images, some video, etc.
A new and more detailed summary. It is a good summary, although we must properly explain in detail, because the game is a lot more expanded.
My thought is establish a persistent region, no world. We are not so many to make a world, rather a tiny territory with few villages and some castle.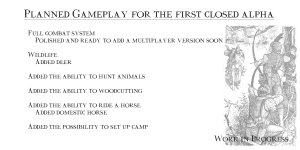 In short, what this picture shows, expanded.
---