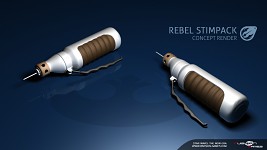 Thanks for participating in our second community voting! Again, we have a winner which is now being implemented in the game. Concept art #3 won with an infinite improbable count of 42 votes.
After adding the stimpacks, you might have already suspected that we're busy building the gameplay mechanics right now. After showing you our environments, player and weapon models for quite a while, we can now show you the first actual gameplay footage from CTF Deathstar and VIP Tantive IV. Yes, that's right: The first release of TNE will feature both CTF and VIP Escort mode. But our system is built to allow for a wide variety of map-specific objectives that will also allow you to create custom levels that are only limited by your creativity.
Check our gallery for the first few shots.
---
As we are approaching the Pre-Alpha version of the mod, we're in need of partners who are interested in helping us test and providing a Windows server for doing so. So if you're running a clan or gaming community and are interested in a closed alpha program, don't hesitate to contact us through contact [/at/] invision-games.com!
We'd also like to thank G4B2S and be good or be gone for their support!