Hello and welcome back to another update of Forgotten Hope. Today we are showing off not only two new armored vehicles, but a class type yet unseen in FH2.
First up we have a variant of the British Universal Carrier; the Wasp Mk IIC, and with it we are happy to introduce the flame tank, or in this case, flame APC to the world of FH2.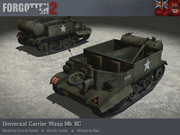 The Wasp was nothing more than a Universal Carrier modified to carry a Ronson flamethrower. The Mk I carried the fuel tank in the rear compartment of the vehicle, with the flamethrower in a fixed position. The Mk IIC version had the fuel tank moved to the absolute rear, and the projector placed in the co-driver's position. The original model was done by Omni, Toddel, and Rad, with the Normandy skin and flamethrower add-ons done by Toddel.
Next on the list we have another StuG variant. This time we have the early version of the Sturmgeschütz 40 Ausf G.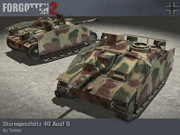 Early models of the StuG were designed to support infantry in destroying soft-skin targets and bunkers. After the KV-1 and T-34 tanks were encountered on the Eastern Front, a high-velocity 75mm StuK 40 L/43 gun was placed on the Stug III, along with a single Mg34 on top of the superstructure, and thus the StuG 40 was born. Later variants of the StuG 40 (like the one late-war version already in FH2) mounted a StuK 40 L/48 gun and an additional coaxial Mg34. Around 9,400 StuG IIIs were produced. The Sturmgeschütz 40 Ausf G. (early) was made by Toddel.
That's all for this week, but be sure to come back next time for another update. Until then, feel free to visit our IRC channel and our public forums to discuss this update and other news.