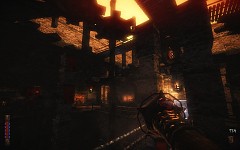 After a lot of hard and silent work I am proud to announce the final free release, on July the 1st, for Grimm:Quest for the Gatherer's Key as Doom3 mod before it goes standalone.
This will be a full SDK release, meaning that most game scripts have now been hard-coded into the game DLL code. That means a lot of advantages and extra features over the previous releases. It will include a lot of new and customizable options to enrich Grimm with features to your heart's content, such as automatic checkpoints and several options screens where you can tweak nearly every aspect of the game and performance settings. You can configure the level content to include more or less mapmodels and details, you can have dynamic paint on walls or turn it off if it disturbs you. I made everything that 'could be' configurable available in the options screens, so players can decide for themselves.
But there's more, having had access to the code I was able to implement a lot of gameplay tweaks that translate into the weaponry and how they work. Everything is more balanced now and I removed several (simply odd) script hacks so all weapons now support true alt-fire capability. You can also make several weapon combo's with the Scythe. It's alt-fire capability allows you to charge a huge attack that kills most nearby enemies, but you need to time the attacks perfectly for them to work. Most of this was said or hinted upon in previous news items, but I just wanted to confirm these things today.
I was thinking to add 'fumble' combo attacks to the hard and hard+ modes in Grimm, so that when you lose the timing you might fumble the attack, hurting yourself, what would you think about such a feature in Grimm? Do you have any other suggestions in terms of weapon features that you would like to see implemented in Grimm? I'd love to hear your suggestions!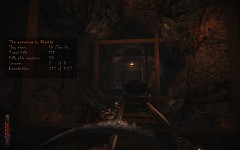 The final 'Doom3 mod' release will include 6 full campaigns, if you play them 'completionist' style this translates into about 3.5 hours. (It took my nephew 4 hours to complete the entire campaign). There's some replay value too, if you want to see everything then you'll have to most likely play the campaign twice to experience all paths and gameplay, especially if you took short-cuts. The secrets and breakables counter will keep you informed of your progress.
Finally, I wanted to ask any Linux or Mac user out there with the capability of compiling C to drop me a line. I intend to release this again 'Multiplatform' meaning that it should run on Linux, Mac and Windows, with respective releases. Sorry it took me a while for this newest update, there have been some crazy things positive changes going on in my life which simply made me put the sparse, spare, time that I had into working on Grimm.
Follow Grimm on twitter!

Twitter.com