In the push from alpha to beta, we've addressed all sorts of bugs, taken encryption out, put encryption back in, added more case types (including, yes, an arsonist who needs to be stopped) but the most immediately visible changes are probably the completion of the event graphics and collectible features.
All the CGs are now complete and there's an album available after completing the game to browse what you've seen so far: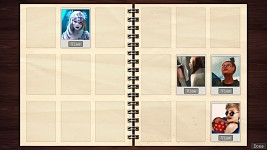 The checklist of optional achievements to guide you through exploring some of the weirder or more difficult parts of the game: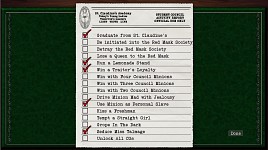 And the jukebox to play back music tracks.
The one feature which is still missing at this point is the proposed mode where you could create your own minions and run through random cases without an overarching plot. While this is still something we want to do, I'm currently thinking it will not make it into the first release and will instead come as a free update post-launch. At this point in time I think it'll make for a better product if we keep all our attention focused on story mode and getting it in the best position for launch rather than managing two related-but-different sets of bugs at once.
Which doesn't mean we're not thinking about it at all - the latest update to the tutorial includes using random students as minions, which is an important thing to have working in order for plotless mode to come about!
So for now, the game is just the story mode, covering Elsa's senior year and all its possible outcomes. There's plenty to see and do there, but when eventually you start running out of things to try in the main game, we should have the new mode coming to extend replayability.
Which brings me back around to - beta testing! The game's forums have now been opened up to public view, and anyone interested can buy into the beta without having to become a member. As a beta-tester, you get to buy the game at a discount and you receive a license key to keep downloading new update patches as they come out.
Are you ready to solve mysteries?