Its all coming together...
After working for months, constructing AI, online architecture, assets, scripts, etc, I'm finally at a point to put all the pieces together and see what happens!
This last week saw a lot of new functionality in place, such as an expanded security system, improved spawning for enemies, and neutral mobs that either provide dialog and insight, or just go about meaningless tasks by themselves. (Miners so far)
I've beefed up the appearance of the security system (below) and have set about making the imperial base with plenty of sniper blinds and lock box areas for AI. Bases will be very difficult to penetrate but it will be necessary to unlock shuttle travel.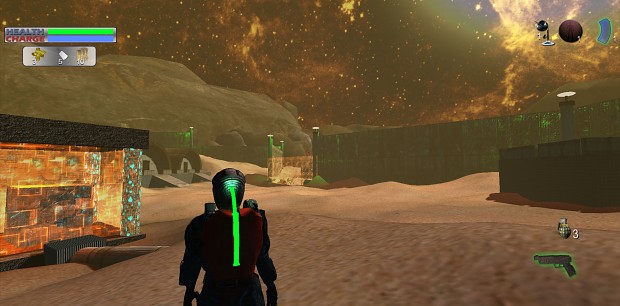 Additionally, anyone who is familiar with the oldest version of this game remembers the cavern system that was in place. Caverns are a great place to explore and find loot, and have always been where you would find the majority of the clues about your past, but with the advent of the Island Architecture of this asteroid field, I decided to use the caverns to take you other places as well...
Along side the chains which connect the islands, are long, exposed ramps which allow you to run from Island to Island. Because this game is open world, you should be able to run, on foot, anywhere you want, without having to take a shuttle or a drop pod or teleport (which is unlocked later).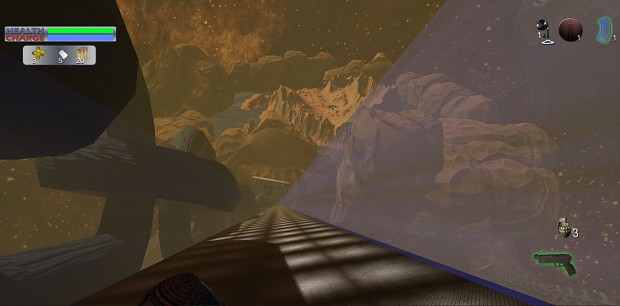 I'm undecided as to the particular dangers of this run, whether its crawling with enemies, or a wrong jump will dump you into space or if its a gauntlet of asteroids, but rest assured, it won't be as simple as just sprinting to the other end. (If you have any ideas, please leave them in the comments section!)
Finally, a lot of work was done with loot and chests and dialog. Check out the video for a quick run through of the new map!
ps. Some folks have reached out to me asking about the UI, and I can assure everyone, the UI is the last of the placeholder assets I have. This weekend I'll be switching the UI and creating some new, customized weapons to show off. (I needed the loot system done before I brought the new weapons in)
New features this week:
- Dialog with AI.
- Neutral AI with tasks
- Improved Security System
- Connected Cavern System
- Outdoor inter-island run
- Upgradeable Kick strengths (light, medium, heavy)
- Upgradeable bullet strengths (light, medium, heavy)
- New UI page that shows player stats
- Ability to exit the game properly (heh..)
- Auto resize UI to fit resolution
New Video!