Fictorum is now in beta!
After just over two years of development, we have finally reached beta and we're incredibly excited! We put together a short trailer summarizing some of the work that we've done in the past months.
We've also gotten our Steam store page set up. If you like what you've seen, consider adding Fictorum to your wish list!
Fictorum 0.9.0 Major Changes
New Tutorial
We spent some time overhauling our old tutorial level. You can check out the changes in the vlog with Greg.
Shaping Improvements
We've made some serious quality of life improvements to Spell Shaping we think you'll love.
Shaping can begin when not casting a spell
Holding the Shaping hotkey will automatically start the selected spell and open the shaping menu. Releasing the Shaping hotkey will maintain the spell and allow for aiming as usual. Releasing the Cast hotkey will release the spell.
Shaping now behaves much better for gamepads
The cursor has been redesigned to work much better for a joystick, leading to a much smoother and responsive feeling
Movement can control spell shaping
We've had a few requests for this and we wanted to make our players happy; selecting "Use Movement for Spell Shaping" in the options menu will allow you to change the axis used for shaping, which will allow you to shape and aim at the same time!
New Bandit Buildings
Leif just finished designing a new kit for our bandit structures! These haven't fully replaced all of our old structures, but we plan to create more and replacing the old kit in version 0.9.1.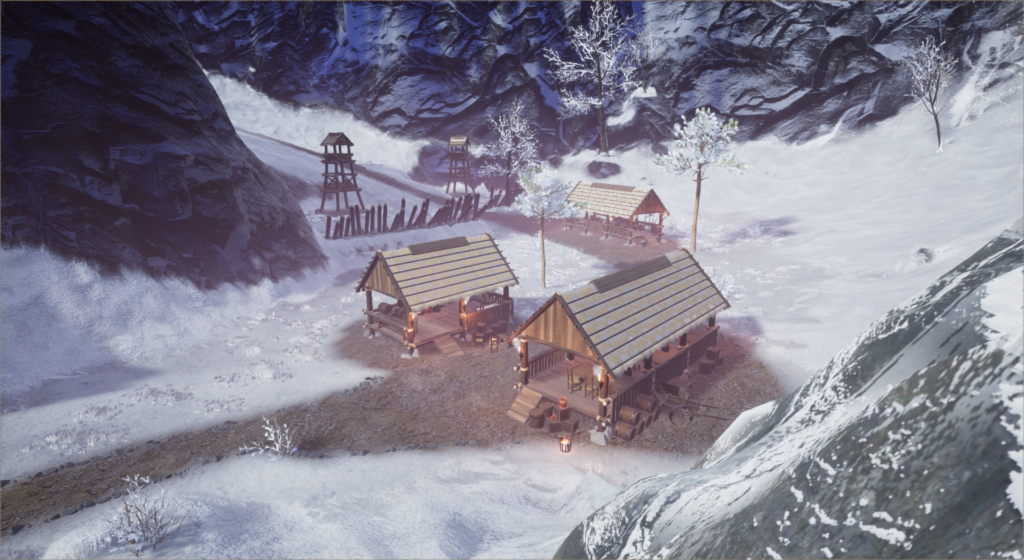 Bugs Fixes and Minor Enhancements
Players can choose a shirt color for the Fictorum
We are now using a new font for nearly all of our game interface
Chimneys properly have fires
Roof destruction is more consistent
The Chapter map is generated much more smoothly
Frozen solid enemies no longer receive odd impulses from shattered enemies
Abilities can be activated regardless of animations
Quitting the game while visiting a store saves all transactions
Drop down menus on the title screen are now easier to read
Returning to the main menu while knocked down will no longer cause unexpected death
Selling a rune within a runeset properly sells the rune
The starting shaping triangle position in the inventory shows properly while viewing the Void
Plasma Ball impact has been reduced significantly
Human attack sound effects are now properly attenuated
The Inventory properly toggles when the Inventory hotkey is set to Tab
The Dash ability behaves much more smoothly
The Lightning Strike casting emitter has been improved
Character overkill effects for fire damage are improved
Post processing behaves significantly better
The glow effect of the Reflection passive has been reduced
The Dash ability only appears on scrolls or on rare rings
Health Potions are much more common
Bookshelf drop rates are significantly reduced
The chapter end mountain spawns consistently towards the far right of the map
Text gradually fades in upon death
The Telekinesis ability functions properly
Magical affixes always spawn with an attribute
Magical suffixes and prefixes always spawn appropriately as the correct type of affix
The Rock Wall ability sound effect is set to scale with Effects volume setting
Echo explosions will sound at the proper location
Champions and captains see the players properly, even if they never attack
Ability cooldowns are properly set on the game interface
Improvements have been made to the character beam effects in the final levels
Enemy lightning spells have a new visual effect
The quest indicators on the world map have been improved
Coming weeks
We'll be hosting another developer Twitch stream on 4/4 at 8pm PT. We hope to see you then!
Talk to you next time! Updates can come straight to you by subscribing to our newsletter, hang out with us at /r/fictorum or Steam Community and we have more fun stuff posted on Twitter and Facebook, so follow and like us on there. Also, you can always just track us here!