After a couple of days from the release of the first Veterane Campaign, Cerebrate Hunters, I'd now like to ask everyone who played the campaign and returns to this page to take part in my feedback survey on this campaign. It only takes about one or two minutes and constructive criticism will help me to improve future campaigns.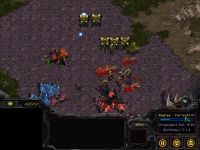 I'm aware that simple, plain campaigns are coming quite late for StarCraft as we're surely all waiting for the release of StarCraft 2. Especially for this reason the Veterane Campaigns are your chance to return to StarCraft having a difficult fight without being online on battle.net, or maybe just staying tuned as you possibly still play it online? Your oppinion matters - let me know whatever you think!
Start Feedback Survey!