Hello again, and welcome to another exciting set of pictures and words to scroll through. Today we'll be showing off the structures GDI and Nod use to keep their bases safe.
In the violent onslaughts of Tiberian Odyssey defenses can turn possible attack routes into untenable stalemates, funneling combat away from locations which you feel you cannot afford to lose and towards locations to which you believe you can control. The last challenge in many battles is overcoming the emplacements surrounding an enemy's main base.
For the Brotherhood:
Nod makes heavy use of lasers as fixed weapons, which creates a severe power drain issue. They are, however, formidable defenses for their drain.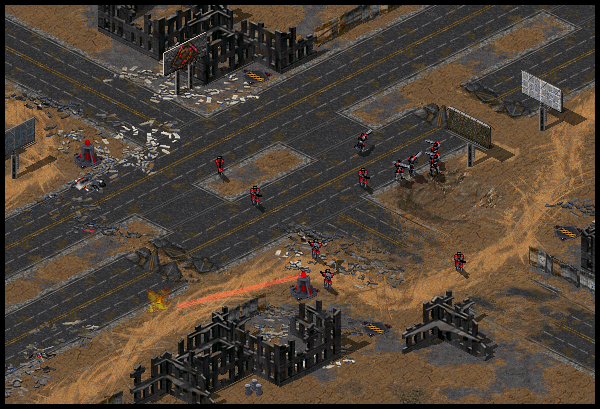 The Laser Pillar: When not in use, the laser's main body retracts into its capacitor nest. This improves the design of previous small laser turrets by reducing wear and tear on the lenses and allows a greater deal of armour.
Much like the laser used during the Second Tiberium War and the Firestorm Crisis this turret excels at killing infantry. It is efficient against lightly armoured vehicles, but its limited range prevents it from engaging many of them.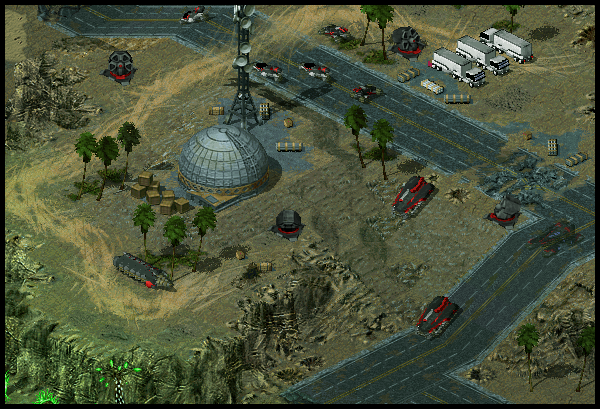 The SAM Site: Firing clusters of heat seeking missiles, Nod's SAMs shun the idea of precision in favour of simply drowning enemy aircraft in a sea of spinning debris and red-hot shrapnel. Aircraft that can outrun the initial salvos can escape relatively unharmed, but slower aircraft such as Orca Bombers are torn to shreds.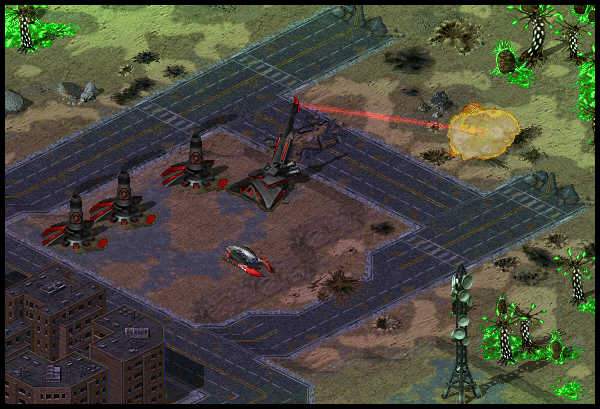 The Obelisk of Light: Laser weapons taken to their obvious conclusion. The iconic Obelisk of Light fires an extremely precise burst of armour melting destruction. Unless overwhelmed by numbers, an Obelisk can deal with enemy attacks over a long range. The only true flaws are its long cooldown and high power consumption.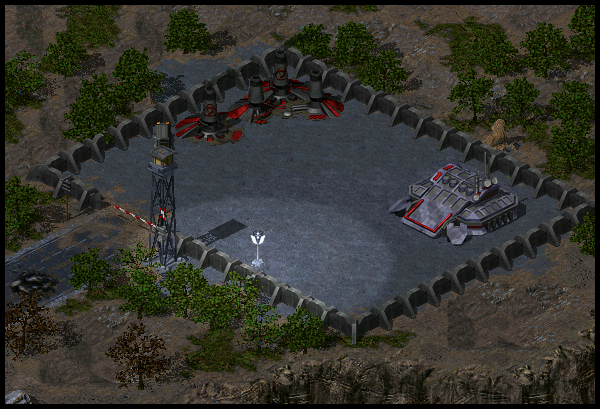 Walls: These provide some much needed shielding from ground attacks, and can be used to defend key structures. They aren't particularly effective alone, though.
For the Global Defense Initiative:
In general, GDI defends itself with precision and superior manufacturing. Defensive emplacements are designed to be deployed with the minimum of fuss, built to survive harsh environments, and fire ammunition designed exactly for their roll.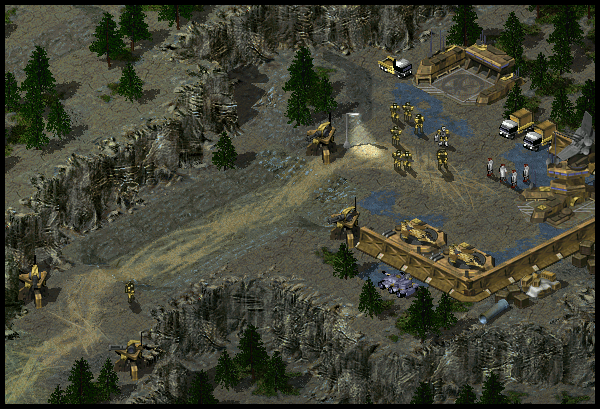 The Autoturret: These semi-autonomous turrets are each armed with a large machine gun which makes short work of infantry. They are excellent for fending off Tiberium Lifeforms, and multiple turrets can prove effective against vehicles.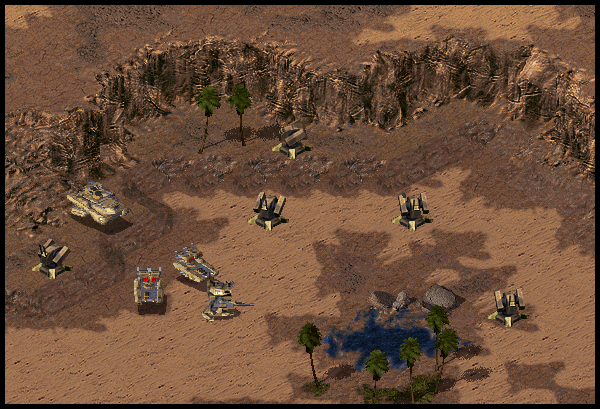 The SAM Site: The GDI SAM fires a pair of highly accurate homing missiles. Effective against all but the fastest of aircraft, these missile launchers can dissuade Nod aircraft from high value targets.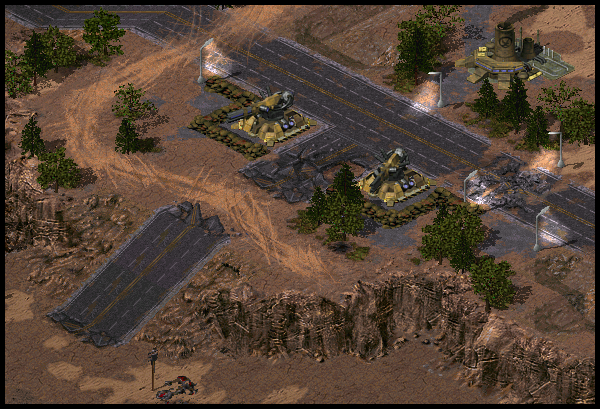 The Firestorm Cannon: Derived from the Firestorm Generator, these structures consist of a plasma containment unit topped with a large railgun and surrounded with thick ceramic shielding. When enemy forces reach firing range, the Firestorm Cannon unleashes a burst of plasma which incinerates the air and melts through flesh and armour alike, in a conflagration which can engulf multiple units at once.
The cannon drains huge amounts of power to maintain containment, and can explode violently when destroyed. Available only after the Firestorm Generator, these gargantuans provide excellent coverage for a base.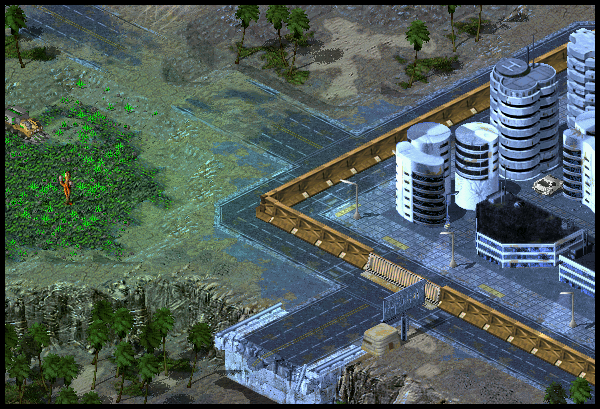 Walls: These provide some much needed shielding from ground attacks, and can be used to defend key structures. They aren't particularly effective alone, though.
Civilian/Other:
Additionally, the civil arm of GDI operates its own set of defenses. These structures were not initially intended to be permanent, and were deployed around important GDI civilian centres towards the end of the Firestorm Crisis. Most of these emplacements are still actively used, and form the basis for CGDI's supercity defenses.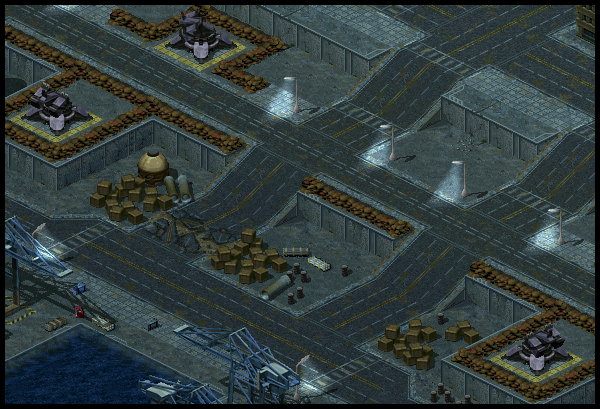 The SAM Site: A larger version of GDI's SAM, firing as many as eight missiles. The civil defense SAM is slower than the standard GDI variant and drains more power, but packs a greater punch and provides highly effective anti-air cover.
That's all for this week. A few further civil defenses may appear in the near future, along with an ingame look at the CGDI structures currently in Tiberian Odyssey. Also to come, new sandbags and barbed wire.
Thank you all for scrolling, reading, and watching! Suggestions and comments are, as always, appreciated.