Tiberian Odyssey internal beta 2.0 has been being given a final polish in the past couple of weeks, and aside from some substantial bug fixes, we've been rethinking the gamemodes present in TO. It used to be that there were a dozen of them, each with a different 2-3 letter acronym to differentiate them on the map select screen, and most modes were pretty much the same. Now things are different.
Right now, we've got three modes. Just three. First, is Deathmatch (DM). It's the basic C&C type of game, you harvest Tiberium, you tech up, you build units, you kill stuff. it's the general RTS recipe, and as such I'm going to go out on a limb and say that you pretty much already know what it is and how it works. Some civilian buildings can be captured for special abilities or units, such as Black Hand vehicles and Mutant militants, and both sides have a set of Superweapons at their disposals.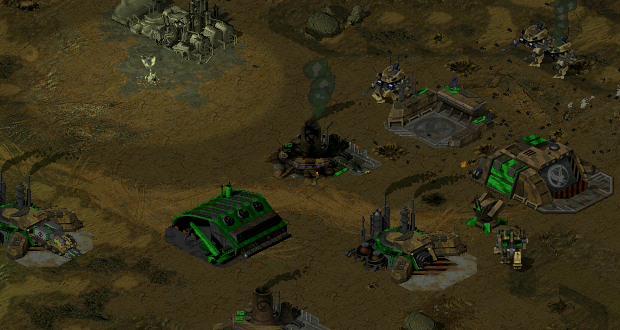 (Quite straight forward, really - It provides the full scale tactics (ie: me losing a lot) of TO)

Second, is Infantry Wars (IW). Here, infantry are much more precious than in other games, as players must use infantry to a much greater extent. A bigger importance is given to veterancy here, and veteran squads of infantry can turn the tide of a battle in your favour. The battle is controlled from your Mobile headquarters, which can deploy into a Bunker Barracks capable of training infantry. This is the only building available and thus it is paramount that it be kept safe, it is, however, mobile and can be packed up and moved elsewhere should it appear that it is being threatened.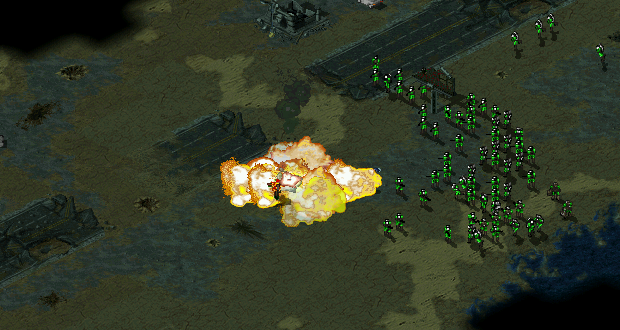 (Though sometimes throwing more men at it might work)
The third mode is Capture the Flag (CTF). This mode is more drastically different than the other two.
First, base building is severely different. There are a maximum number of buildings you may build of each type, and once these have all been built there is no way to build any more. Second, the unit list is shifted much towards offence, or at the very least using vehicles and infantry as defence. The Ares mech is replaced by the Hover Tank, the Tick Tank is replaced with the Scorpion. Airforces have both been trimmed down to a Carryall for each, while infantry remain as the usual force (except for GDI losing Jumpjets). Resources are gathered from crates, which spawn at predefined Cargo sites. These crates can also contain bonuses and units, meaning that controlling these sites can spell victory.

(Whenever you start a CTF map, this is what you'll see)
Most importantly, the only building that really matters is the Flag. The flag is indestructible. The only way to win is to capture the flag. You can have all your buildings sitting nice and pretty in your base, but if you lose the flag, you lose the game.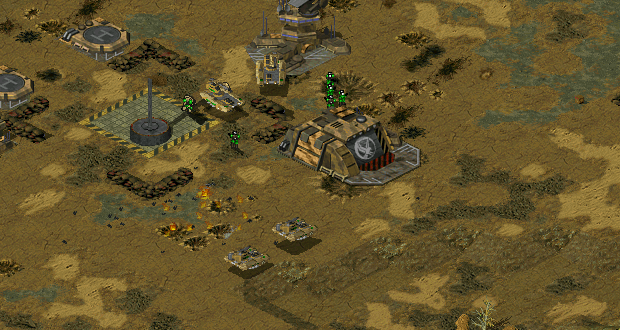 (The flag graphic is currently a placeholder, if we can get a good concept together I expect it will improve)
These are the three modes which will be in Odyssey, though if you have some other great ideas for a forth mode, or have a good improvement for an existing mode, we'd be happy to consider and sensible suggestions.
Aside from the gamemodes, the maps are still being revamped and replaced to improve the gameplay of TO over all, bugs in the executable are being ironed out, and with some really nice building-related work being done we hope things continue at this sort of pace towards a release.
These are the important developments from the past month (or so), so that's us until the next time - about a month from now. With the new graphics being added and the snow theatre getting to stretch its legs for once, there ought to be something to show for it.
Good night, and good luck.