Hi All,
I hope that you have been following our progress for the past year! If not, please check out our Year-in-review: Part 1 and Part 2.
This past year has been en epic journey and I hope that you spend some time reviewing our progress. Moving forward into 2015, we aim to release the INT demo and the comic. I am also going to scale back these monthly updates and focus on key areas of the project each month as we get nearer to release. This month I focus on the DEVTEAM and Starboard Games LLC Creative Development.
DEVTEAM
In January, following the year-in-review, we completed a mini update with new models and concept.
Recent update: Indiedb.com.
DEVTEAM has been progressing on filling the rest of the demo. For the past several months, we have been working hard on completing the code necessary as much of the art is done. Our department lead, Monte, has prepared a statement for this update.
Monte: During the month of January the DEVTEAM has been concentrating on trying to get the code sections of the game up and running. Significant work has been done with the inventory and the character creation systems. While we are not quite ready to share at the moment, I can say there has been a great improvement and progress in both these areas. The character creation system is attempting to give you a big part in making a character you want to play. The inventory system is the backbone of the game, as about 80% of the time you spend playing the game you will be playing with the code that is part of either the inventory or combat system. Speaking of combat, we have begun working on code for the system and we'll have more details in future updates!
The art side of the DEVTEAM has been busy with modelling guns and characters in the past month. Matt has continued his awesome work of bringing the guns of INT to life. Check our the preview of the Railgun below! Matt also completed a global game jam last month. Check it out here:
The concept guys (Nathan and Robert) are working hard on the companions and enemies that you will be seeing in the game.
In the near future we hope to have the character creation scene, as well as the inventory system polished an ready to show, stay tuned!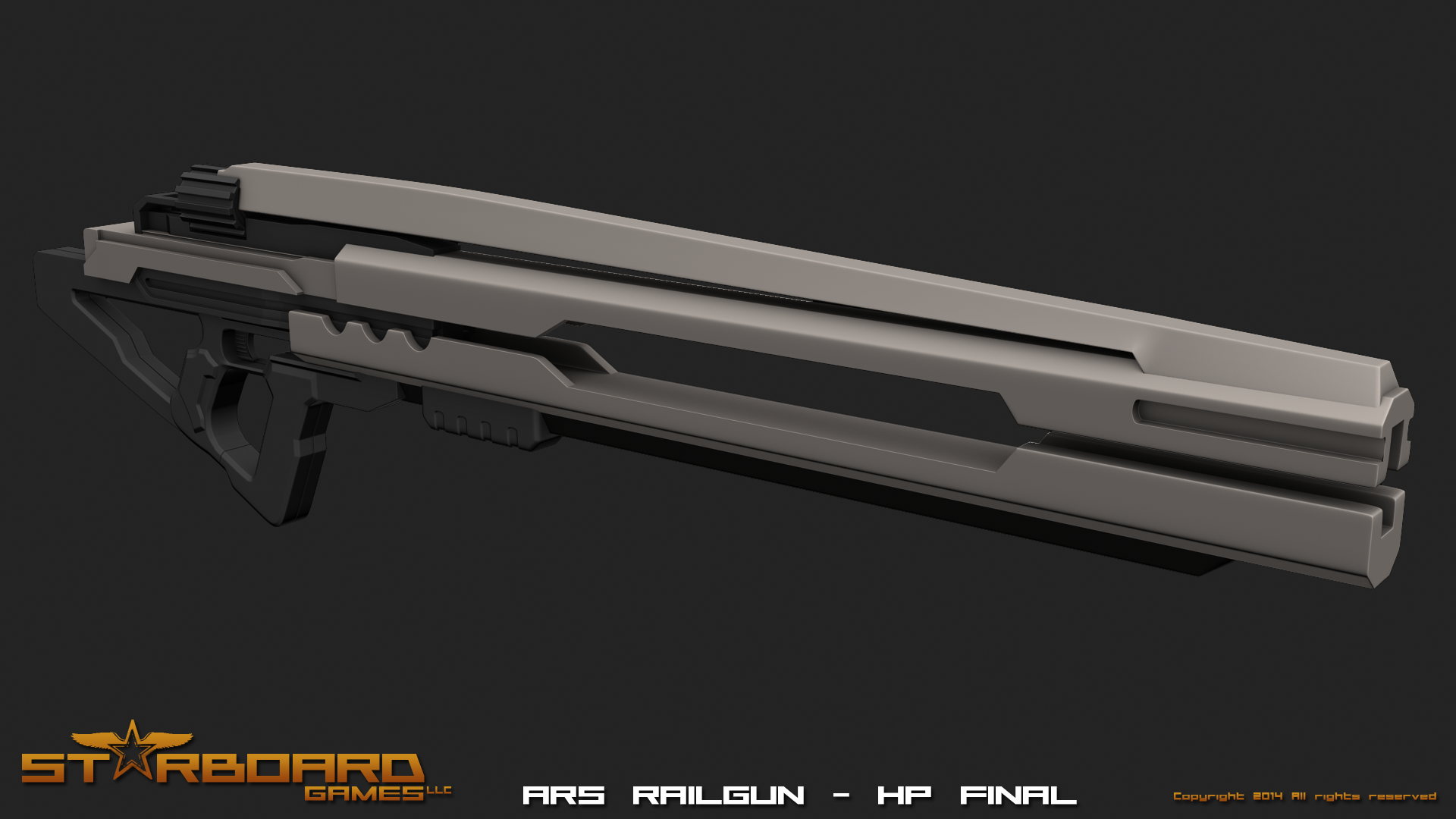 Starboard Games LLC Creative Development
In December and January we worked to overhaul our main website. Our web administrator Panda has been updating the site and putting up information on companions. If you have not checked it out, then please do so!
Website update: Int-game.net
Creative Development has also been working on additional projects such as an interactive star-map, card game, comic, and more. Our department lead Brian will share his thoughts on Creative Development below.
Brian: Panda, in addition to developing the war-based card game and designing its art, continues to develop the interactive star-map on various fronts, including creating a detailed data template for the planets in the Sol, Core and Middle Systems. Here is a screenshot of Bastion's specs, the planet that will be featured in the demo.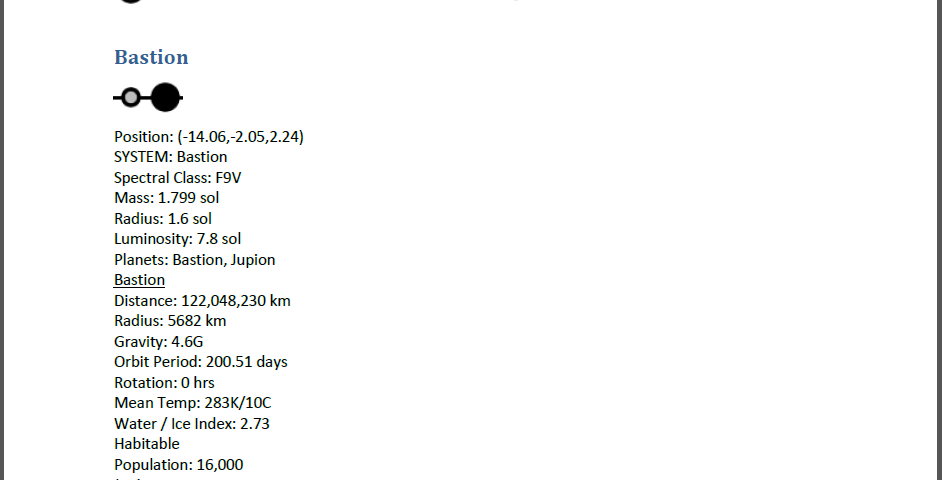 Supplementing Panda's documentation of our universe is Joshua's current task: creating cinematic shots INT's planets. Below you can check out a "rough" rendering of Saturn, as Joshua is working his way through Sol: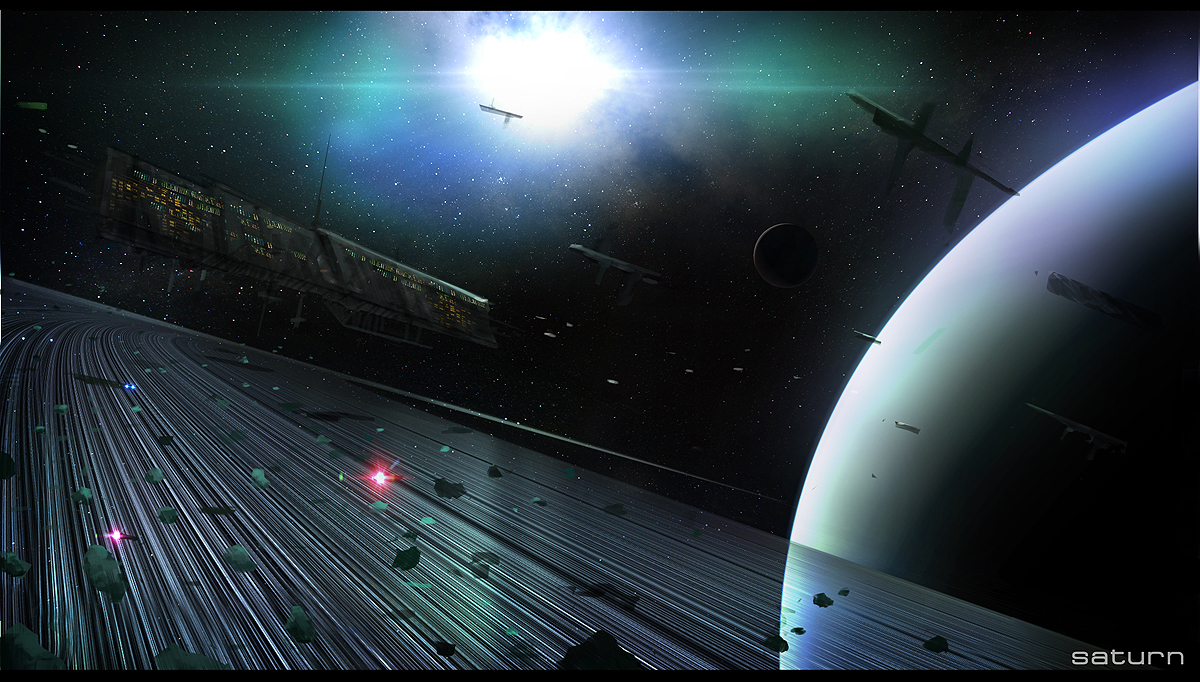 On the lore front, Stephen continues to develop origin narratives for each of J10 mega-corporations, the driving force in UCE-controlled space. While on the comic-side of things, we have decided to slow-release the initial issue of Tens Day online, either at Int-game.net or the Starboard Games website upon its completion. Each week beginning at a yet-to-be-determined date, we plan to release a couple of pages from the first issue, which will allow Robert, who recently joined the project as our new artist, time to generate page for the next issue.
Since Joshua is taking a break from the serialized graphic novel, I wanted to commemorate his work in Tens Day. Here is his cover concept and the finished cover side-by-side: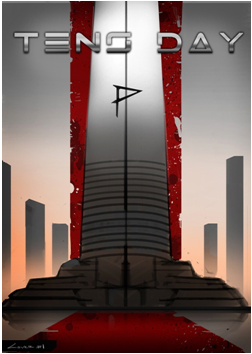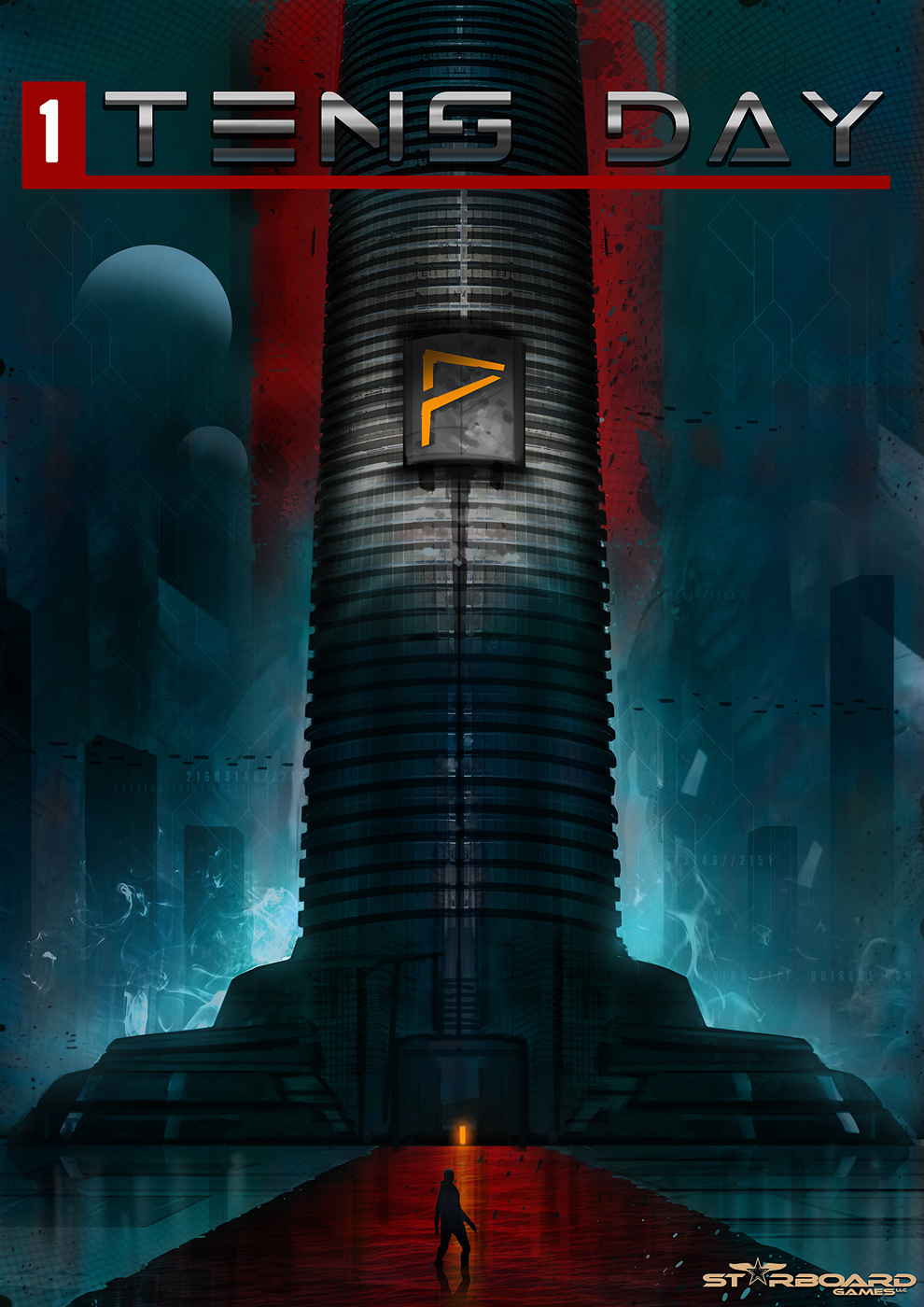 And here is a script-snippet from Tens Day and Joshua's 'bringing the panels to life' in images:
PANEL 1
EXT/MORNING/BEACH
Panel should be 1/2 page wide and 1/2 page in height.
Close up shot of the Lescure child on the beach. He sits in the sand, maybe cross-legged. There might be a shovel in his hand or he might be building a small sand castle, which is incomplete. The boy, shirtless, shoeless and wearing his swimming trunks, looks up in the direction of his father, who is out of the frame. You may want to include the feet of his parents or the legs of the table in the frame, but it is up to you.
TERRANCE LESCURE:
"Lescure here. This better be important."
PANEL 2
EXT/MORNING/BEACH
Panel should be 1/2 page wide and 1/2 page in height.
Aerial shot/Birdseye. We see the beach scene from an upper-level beachfront room a The Pinnacle, at least ten-stories high. Maybe add more of the hotel deck: a swimming pool, wet bar, circular tales with umbrellas, a couple of trees, as well as the beach scene. It doesn't have to be overrun with guest, but there is plenty of activity at the beach at this moment. It would be cool if you could include the Lescure family, but they don't have to be highlighted at all; they can be just part of the crowd.
CAPTION 1:
9:49 am
CAPTION 2:
While guests seek out prime beach real estate for the late morning hours, some at The Pinnacle are still preparing to start their day.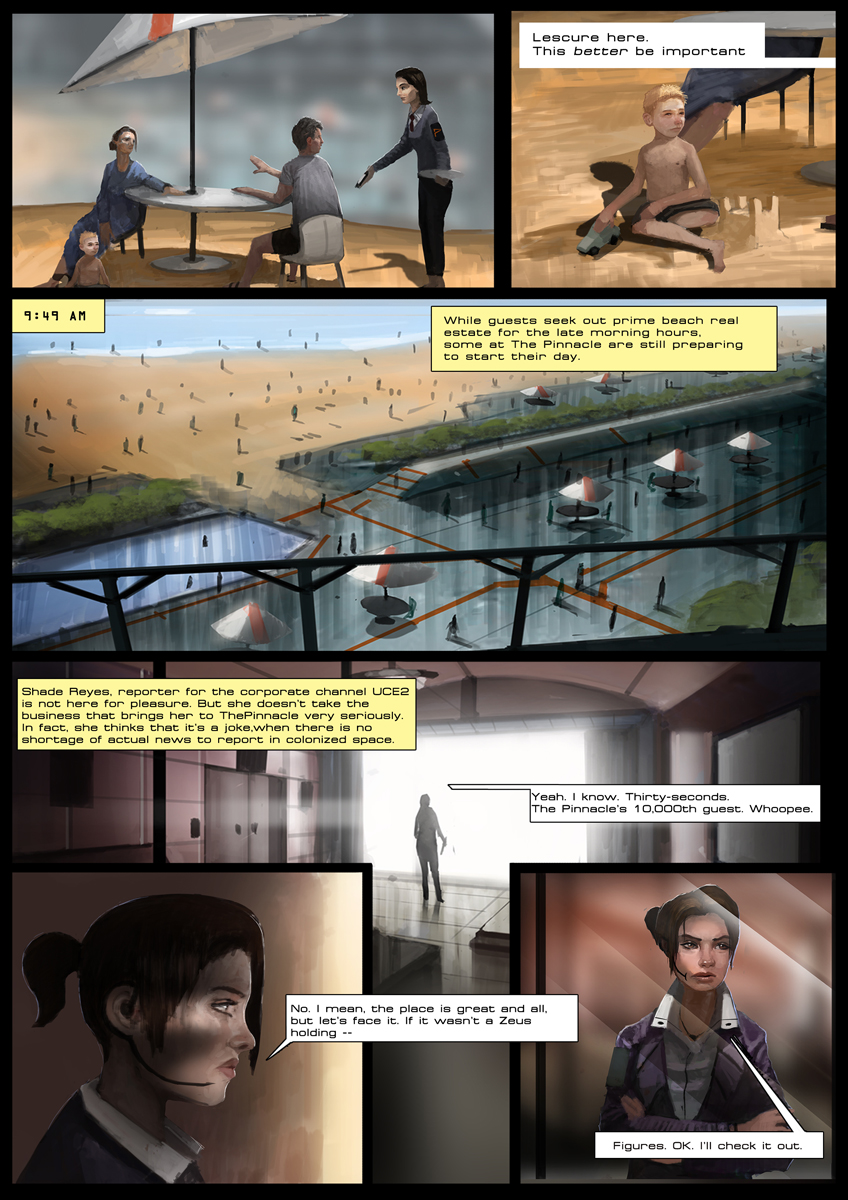 We will have more to say about Tens Day sooner rather than later, so stay tuned!
HR
Starboard Games is recruiting!
While I do not normally include recruitment information in these posts, we believe the best way to create a game to cater to the community is to invite skilled community members to join us! We are quickly approaching our release and additional talent could be key in releasing the final product. If you have been watching our progress over the past year you may be inclined to lend a hand and we are looking to bring the greater community into the fold. If you have a useful skill, industry contacts, or anything else that you deem useful then please shoot us a message with what you are offering.
Our HR Lead is John and please send him a message if you are interested in joining our team.
Contact email: johnhr@int-game.net
Closing Thoughts
We began the project in January 2014 and this year we aim to release it to the public. We would love to hear from you if you are interested in joining the team. We are full on some positions, but I am always interested in hearing from members of the community and depending on what you can do (or want to do), we may have a spot for you. If you want to get into game development, this may be your best chance: we are closer than ever to finishing this awesome game.
In terms of development we are close as stated and as we get closer to release I will update the community with our release schedule. I also hope that you enjoyed a more confined and packaged update this month. Let us know if you prefer this version where I focus on a few different departments or prefer to read about every department on the team.
Thanks,
Justin