We have been featured in the Greek video games blog AL.I.V.E. as the team of the month for October 2013. You can find the original link here. An interview will also follow sortly.

Since the blog is in Greek we give you the text translated for all our non Greek fans.
"Every month that we dedicate to a development team from Greece other than constructive because it brings us closer to new concepts, ideas and their applications that interest us, is also a month of surprises.
For an established video games developemnet team we know if it is or it's not the oldest, but what happens with the youngest team of the month? So this month its the third team in a row that takes the crown of being the "youngest" of all the others!
We are talking about Demigod Studios, the twelfth company in this field that we feature, that until this moment counts 9 months of life. Even if we add the time it prepared last year it remains the youngest company we have presented until today.
And for one more time the problems start for the columnist. In the cases of companies that exist for years in this field he has material to show, he has heard gossips in order to write about them and he has good acquaintance with its people.
For such a young company what material to gather, how many people to meet to tell you a couple of good words to comment and how much to know its people? Nevertheless if a meeting of game developers has taken place (SAE Athens Forum) everything can happen!
Other than the first title of the company named BioLAB, a game for smartphones, Demigod Studios is preparing to conquer the world, what else do all companies do that are not making any revelations if not a world domination project…
If something is to be revealed lets leave it to each people to do it as always. Everything has each time after all. For the time being we are waiting to play their first game and are waiting for their interview in the next days.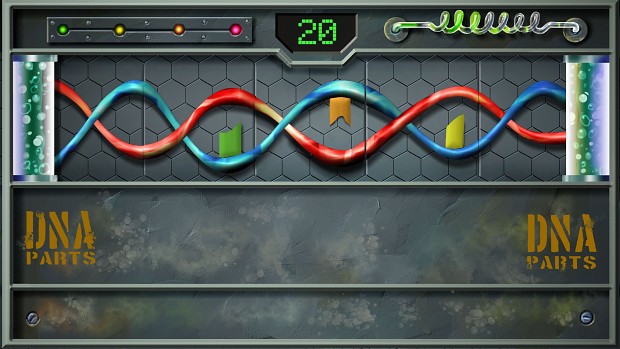 BioLAB Gameplay Art
This moment i want to comment the following:For an established company in the field some things are taken for granted mostly because of experience. It doesn't have only artists and programmers to make just another game but also an organization and targeting.
A group of friends or a new company usually doesn't take these into consideration due to young age or lack of experience. Demigod Studios from the other hand although is composed of very young members is not lacking at all in organization or planning.
We have seen that the secret of success is hard to find since teams with big budgets or with talented members or with big experience or with all these together tend to interrupt their course abruptly or to close sooner than anticipated.
Demigod Studios is therefore a company that its organization as well as its small sample of work are giving alot of promises while the solid background behind all their efforts make sure to keep our interest high for a lot of years.
Until their revelations…
Giorgos Chiotis"