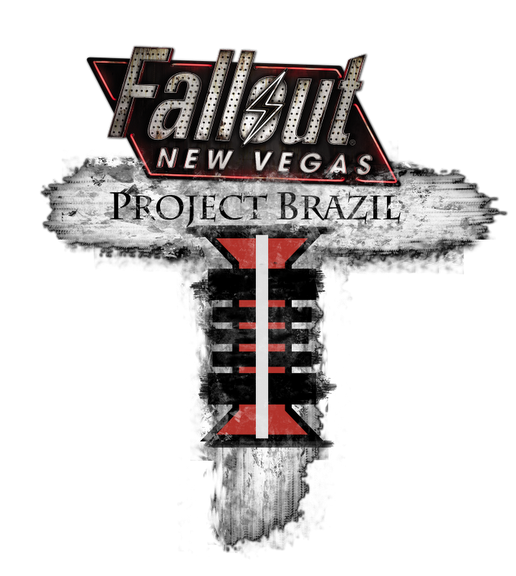 Since our last update, we've managed to almost completely implement the first 5 quests in both major branches of the Prequel and Chapter 1 of Vault 18. Our new HD Intro Video is up on Youtube for those who would like to see the intro before they play the game. Remember, this is the video that plays for the New Game, so there are some [SPOILERS] for those who want to experience the game by itself the first time they play.

Intro Vers. 0.9.3
For those of you new to the mod, we're releasing Fallout: Project Brazil in Three Installments. The First Installment is in Vault 18, centered around a new player character developing relationships with their companions he night after a big game, where they either broke their leg in the last play, or they took the team to victory. Then, after waking up from a dream, the Vault has been turned on its head by a traitor out of left field, and the player must gather their allies and escape into the wasteland.
This January we will, after 3 years of development, release our First Installment!
As of right now, there are 2,000 voice files in the game recorded in Tucson, Az on our broadcast quality recording gear, thanks to Radian-Helix Media. We have 20 voice actors, all with a background in theatre & television, many of whom act for a living. We only had one actor join us from the internet, and he is our NCR Radio Host Roger Moore, Ben Britton.
Cast List:
Johnny Matheson - [Companion] - Dan Ziffer
Coach/Colonel Bragg - [NPC]- Roger Owen
Dr. Kevin Rossman - [NPC] - Duke Standberry
Sargent Chevy - [NPC] - Cynthia Jeffery
Jenifer Hale - [Follower] - Sarah Mitchell
Ben Kurtz -[Companion] - Brandan Lee
Jamie Campbell - [Follower] - ...
Eric Campbell - [Follower] - R.D. Mower
Kira Mann - [Companion] - Caitlin Singer
Overseer Albert Christianson - [NPC] - Scott Harders
Earnest Schwartz - [NPC] - Dan Ziffer
Terra May [NPC] - Raven Griffen
Jason Christianson [NPC] - Steven Cates
Shawn Star [NPC] - Brandan Lee
Mandy Star [NPC] - Cheauharn Mon
Sarah Carter [NPC] - Raven Griffen
John Diesel Anderson [NPC] - Ian Scott Whittaker
Joe Marshall [NPC] - Scott Harders
Yetti Hale [NPC] - Ian Scott Whittaker
Misc. Vault Voices (male) - [NPC] - AJ Kosky
Misc. Vault Voices (female) - [NPC] - Raven Griffin
Sgt. Norman - [NPC] - Ian Scott Whittaker
Chief Evanson - [NPC] - Scott Harders
Ancient Eddie Bolero - [NPC] - Eddie Bolero
The Alpha Droid - [Companion] - Brandan Lee
Enclave Male Soldiers - [NPC] - Danny Do
The Male V-Sec - [NPC] - Taran Jeffery
NCR Radio Host Roger Moore - [NPC] - Ben Britton
Team List:
Rick Hakkunen - RickerHK - Lead Programmer
Kaz Foxen - Quest Scripting
Matthew Seddon - Quest Scripting
Stunning Steven Bowie - Dialogue Writing
Roslin Thelso - Writing Excerpts
Andrew Endowy - Writing Excerpts
Scott "Reaver" Harders - Writing Excerpts
Iouri Synogatch - Writing Excerpts
Kellen Touey - Writing Excerpts
Erich Von Hildberghausen - Original Soundtrack Composer
Christana Udracon - Original Soundtrack Composer
Tyler "Speedy B" Bourne - Interior Models
Ben "Tricky" Britton - Interior & Exterior & LOD Models
Meo 3000 - Vault-Tec Resources
Cambragol - Vault 88 Resources
Andersh - Football Armour Resources
Dragbody - Armour Resources
Toadlet - Vault Jumpsuit Resource
Neverclock - Harnesses and belts Resources
Quetzelscanatango - Creature models, Character Models, & Armour
Ren - Hair Pack Resource
Idkrrr - Hair Pack Resource
Kozaburo - Hair Pack Resource
Yoshikinakota - Hair Pack Resource
Fast Freddie - General Bug Fixing
Tommy Purdee - GECK Startup Error Fixer
Chuck Steel - LOD Resource Essentials Pack
Elijah M Houck - Helping solve endless L.O.D. Issues
Robert Helms - Fixing GECK Issues a being a great mate
Captain Mitch - Fixing Geck Lip Sync
SGHi.info - Interface Revolution Mod
Raphael Dejesus - Textures, Sound Effects, Navmeshing
Wyll - Project Brazil Hi-res Textures
Special Thanks:
Barbera Pittman - Giving Me My House and Keeping Me Alive - Love you Mom for all you do.
Pearry Teo - For D&D, being a great drinking buddy, and opportunities I barely deserve
Marji & James Kosky - Helping with just about everything with tireless loyalty and friendship
Eric Simpson - For helping us even when shit seemed hopeless. Thanks man.
Independent Film Association of Southern Arizona - for doing a thankless service to AZ Film
The Duke and Cat Show
The Nexus Forums
Ed Chiarini - You know what you did, asshole.
OUR FANS ON FACEBOOK - you guys rock!
As always, you can keep up with us on Facebook: Facebook.com
and our Fallout New Vegas Nexus Site: Newvegas.nexusmods.com
Cheers!
Brandan Lee
Project Leader