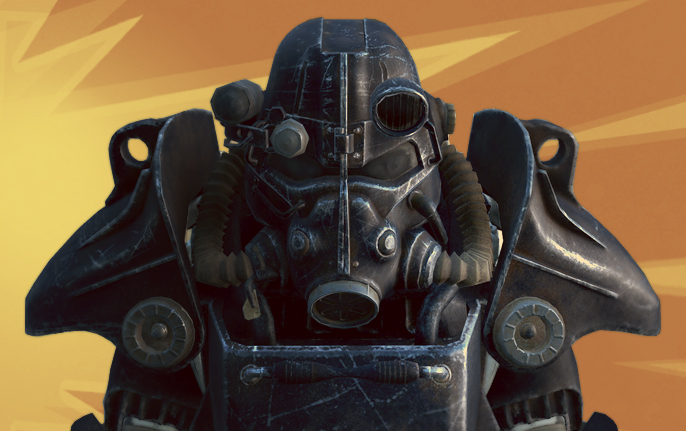 In a Steam Community update, Bethesda has announced that the Creation Club for Fallout 4 is now available. The Creation Club arrives as a part of Fallout 4's patch 1.10, which is now live on all platforms. The announcement further clarifies that this launch of Creation Club is the "PC beta" rather than the complete deal, so expect some issues as the new content system settles in.
The Creation Club was announced at E3 2017 in June as a new initiative across both Fallout 4 and Elder Scrolls V: Skyrim Special Edition to allow players to purchase and download user-created mods. Back then, Bethesda was keen to stress that the Creation Club was not a new "paid mods" initiative, as per the aborted attempt through Steam with Skyrim's initial release.

The publisher stated:
"Mods will remain a free and open system where anyone can create and share what they'd like. Also, we won't allow any existing mods to be retrofitted into Creation Club, it must all be original content.
Most of the Creation Club content is created internally, some with external partners who have worked on our games, and some by external Creators. All the content is approved, curated, and taken through the full internal dev cycle; including localization, polishing, and testing. This also guarantees that all content works together.

We've looked at many ways to do "paid mods", and the problems outweigh the benefits. We've encountered many of those issues before. But, there's a constant demand from our fans to add more official high quality content to our games, and while we are able to create a lot of it, we think many in our community have the talent to work directly with us and create some amazing new things."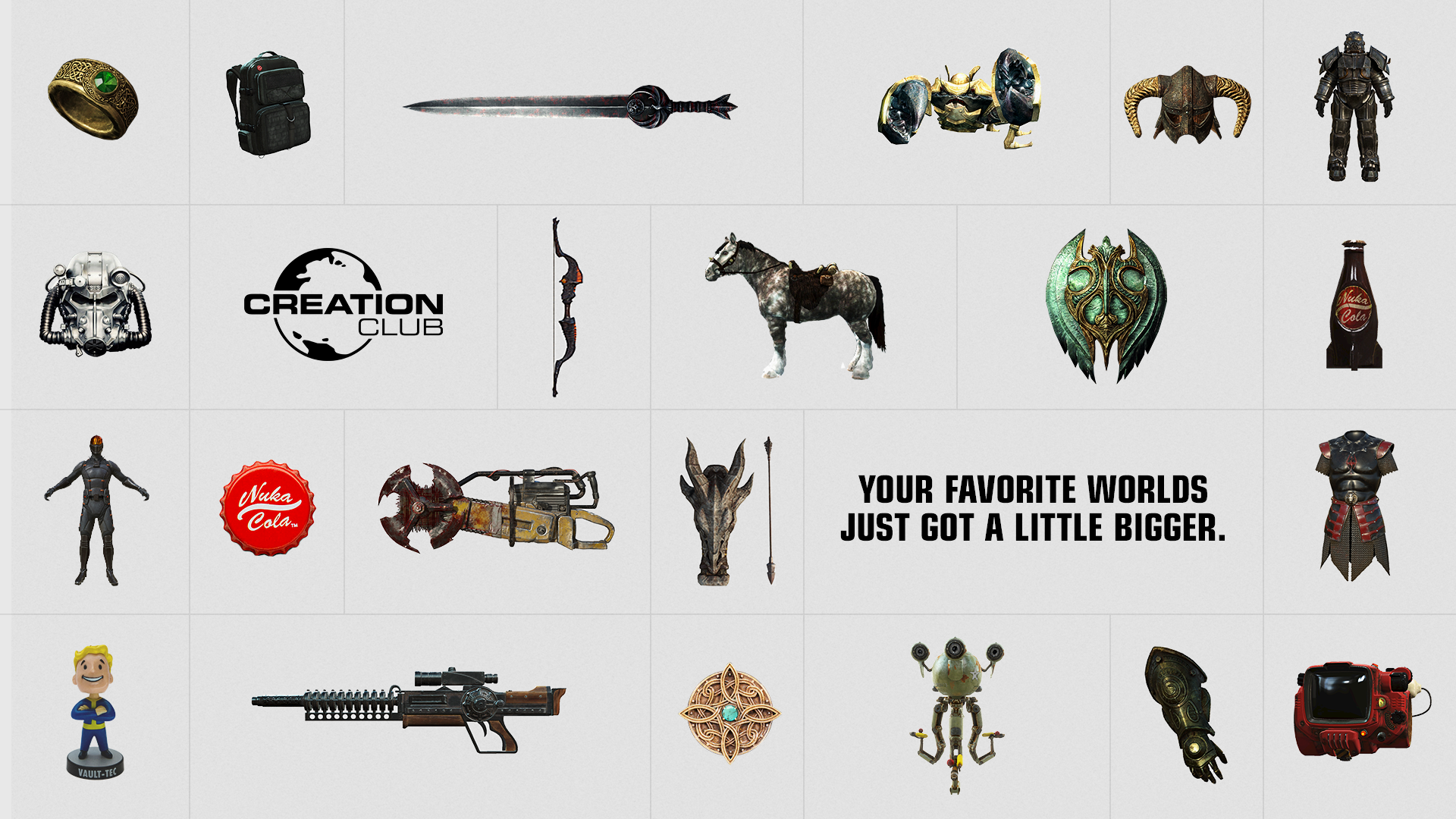 Today's update further reiterates the statement, with Bethesda saying:
"Featuring new items, abilities and gameplay created by Bethesda Games Studios and outside development partners – including the best community creators – Creation Club content is fully curated and compatible with the main game, official add-ons, and achievements. Currently available for Fallout 4, Creation Club will be coming to Skyrim Special Edition next month. All Creation Club content works on PlayStation 4, Xbox One and PC. And of course, Mods will remain a free and open system where anyone can create and share what they'd like."
With the launch of the PC beta, Bethesda has added 100 credits to every player's account, which can be spent on mods. The selection is currently rather slim, but Bethesda says more content will be coming in the next few months. Here's what's available – a selection of items along with Bethesda poking fun at its own first Elder Scrolls IV: Oblivion DLC and including a new Horse Armour mod:
---
Chinese Stealth Armor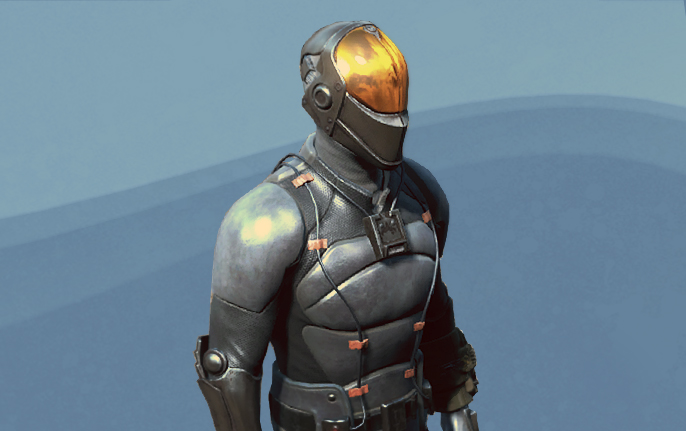 Worn by both the Crimson Dragoon troops and Black Ghost counterinsurgency squads during the Great War, Chinese Stealth Armor relies on light modulation technology to render its wearer virtually invisible.
---
Modular Military Backpack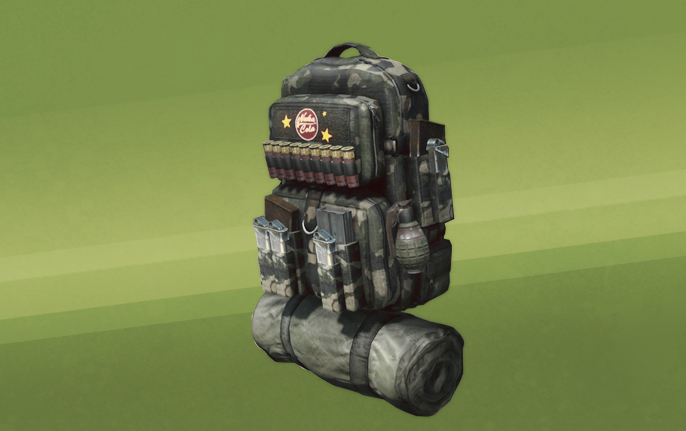 Make this backpack yours with over 30 different add-on pieces, patches and colors. Featuring increased carry weight and multiple bonuses for surviving even the harshest Wasteland conditions.
---
Morgan's Space Suit – Prey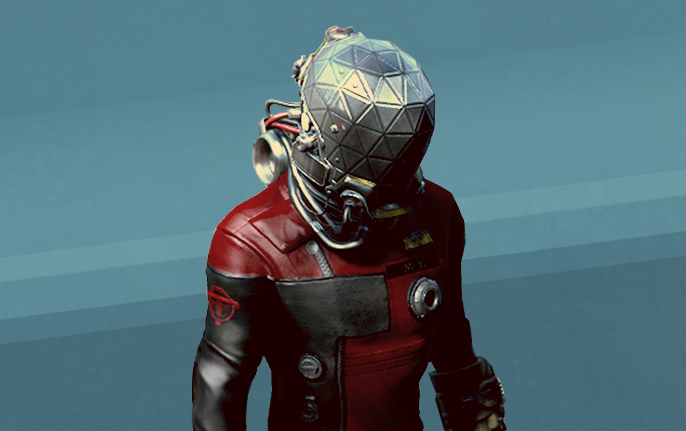 From deep space to the Glowing Sea, this space suit – once worn by TranStar Industries' Morgan Yu – will help turn you from prey to predator.
---
Pip-Boy Paint Job – Onyx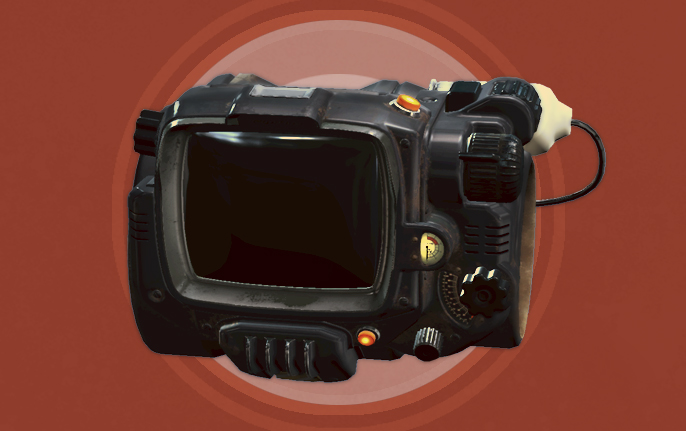 This black paint job is ideal for any Vault Dweller who prefers stealth, sleekness and subtlety.
---
Pip-Boy Paint Job – Swamp Camo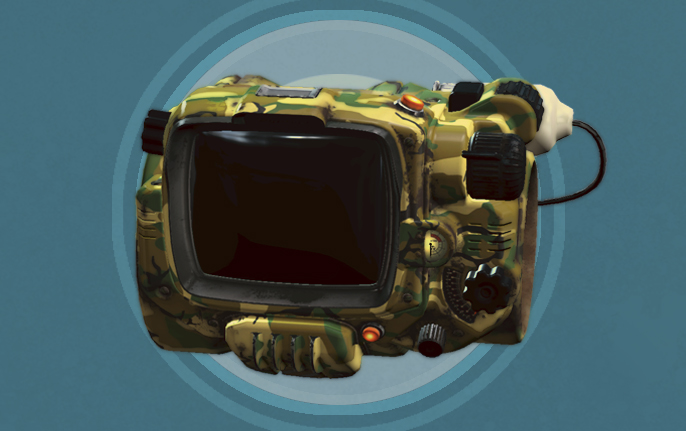 With its mottled yellow, brown and green, the swamp camo Pip-Boy paint job is perfect for those waterlogged slogs through Bloodbug-infested terrain.
---
Pip-Boy Paint Job – Chrome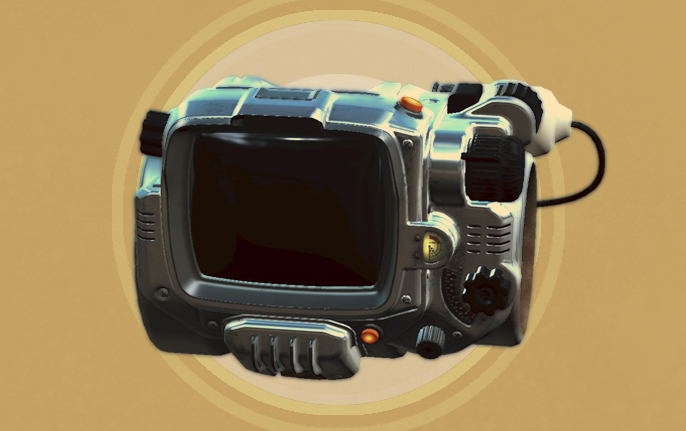 From the rims of a Chryslus Cherry Bomb directly to your wrist, nothing says "style" like a chromed-up Pip-Boy.
---
Power Armor Paint Job – Black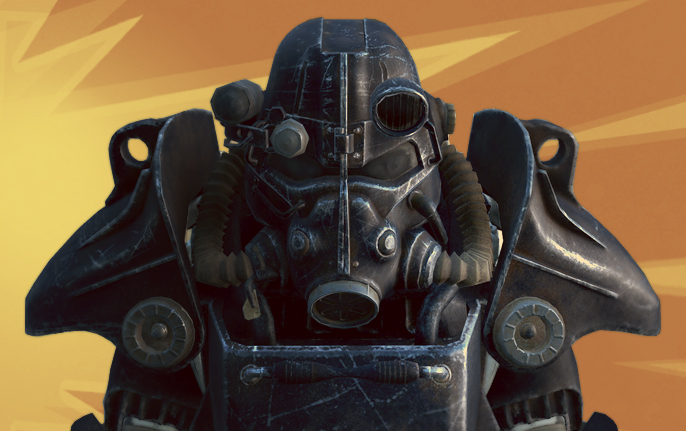 Black as a Commonwealth night and just as intimidating, this custom Power Armor paint job is well suited for any combat situation.
---
Homemade Shotgun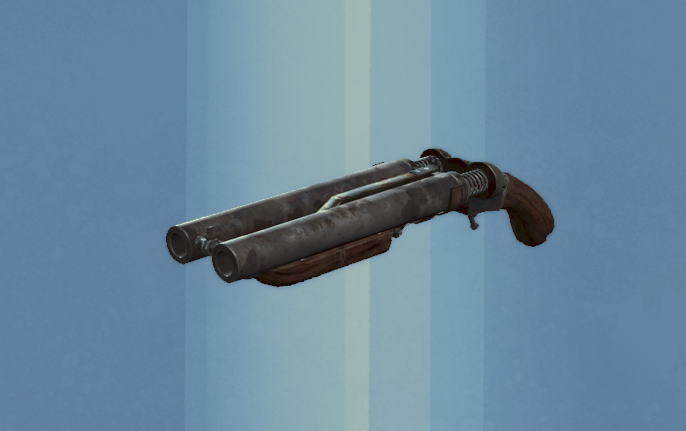 Crafted using pipes, springs and a healthy dose of psychotic self-reliance, this fully modded shotgun is perfect for a quick and violent solution. To just about anything.
---
Prototype Gauss Rifle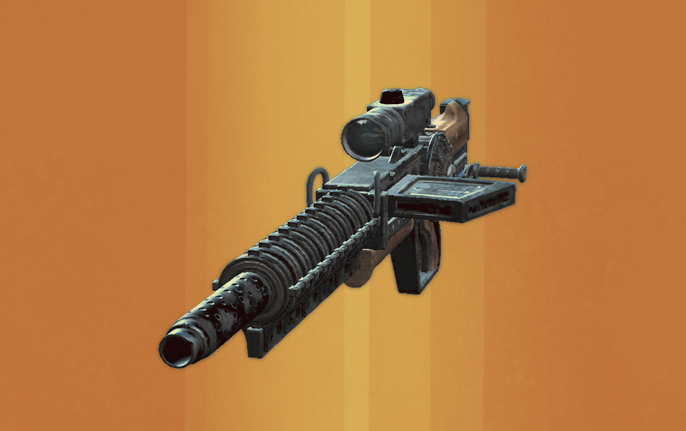 Wielded with deadly effect before the Great War, the Prototype Gauss Rifle uses electromagnetic induction to shoot a projectile at tremendous speed. It is, in essence, a sniper's best friend.
---
Modern Furniture Workshop Pack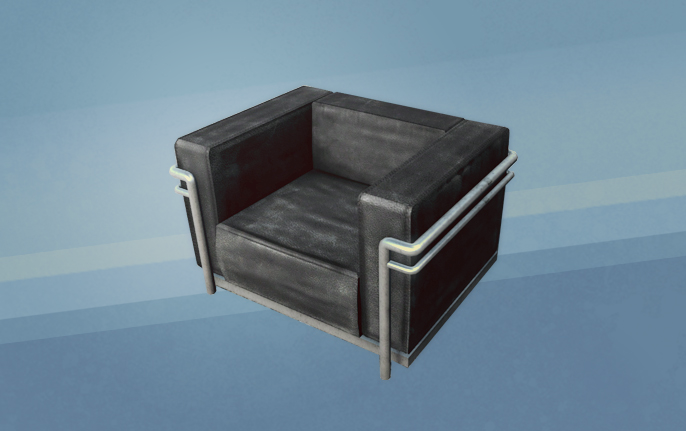 Give your workshop a contemporary look with over 40 modern furniture and decorative pieces.
---
Hellfire Power Armor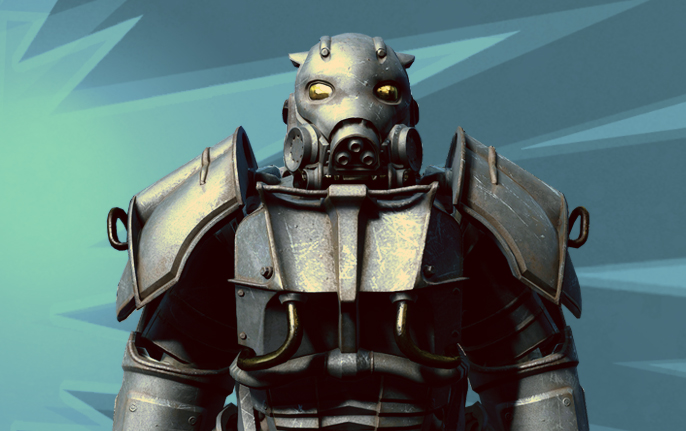 Big, beautiful and utterly terrifying, the ultra-protective Hellfire Power Armor is the perfect way to bring the fight to the enemy... and end it quickly.
---
Power Horse Armor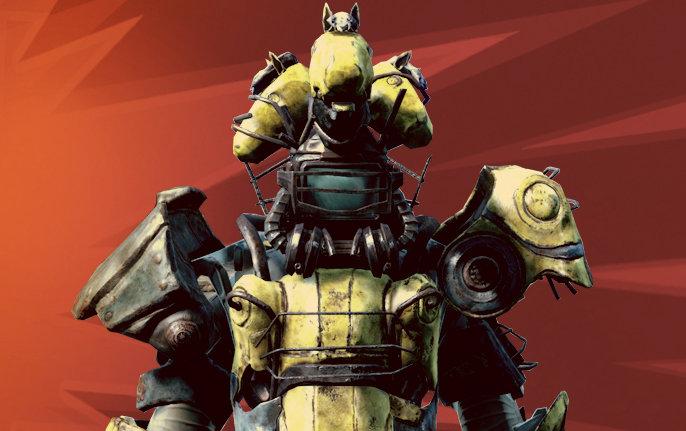 Gallop your way through the Wasteland in this stylish, sturdy and heavily modified handcrafted Power Horse Armor. Giddyup!