It has been quite some time since we last posted a status report on the game. Development since our last post has been very mixed. Even during the difficult times, we are still pushing forward. While today's news might sound bad, the future is still looking bright. Ruiner will not be ready for a 2009 release, but it will see the light in 2010.
A couple months ago we lost our level designer. This left us with many levels close to completion and nobody to work on them. Revility has taken up the task of finishing the levels and getting them polished up. This in return has put us behind when it came to finishing the animations and a few other art related task.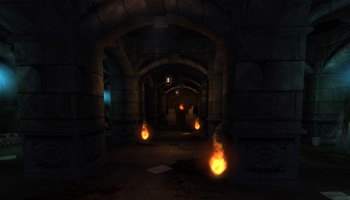 Only the sword and hand to hand combat animations are left to do. We have set up a system where animators can use their own custom rigged skeletons or 3ds max bipeds and transfer the animations to the player skeleton with very few requirements. Interested animators can contact us through our mod database site or from the listed contacts on our team page.
Programming, texturing, and modeling wise, we are still going very strong. Ivan has added a dynamic cross hair system, weapon class system, interact/use button, further improved the melee combat system and much more. We are also working on a new more compact dynamic HUD to help deliver the needed info to the player without sucking up too much screen space.

The trailer which we were suppose to have up months ago is still being worked on. We were not happy with the original version and decided to re do it from scratch. It is now close to completion and we are hoping to have up before the years end.