While waiting for Update Version 8, there is still a lot happening around the Fairy Tale mod that may be of interest to all the hundreds of thousands of fans out there!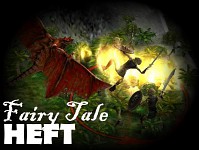 First of all, let us all welcome my friend HighwayHoss to the modding world. He is the creator behind Fairy Tale's first modmod (all big Civ mods - like FT - should have their own modmods). He has put in quite an effort to tweak the game to his heart's desires and have now finally released these tweaks as a respectable modmod to the fans. There are loads of tweaks and balancing to FT and additions in his HEFT-modmod and also a new building and much more. He has been working with the Traits, among other things, an area largely untouched in Vanilla Fairy Tale. We still have to wait a while for it to get to stable version though, but it looks smashing.
Fairy Tale has received some positive and fun reviews. Ross Lincoln on Crazygamernews says that Fairy Tale is a "mother Goose mashup that positively wallows in its derivative brilliance. Players choose between a number of fictional kingdoms based loosely on RPGs, fairy tales and folklore, without even a pretense of originality. And that's a good thing. Dragons? Check. Ogres? Check. Princesses? Check." The only thing he mentioned as negative was the fact that the landscape doesn't look like in my screenies on his comp. OK. I use Blue Marble for my landscape and that isn't included in FT. If you don't have it (although probably most civvers already do), HighwayHoss' HEFT will provide the solution for that as well, since it's included. In the meantime, you can also download the Terrain Patch right here on Fair Tale's ModDB page to make your game look better than the screenshots. Check.
It will take a while before the Update to Version 8 of Fairy Tale. In the meantime, I am playtesting and balancing the game. I want it to work exactly as intended, and that takes work and testing, people! All my playtest games will also be analyzed in stories. You can read one of those stories right now: A Military History of the Principality.
There's a lot happenig in and around the world of Fairy Tale. You can take part too, by writing comments and suggestions or all the general praise on any of the Fairy Tale threads, or just voting for the game (to the right on this page). Forward March!