Hi everybody!

Today I had an interesting question that i wanted to share to you all. This little question led me to an interesting brainstorming.
---
"So, since planned forces are HECU, Black Ops and Xen forces, does thus mean Black Mesa personnel are delegated as neutrals? Will there be any BM facility flavoured new captureable structures?"
---
I know that when i started the project, I wanted to make a full scale epic wargame based on Half Life. A lot of things, going everywhere and nowhere. The story would have covered the Black Mesa incident, the Seven Hour War, and the Resistance against the Combine..

Thing is, that I allways loved the Black Mesa lore, and only this episode. And I wanted to make it only about that.

So all these years i learnt a lot about Half Life, thinking about the whole facility, how was it from a global scale. With all the data alltogether, this project might add someday a piece in the Hl lore.
After doing a lot of researches about the BM lore, we can say that this CERN sized facility (basically a huge town) could have hosted a lot of firefight and resistance places. We're talking about squares miles! So a lot of weapons could have been developped there.
---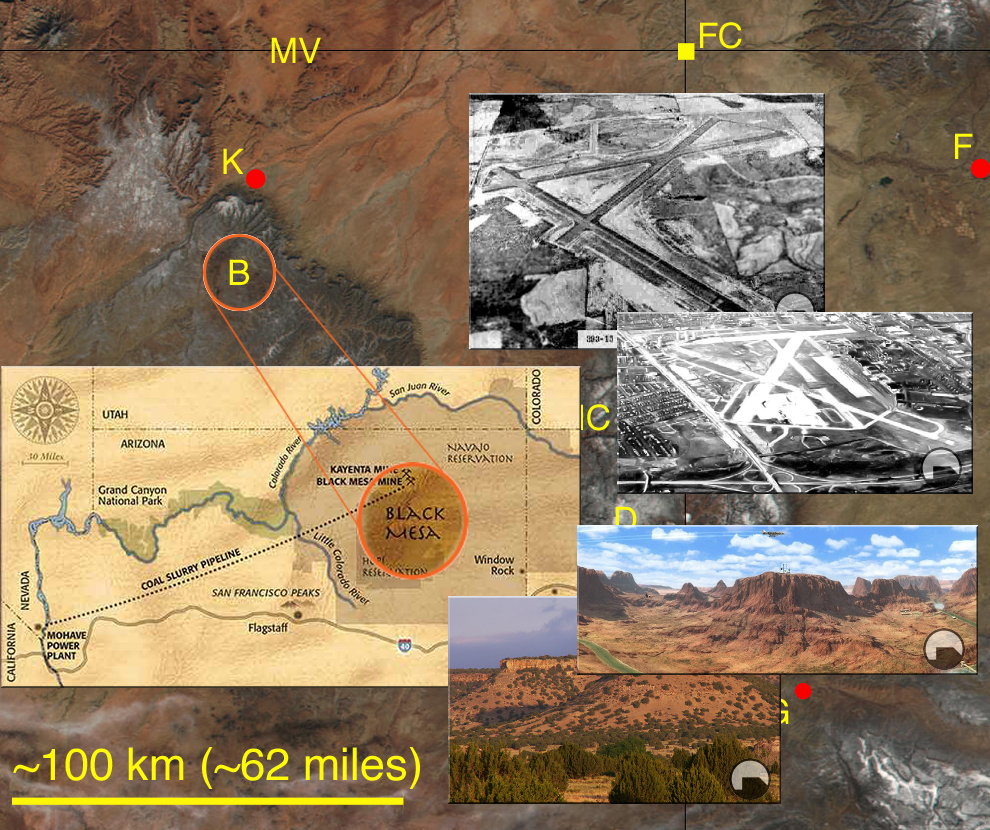 (Parts of northeastern Arizona and northwestern New Mexico, including the Four Corners Monument (FC), are shown. Some higher elevations have a dust of snow. Labeled natural features are the Chuska Mountains (CM), the Carrizo Mountains (C), Monument Valley Navajo Tribal Park (MV), Black Mesa (B), Canyon de Chelly National Monument (CdC), and the Defiance Uplift (D). Labeled towns are Farmington, New Mexico (F), Gallup, New Mexico (G), Window Rock, Arizona (W), and Kayenta, Arizona (K).)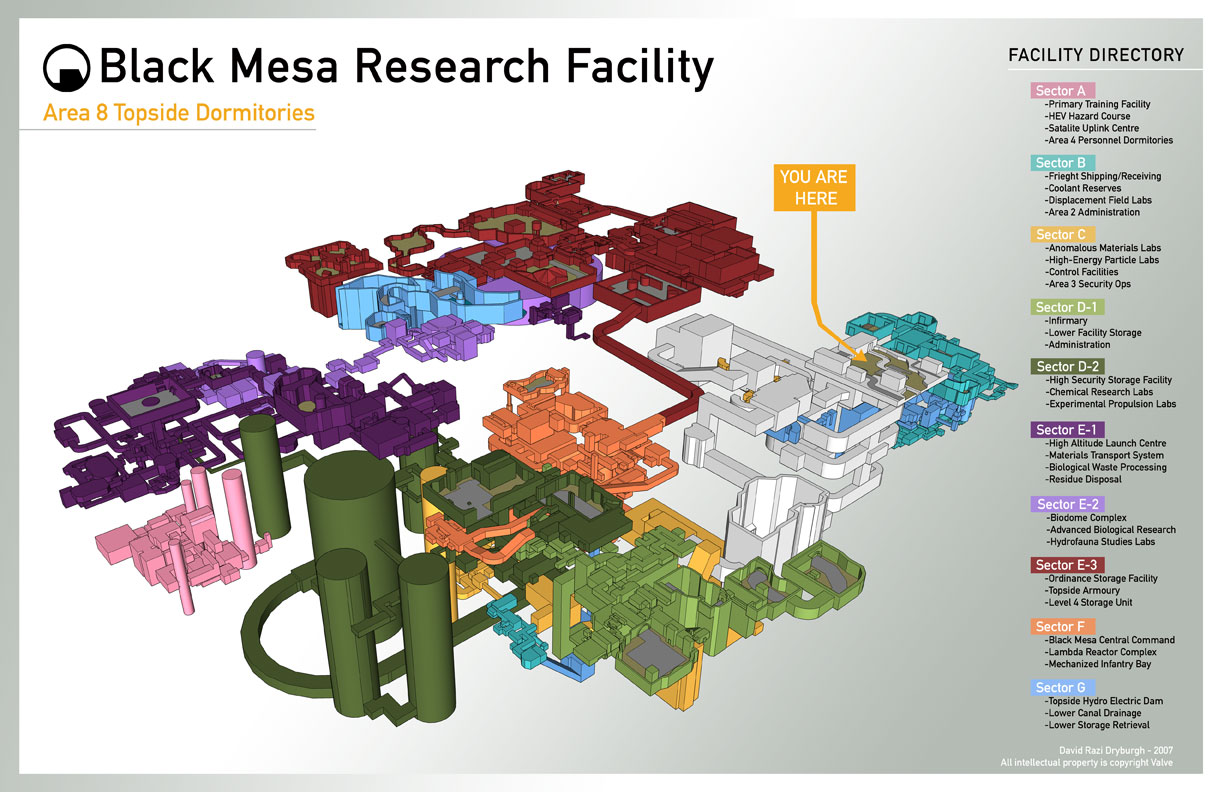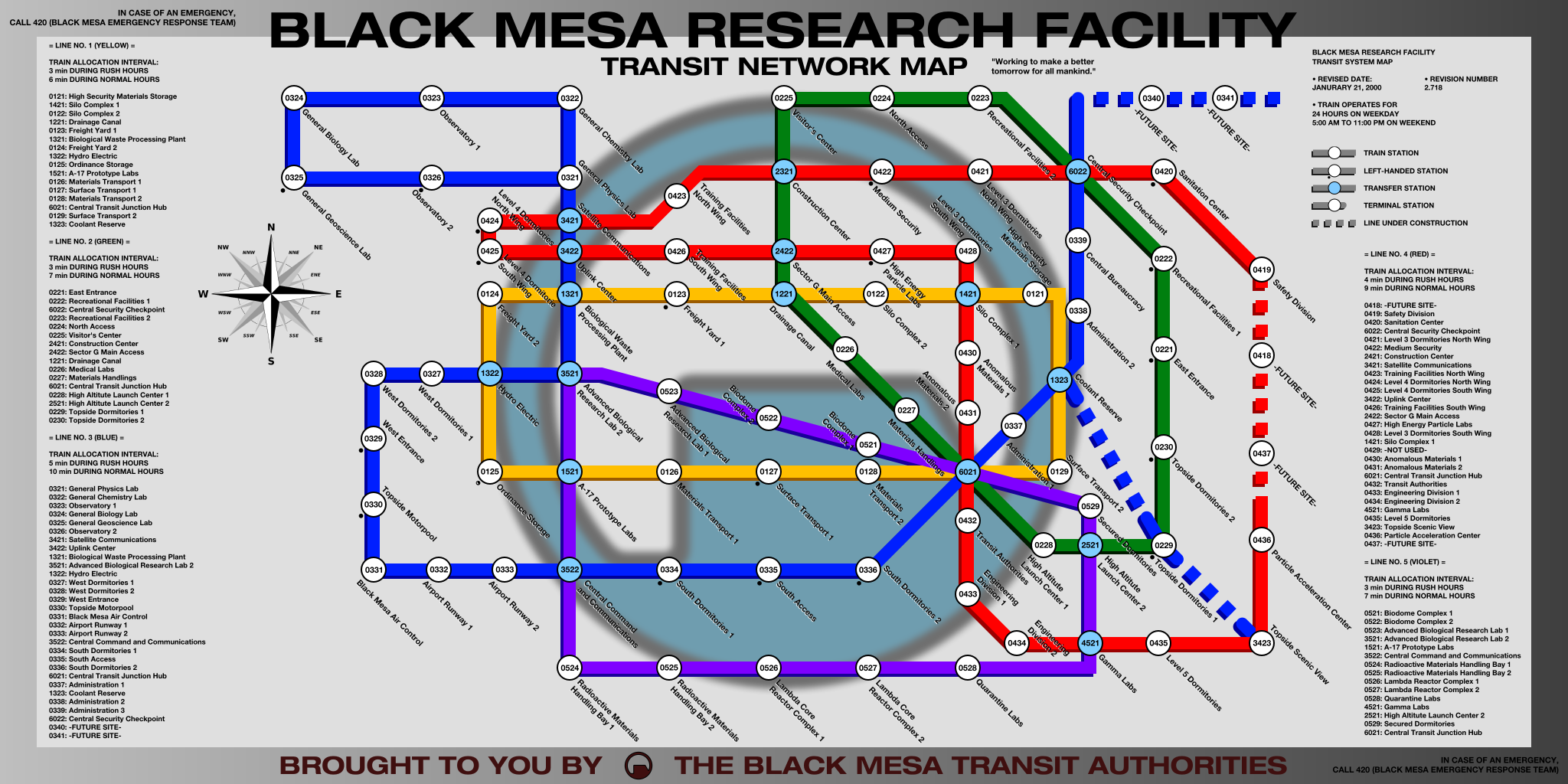 (Images from various authors about the BMRF.)
(If you have time to waste, here is a neat video to watch!)
---
In facts, I had some ideas about BM facility personnel and vehicles, making them playable instead of black ops. Since the whole mod will be during the Black Mesa timeline only, I was thinking that having two military like factions nearly similar wouldn't be that great, as opposed to have a Facility Survivor faction (so not only scientists). Even if scientists would have low resistance without the HEV's, they would have great firepower thanks to their weaponry developped in BM. Also automated workers (those big yellow robots and also MP robot characters could be modified for combat ;) ). And don't forget the security guards! ;)
Black Ops would be then radom encounters on the battlefield attacking everybody. Aggressive NPC's.
---
---
-HECU Production Buildings would be standard camps, dropzones, Field infirmaries, etc...
-Facility Survivors Production Buildings would be then parts of small topsides areas (Security stations, Small dorms, Topside Warehouse access,Topside Generators, Facility Guard Tower, etc...), that will blend into the scenery when build, as custom neutral buildings will be worked on and imported into the game .
-And well, Xenian Production Buildings would be more Organic / Portal like. Like.... Xenos.
I know that some of y'all want me to add a lot of realistic military vehicles, army and national guard and stuff, but i would like to keep only the vanilla game protagonists, and only expand from there. Try to find interesting 1990-2000 military prototypes (as some HECU weaponry was also developped in BM).

(Credits to the Black Mesa Source dev team.)

I hope you understand what i mean, and hope that i've kinda answered your question my friend. ;)

What do you think about it? Let's get to the comments!



See you soon Commander, and keep an eye on your six!
Command And Conquer: Opposing Forces Modding Team.