Factions (the concept) are one of the fundamental game elements of Factions (the game) (I can see this is going to be confusing lol). Every ogre and troll camp, every type of animal and even every new player is their own faction behind the scene. Meaning when you start the game (if you choose to start unaffiliated with a faction) you will actually start as your own Faction as shown in the image below. It's up to you whether you want to stay a lone wolf or meet other players and join their faction or have them join yours etc... etc...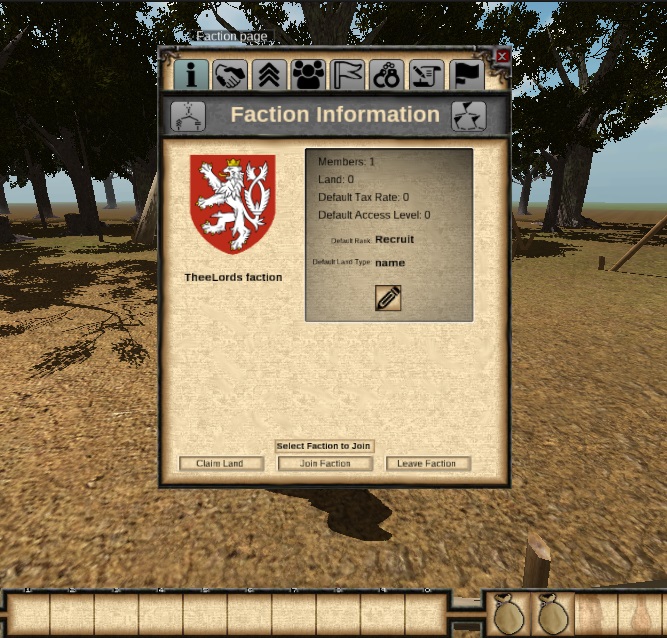 Firstly, before I start going over these screens I will remind you that this is very early pre, pre alpha stuff... the UI graphics will likely change a bit before anyone actually plays the game and many tooltips and the like will be added to make it simple to navigate.
Let me take a moment to talk about the Faction information screen, the first thing you will notice is the nice looking Faction banner graphic. This will eventually be fully customizable and this insignia will be flown proudly above your glorious armies and civic buildings. From this screen you can also change your Faction's name, change the default rank, default territory classification, default tax rate, and who can lawfully access your territory based on the default access level. You can also leave the faction or request to join another faction from here. Claiming territory will not be a button click! This is just for internal testing =)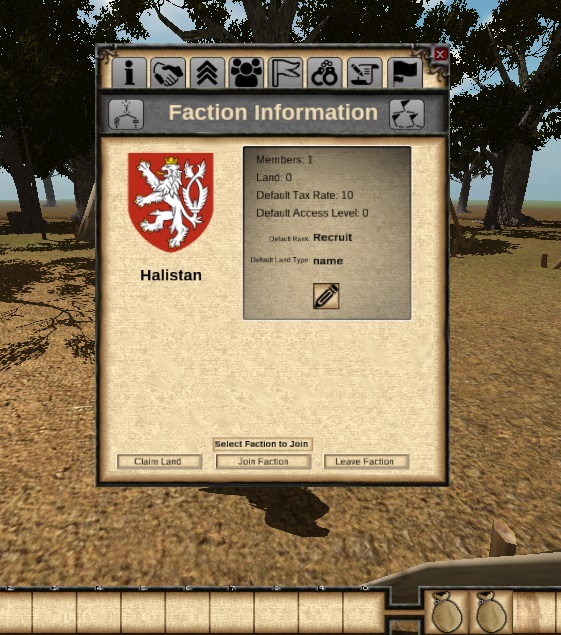 Next in line is the relationships screen.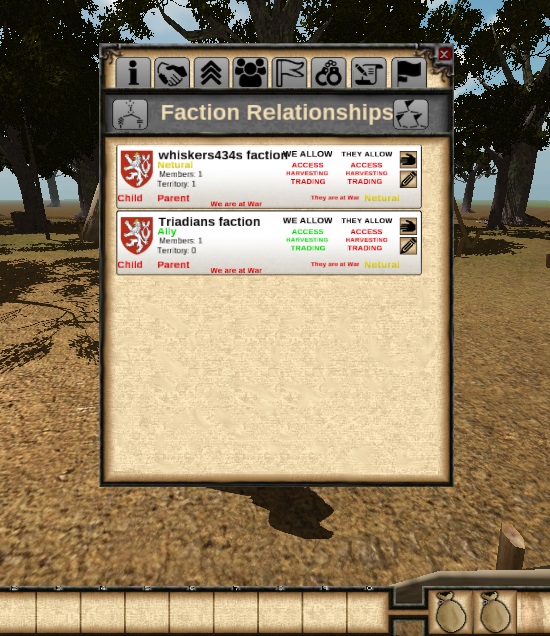 Here you can view relationship status for all the factions that you've encountered (we will also allow filtering here later so you can only see those relationships you care about). As you can see in the screenshot, I am allied with Triadian's Faction and I allow them access, harvesting rights, and trading rights within my territory. They allow none of this for me! How dare they, maybe I should go to war over this transgression?! You'll also notice the little hand icon in each of the relationship panes. This allows us to open diplomacy with the other faction where we can do trades on a Faction level, trading things like gold, access rights, vassal status, mass quantities of goods etc.. etc.. This will provide a built-in diplomacy mechanism so that players do not always need to resort to taking what they want by force. This feature is a nod to grand strategy games and will be discussed in a much later developer's diary.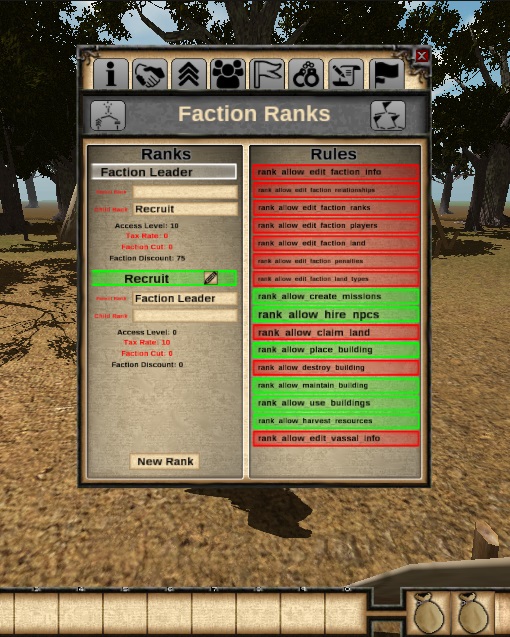 The faction ranks screen is where you can go to create and edit the ranks for your faction members and control what they can and can't do. If you want to allow all members to claim territory, place buildings, create missions, wage war etc.. etc.. you can do that. Or you can restrict the functionality to only Faction leadership. You will have a ton of different options here to handle your ranks in different ways!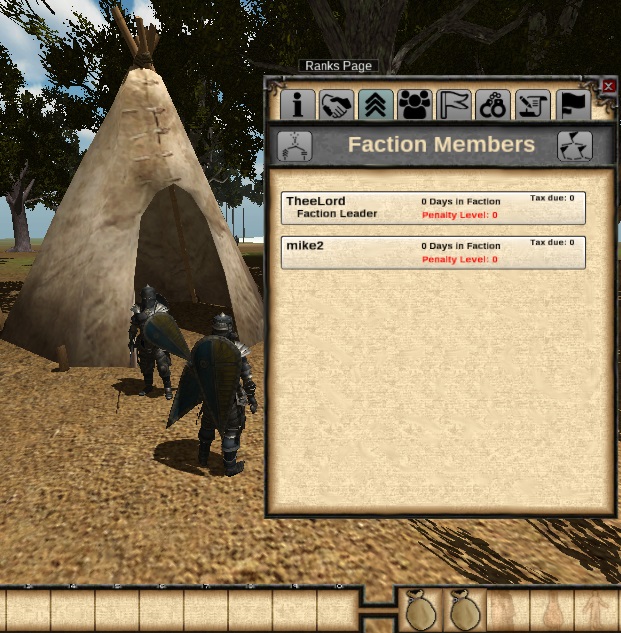 Faction members can be tracked and assigned ranks via the faction members page.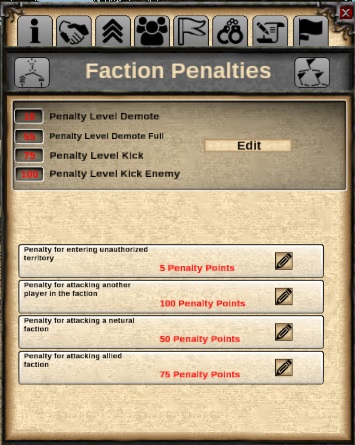 And finally, what are all these rules without penalties?! The penalties page will allow you to set the penalties for various infractions. With each infraction, you will incur penalty points which you can set in the top pane. In the bottom pane are the levels at which various recourse kicks in. So maybe your faction only wants to kick players for very serious violations and demote them for minor ones. You can set it up any way you would like here.
This dev diary really only scratches the surface of what will be possible with the Faction system. In later dev diaries I will go into the Territorial acquisition /management features, the vassalage system, cool ways of viewing your Faction's standing in the world like the political map, faction parent/child tree, rank tree.
Stop by in another few weeks when we will be discussing either the Missions system or character customization!