BUGS CRUSHED, MASHED, MUSHED, SMUSHED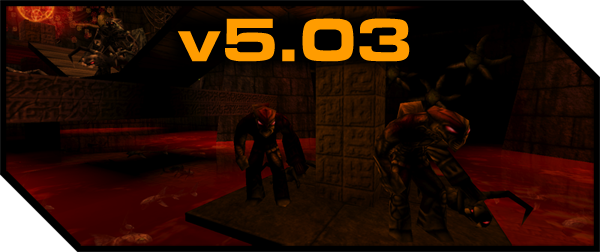 EXU2 Patch Time again. Got a bunch of nice tweaks done for this, as well as some pretty big bug fixes. Plus a few extras!

Open Beta Version 5.03:
Campaign Changes:
Hellcastle (Menu Map):
Added selectable navigation beacons leading to difficulty selector rooms for anyone having trouble finding their way to their chosen difficulty portal.
Soul Storage (Map 4):
Fixed door at end of map not opening properly most of the time.
Other Maps (1, 6):
Yet again, misc. technical fixes and tweaks.
Other changes:
Improved Pentapower display on the HUD, plus some offset fixes.
All monsters with the Fearless tag no longer run away from you when you have the Extractor selected.
PulseSkyTentacle aim error tripled.
EXULeglessKrall now fully functional (mostly; slight collision bug remains. EXULeglessKrall collision cylinders are higher than they should be, but for now this is a worthy compromise as they would sink into the floor instead).
All Demon pawns, Dark Pupae, and Doom Troopers now have glow-in-the-dark eyes.
Fixed a HUD bug where icons would start getting duplicated if you carried more than 20 different kinds of selectable inventory items. You can now carry 100 different kinds before that happens, which means every single item in EXU2 plus a dozen or so custom ones. And if a level designer puts over 100 items into a single map, well, they're just crazy!
Fixed EXUSeeds bug where activating one would switch you to your next item automatically, even if you still had seeds left.
Fixed a bug where no EXUManta classes would attack you on Easy. This behavior is actually intentional from Unreal 1, and is preserved in EXUManta, but TurboManta and below will now attack properly. I also disabled the 40% health reduction for TurboMantas. This should make most Mantas actually dangerous on Easy instead of completely worthless.
Fixed EXUFlickeryPulseryThing classes not working online. Also, FaderPanels are now RandoPanel subclasses, and FaderPanels support flickering. They do not work with pulsing settings, though. FaderPanels can also be set to change their texture each time they are triggered back on after being turned off.
>>>>> Get the latest version right here on ModDB or on the

EXU Forums

! <<<<<