Hello! Its Jonathan and i'm here to reveal to you the concept for the Republic of Earth Soldiers. This wonderful concept was drawn by our resident artist, Daniel Vasquez.It all starts with a sketch, the meticulous drawing a line, then erasing it, only to draw it again, shaping small features as you go. Minutes pass, then hours, but soon the fruit of your labors are prevalent. The outline is born. The shape of a soldier. He has no story yet, his existence is unknown by all, but through your hands, your creative mind, his story will unfold right before your eyes.
Happy with your work, you decide to shade it all in, giving you insight on how it all lines up with color. You choose a grey color, symbolizing that while the soldier may not like the idea of killing someone else, they do it to protect themselves and their people, rationalizing with themselves and justifying their own actions. The grey area.
Satisfied, you begin to add in your base colors, making sure to stay in the lines, only filling in the major features for now. You choose a silver, almost chrome shade of grey for the armor, being that the Republic of Earth are militaristic in nature, and grey is usually a default color with mass produced items.
Seeing that you have touched everything you need to, you start to color in some of the smaller features, making sure that all the colors match. You feel that a soldier would keep his armor clean and in pristine condition as it is his only protection, you you clean up any stray lines, showing that he has discipline.
Once the features are colored with their base colors, you shade the image. The 3-D effects are stunning. You create the different pocket,s giving the soldier space to store his ammo, and sections, giving the armor space for vital electrical systems, all of which will help him survive if he were to be attack while on the battlefield.
More fine detailing that takes a few hours to complete, but is well worth the extra work. You add in lines, separating all of the previous mentioned compartments, and you add lights. The soldier thanks you by standing at attention while you clean up the mess around him, making sure he is well prepared for battle.
"Finally!" you say in excitement, as the concept piece is completed. The soldier has been given a story, his armor has been cleaned and polished, his electrical systems are fully functioning, and he is ready to go. The Republic of Earth soldiers take pride in their ability to accomplish things that no other person is willing to try. This is conveyed through Danny's artistic hand, not only creating an image, but outlining a story through the use of different colors and drawing techniques. A job well done.
The entire process, put together: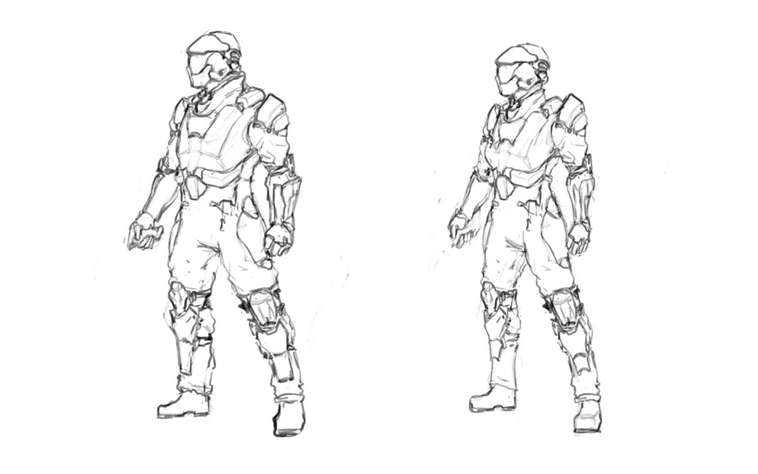 See more great concept art at ExtroForge.com!