Yes, its 60 new levels within 6 slightly-different episodes in different order.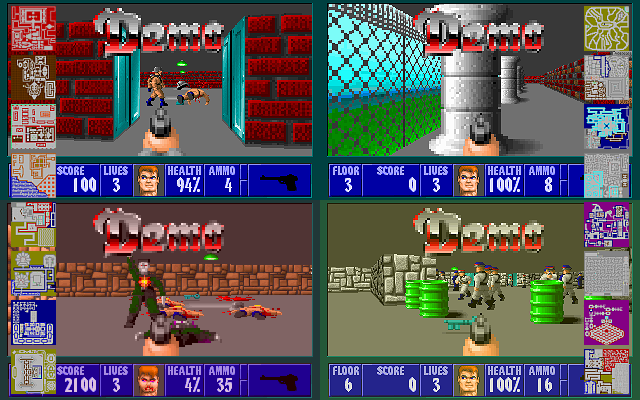 Only slight modifications I have made with graphics just to fit the needs of the new concept.
And that is why I am originally not intended to touch the executable itself, but since so many things was hard-wired into the program's code,
I felt the necessity to do some modifications with the executable, and because I was there, I fixed some annoying old bug which lurked within the original game.
There are hidden music tracks from the original game I used with BJ's Destiny.
I kept the original structure of game files. There are no ugly external demo and/or text files beside the usual names.
As for the levels, I tried to do my best to make them juicy within the existing limitations.
I arbitrary followed or breaked the original level design conventions.
For example: I notoriously used to extend the very limited map space with using smaller wall spacing against texture diversity,
used starting lifts for some leves to keep continuity straightforward.
I have made experiments to find (hopefully) interesting capabilities in the original game that I could bring forth through my map designs.
For example: The ability to make a wall multiple pushable, to make a Pushwall Puzzle, to do the Follow The Guard -trick, etc.
So I think its worth to play to you, steady Wolfenstein-3D / SOD fans, to find out the hidden things you could only dream with until now..
Yeah, it comes with a 17 page "WEX60 Hint Book" in PDF format!
And for those folks who are not in (yet), do not hesitate to get acquainted with the original game!
All the best, let's have fun!