Normal Goblin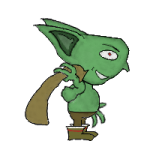 The most common type of goblin. He's got normal speed, can steal the least amount of gold, and all his attributes are balanced.
Amount of gold he can steal: 7; Bomb chance: 25%; Speed: normal
Zombie Goblin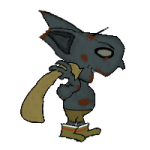 When a goblin happens to be killed by a bomb, he may become a zombie! These kind of goblins are dangerous, because not only can they infect your own guardians but also yourself. While afflicted with disease, your cursor goes crazy (going unintentionally in wrong direction) and clicking on the skills won't always work in the way you expect them to.
Amount of gold he can steal: 10; Bomb chance: 25%; Speed: normal
Digger Goblin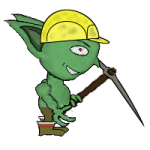 Sharing the same properties as normal goblins, however equipped with a working hat and a pick axe, ready to dig! When a digger goblin encounters an obstacle he doesn't turn left/right to avoid it, but digs a hole. After the hole's finished he continues his work, and starts working on the tunnel to the other side of the obstacle(s). By completing the exit of the tunnel the digger disappears.
Speed: normal
Mad Goblin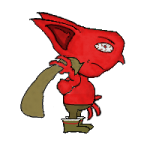 When a bomb explodes in the goblin's bag without being fatal, the goblin can become mad, making him stronger, as well as giving his speed a boost and increasing the amount of gold he can steal. Moreover the gold in his bag can also be destroyed, so the player has to be cautious and take his gold as soon as possible! Lastly, the guards can catch on fire by attacking them.
Amount of gold he can steal: 15; Bomb chance: 15%; Speed: fast