DOWNLOAD
---
Download Explorium Alpha v0.2
Download link redacted.
SCREENSHOTS
---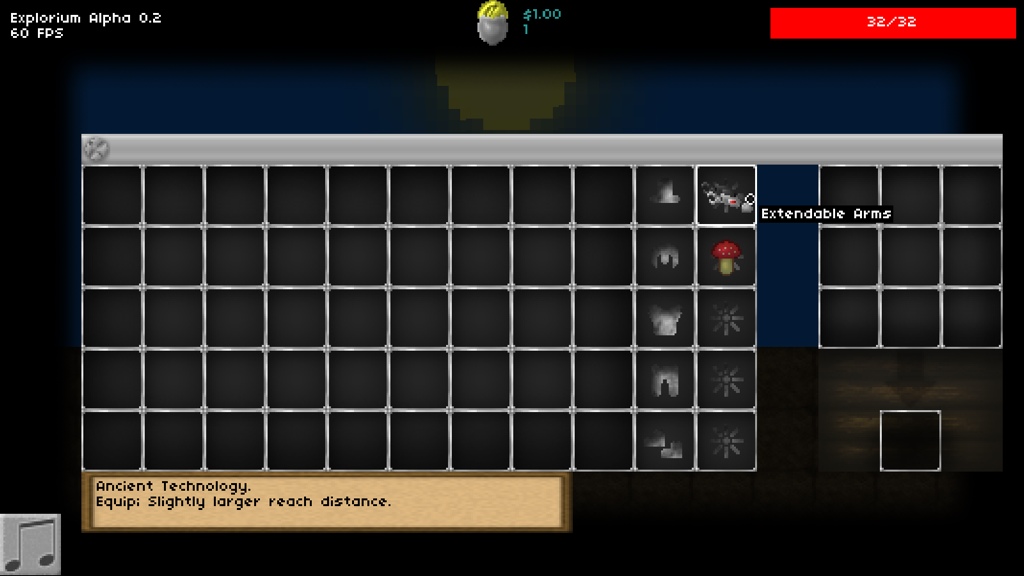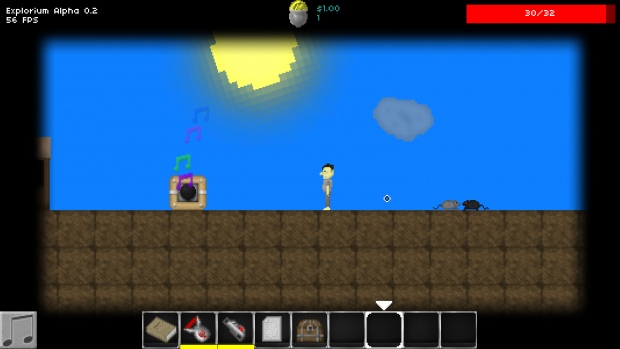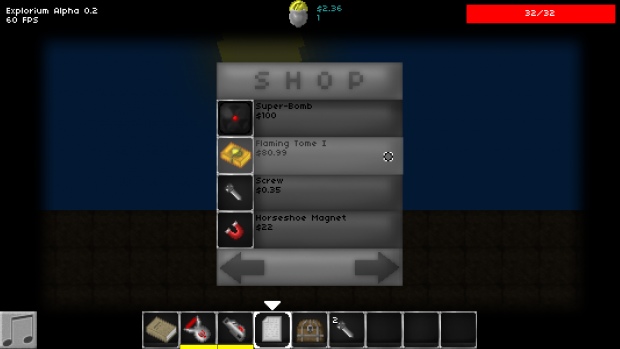 CHANGELOG:
---
Added extra inventory slots for equips and armor.

Added creatures!+Added usable storage chests.

Added health and money.+Added Small Rat mob.

Added Great Green Glob mob.+Added Shroomy mob.

Added Evil Rat mob.

Added Turtle mob.

Added Rabbit mob.

Added a new Ancient Technology item.

Added the ability to freely move the inventory screen.

Added a readable note that shows crafting recipes.

Added a new crafting station.

Added a new biome.

Added a fully-fledged background with day and night. Clouds, too!

Added functional ladders.

Added new crates.

Added 5 new ores.

Added a new type of item, which includes the Gem Cutter and the Philosopher's Stone.

Added armor.

Musical transitions.

Tweaked clay and mud generation.

Ancient Technology items now have durability, rendering them useless when they run out of power. Keep in mind that the Mining Laser uses power whenever you fire it, not just when you mine blocks.

Fixed inventory clipping to wrong position.

Inventory keeps hotbar position after opening and closing the inventory.

Player no longer drops from the sky.

The player has a new variable: luck. It affects treasure finding probabilities.

Optimized block drawing slightly.

Menu is now controlled with the mouse.

Crafting is now done by clicking instead of pressing enter.

Fixed destroying adjacent blocks when moving mouse from another block.

It' no longer possible to teleport into a block.

Tweaked and fixed a few bugs with drops.

Reduced load time.

Redesigned manner of collisions. They are much more precise now, allowing for a large variety of different solid types.

Player now has momnetum and more realisitic gravity.

Doors now work properly.-Changed menu sounds.

Swords work correctly and change the player's attack power.
REGARDING FUTURE UPDATES:
---
Here's the good news: Alpha v0.2 is out!
Here's the bad news: I won't update the game for a couple of months, maybe even more.
I, Lemoncreme, have decided to completely re-design the engine. Every single aspect of the game will be more streamlined and easier for me to manipulate.
After the long wait ahead, updates will arrive more frequently and less buggy.
If you have any questions, please use the forum!
Indiedb.com