Company system:
Mod does no longer use troops division into classes that could be done in party window (because it does not support division of one troop type into more than one class). Instead, player can select class types in pre-battle menu (that is based on PBOD pre-battle menu where you can select which troops can join battle). After battle start and spawn of soldiers, they will be assigned to squads (named companies in game) according to what has been selected in pre-battle menu. Company types:
Line Infantry;
Light Infantry;
Guard Infantry;
Melee Cavalry;
Mounted Rifles (Ranged Cavalry);
Elite Cavalry.
Each troop in all troop trees is one of 6 company types described above. For example Austrian Uhlans will be attached to Melee Cavalry companies, Austrian Jaegers – to Light Infantry companies and so on. If there is no fitting company for troop, it will be attached to any infantry/cavalry company.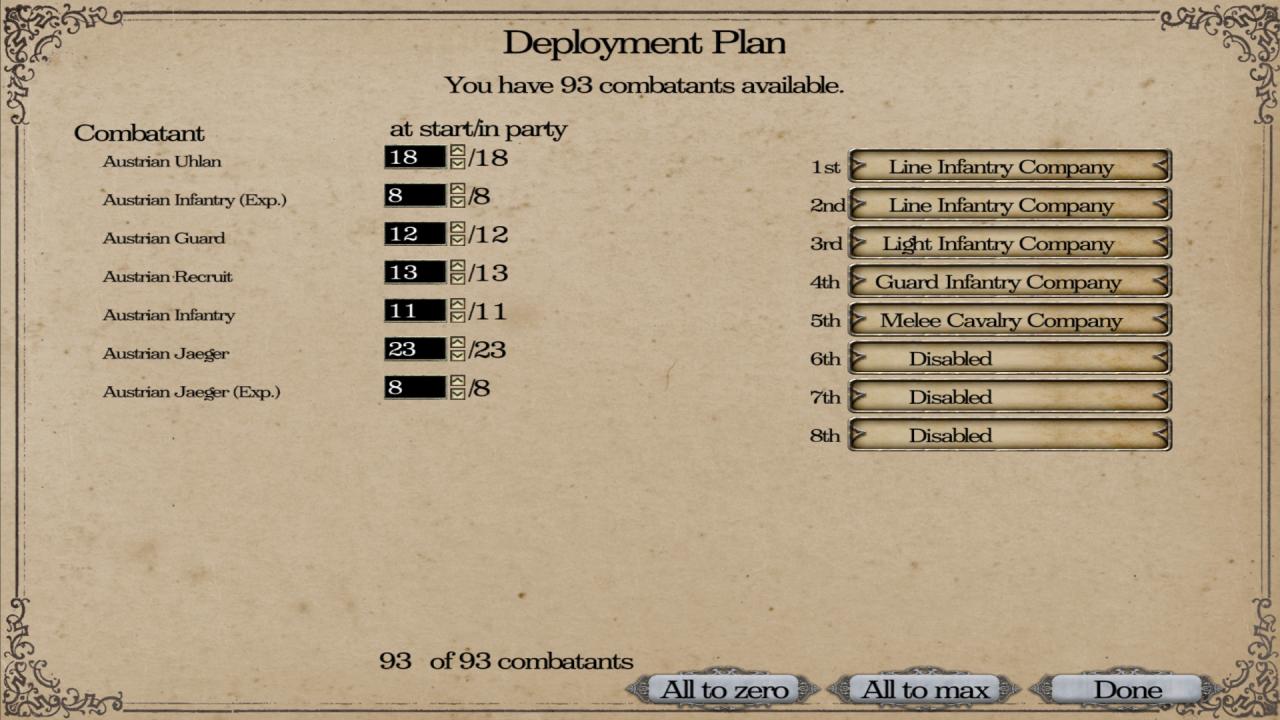 Each company (i. e. squad) has discipline and energy levels, both are indicated by percents (0%-100%):
- Discipline level is an indicator of company morale and willingness to follow orders. Discipline level is affected by enemy actions – enemy fire and closeness of an enemy soldiers. If discipline level is too low, company will retreat (individual soldier retreating from Native has been removed).
Company will be available to receive orders again in some time after retreating. Soldiers retreat not to nearest map border, but away from the enemy. However, if company retreats near map border, soldiers will leave battlefield. Default (maximum) discipline level of company is 90%, but having guard infantry/cavalry in company gives bonus to default level that is up to 10%. Low discipline levels will give penalty to shooting accuracy of company.
- Energy level is an indicator of company tiredness. Running and melee fighting will lower energy level of company. In this mod, running/walking switching is available, so it is recommended to use walking to preserve energy of soldiers. Low energy levels give penalties to walking speed, shooting accuracy, reload speed and melee damage. While standing still, company will restore its energy level.
For better companies management, new aerial view had been implemented. Discipline and energy levels of companies can be seen there. In aerial view, camera moving and rotating can be done with keyboard, and company position and direction of it's formation can be pointed by the cursor (by pointing cursor on minimap or field and clicking RMB).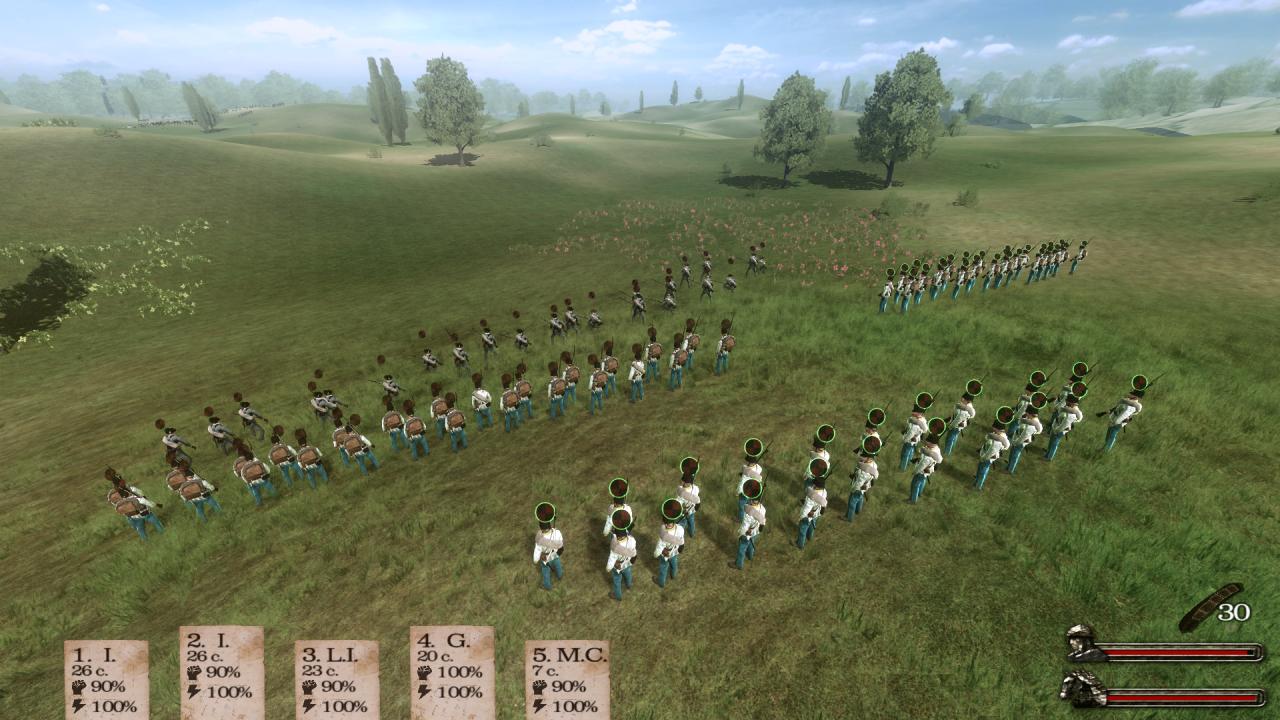 Formations:
Native formations had been completely rewritten because of their technical limitations.
Main changes:
- Player is now able to control direction of formation, while native formations were always directed to average position of enemy soldiers;
- While moving to position, soldiers will be headed towards their position and not towards enemy. This allows to avoid running backwards when retreating, for example;
- Lowered randomness of soldiers' positions in formation so gap between soldiers will be more fixed and formations will be more precise;
- Soldiers won't shoot while moving, so there is no need to switch to melee weapons for better speed. Shooting while moving is still available for "Charge!" order;
- Enabled orders from Napoleonic Wars, so volley fire is now available. Volley fire does better job at decreasing enemy discipline level and is only available for line infantry;
- Loose formation is only available for light infantry.
It is planned to add technology trees for factions that make available the usage of improved formations (like using loose formation for line infantry) and weaponry (like switching to breech-loaders).


Best Regards