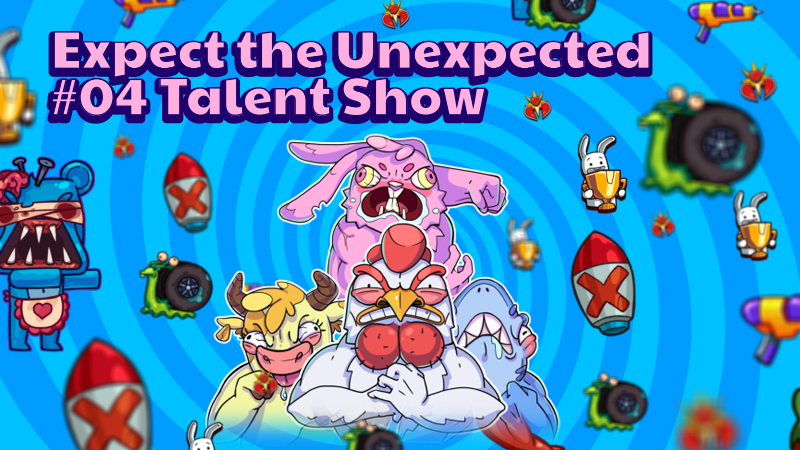 Expect the Unexpected #04 - Talent Show
Weapons, upgrades, and special items
Welcome back to the Expect the Unexpected series! Today it's all about showing all you've got by clearing stages and getting new perks along the way. Don't you think you're ready because you obtained a mighty-looking gun (which we covered in the last episode of the series). This is the Crackpet Show, and it's all about mixing perks, guns, and special items.
Before you start
Lights out and away we go! Or wait… There is no wardrobe in this bizarre TV show (in fact, all participants don't use clothes, yikes), but what they really need are perks.
So, at the beginning, you end up in a room when a selection of perks spawn. These passive boosters increase your mobility, weapon capabilities or even grant you a brand new skill! Let's take a look at a few examples:

Damage Boost Aura -

An aura surrounds you, increasing the attack speed of you and your teammates who are inside the aura. [perfect in co-op]

Steel Shoes -

Makes you immune to traps. [there are rooms full of it]

Bouncy Bullets -

Your projectiles bounce off walls. [it's so powerful with the right weapon!]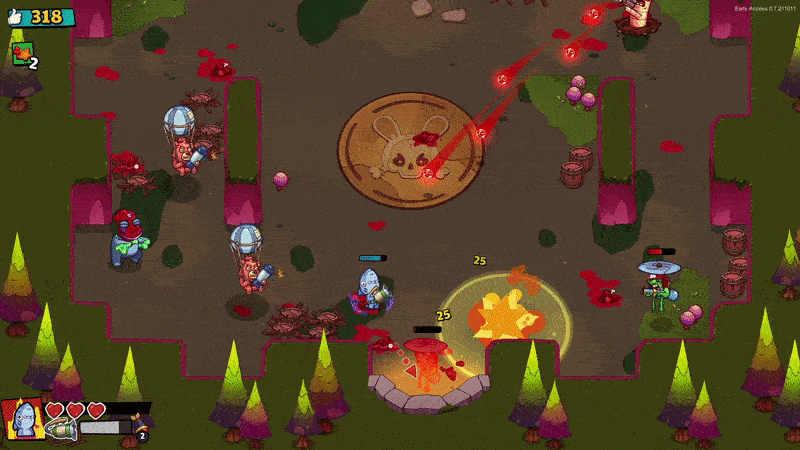 There is no perfect combination - it all depends on the current episode, weapon, whether you play solo or in a co-op. On top of that, perks are stackable, so you keep them until you die or finish an episode once you obtain it. So try to look for the best combos!
Testing your friendship
When you play in a co-op mode, you choose from the same pool of perks between yourselves. However, you can't magically duplicate them, so if you both opt for the same one, you begin a fighting mini-game.
The winner keeps the perk, but the loser needs to choose another one. So, playing in a 4-player co-op might result in another fight or a least appealing perk. But hey, no risk, no fun!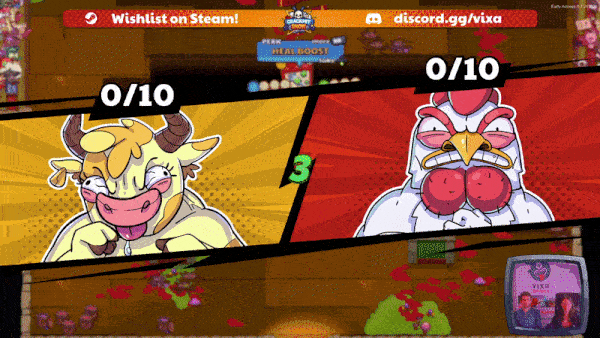 Perk room is my friend
Rooms marked with a fish icon are the ones that grant you a new wave of perks after finishing it. Those marked with a skull icon have a more serious difficulty, although they give you a chance to pick up an additional perk.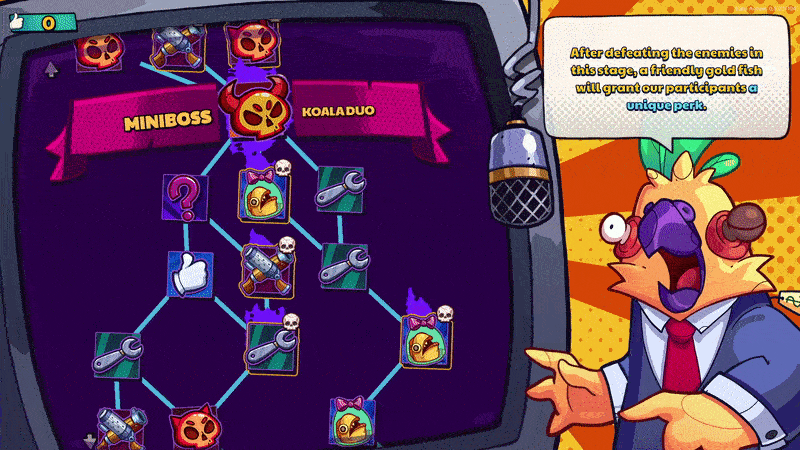 Once you gain access to the perk for the first time, you unlock it. It means that by finishing an episode, you can upgrade it, making it more powerful the next time it pops out for you. Each perk has 3 levels - so 2 upgrades in total.


So there you have it. And good luck - good luck with the fights for the best perks - within the show, and with your friends.
Coming up next…
In the next episode of "Expect the Unexpected", we will cover sponsor bonuses, allowing you to get access to new gameplay mechanics. Stay tuned!
Just in case you're just as cracked as we are, terminally online and not knowing what to do with yourself… We may be busy little bees, but you should follow these pages:
Our Facebook with news for you to check - Facebook.com
Our Twitter with jokes, gags and rofltastic memes - Twitter.com
Our Instagram with hilarious highlights - Instagram.com
Our "hello fellow kids" Tik-Toks - Tiktok.com
And more:
P.P.S.