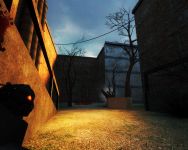 Excessive Chapter 1 v0.1 is available for downloading from now!
Inside the .rar file you will find a Readme documents with instructions, two folders to install the mod and a .doc document with some questions for beta testers, the document contains spoilers!!!!!! If you want to be part of beta testing, send your impressions to erwaitin@gmail.com I prefer if you do it using the form I've sent but if you like any other way will be fantastic!
I hope you all enjoy this small map. I'm waiting your thoughts!!!