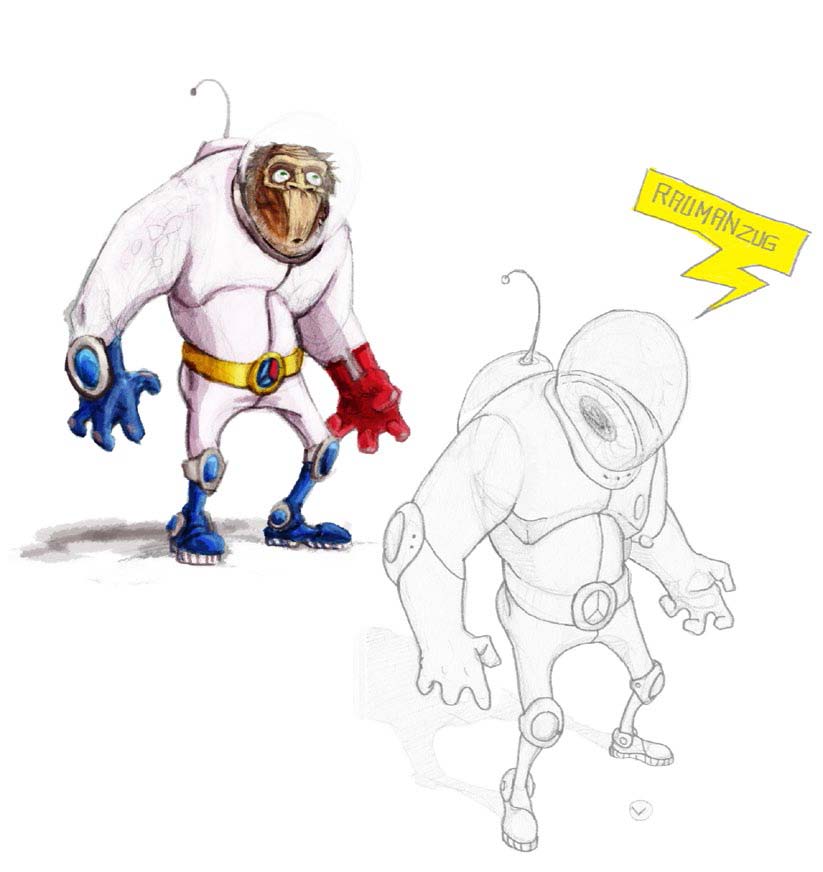 Last time we showed the different possibilities we visualized to use for our main character and as you might know we decided to go with one of the big guys. Our main character as you can see here consists only of a few basic forms and elements. The belt in the middle, a small backpack which breaks the silhouette from the side and lightend ellbows to create an iconic pattern from behind. The glass helmet is for an astronaut from our plant crucial. Nothing says it like that, that an ape shouldn't be out there in space.
We tried to be as low poly as possible with the character and keep it very iconic and stylistic. The final model shouldn't have a lot of detail but very well defined edges and surfaces. What material the suit is made of is left to the spectator. What technique does it use? Some sort of magical NASA-technology i guess.
For me it is a tribute to the glorious heroes of jump n' run games: Commander Keen, Earthworm Jim, or Megaman.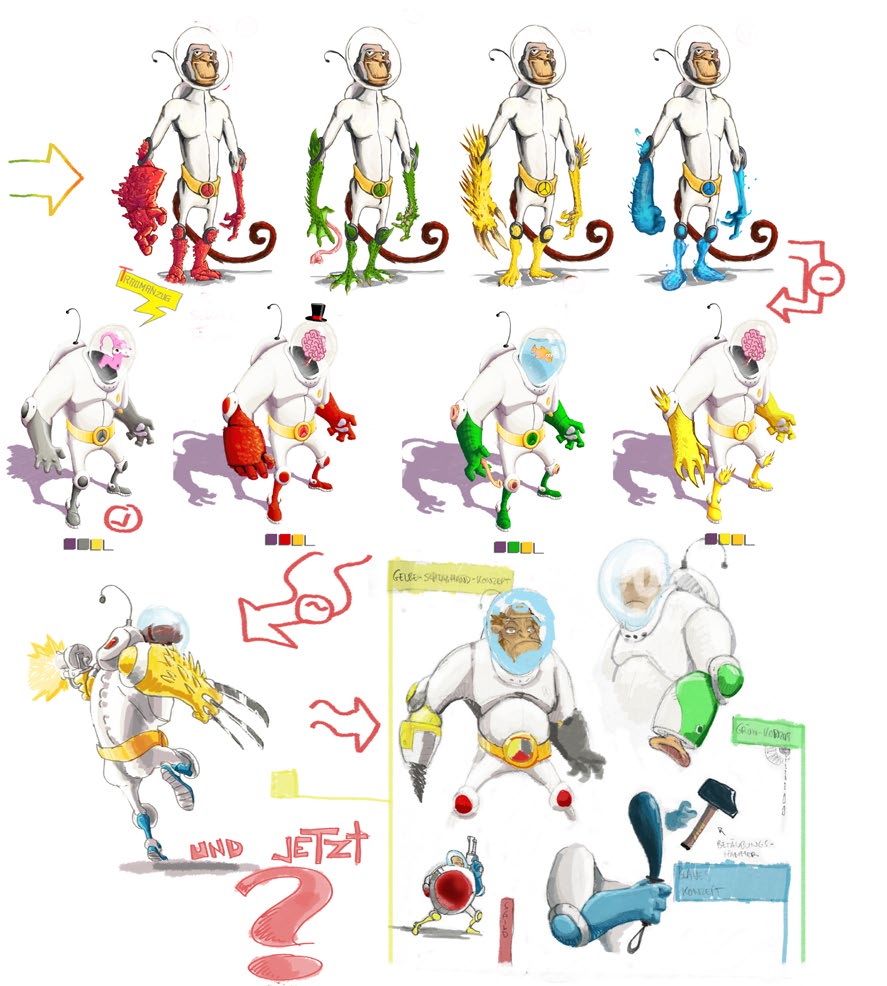 We imagined the character very comical and simple. The focus is not on complex layers of clothes and armor but instead should leave space for the configuration chosen by the player. The different Noomies with their 4 colors will be represented through different tools on the character and he will be defined by those tools. It should be clear for everyone (player and opponents) which abilities (Noomies) were picked. That's also the reason for the plain white and the pure colors that define very (very) clearly the border between the slots (shoot, melee, movement and building).
In the top of the picture you can see some different approaches of representing the unknown power of the Noomies and your suits ability to absorb them. We decided to stick with real tools, like a drill instead of claws. And in the game we sticked to abstract concepts like strength, speed, splash and range instead of armor, jelly, spikes and gumi. Or even more unfamiliar: Crab, snail, hedgehog and froggy lizard-thing… a decision we don't regret.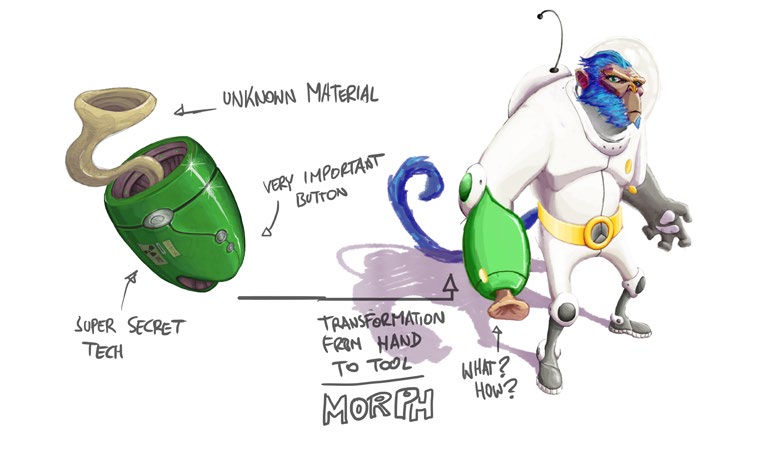 But we weren't everywhere very concistent with our own ideas. An example is the whip which stayed until now a hybrid of different ideas and technologies. A strange frogtounge-whip to grab Noomies from a far or energy from your opponent in a deathmatch. (This could be new to some of you, even if you have played with us in our alphamatches. It was poorly visualy represented and was a little bit to slow but an amazing trick if you used it succesful.)
Something similar goes with Gordos gun.
We wanted to keep it clear for the player to understand your purpose and therefore searched for a apealing look of Gordos weapons without getting into crazy stuff. A revolver is a very iconic weapon and even comes with its own style of lonesome strangers, unknown lands, unnecessary gunfights and so on. And we too, like "Cowboy Beebob" or "Earthworm Jim", think that it mashes perfectly with science fiction. And we thought it would be really funny if the humans gave an ape a real (!) gun for the exploration of unknown planets.
Again it was important to us to keep the "tools" in the focus and making clear whats your mission: Bringing the human spirit to primitive worlds.
At first we even thought about only changing the amunition and keeping the revolver all the time, but we ended by making a slightly changed revolver for every color – which is a little bit overthought.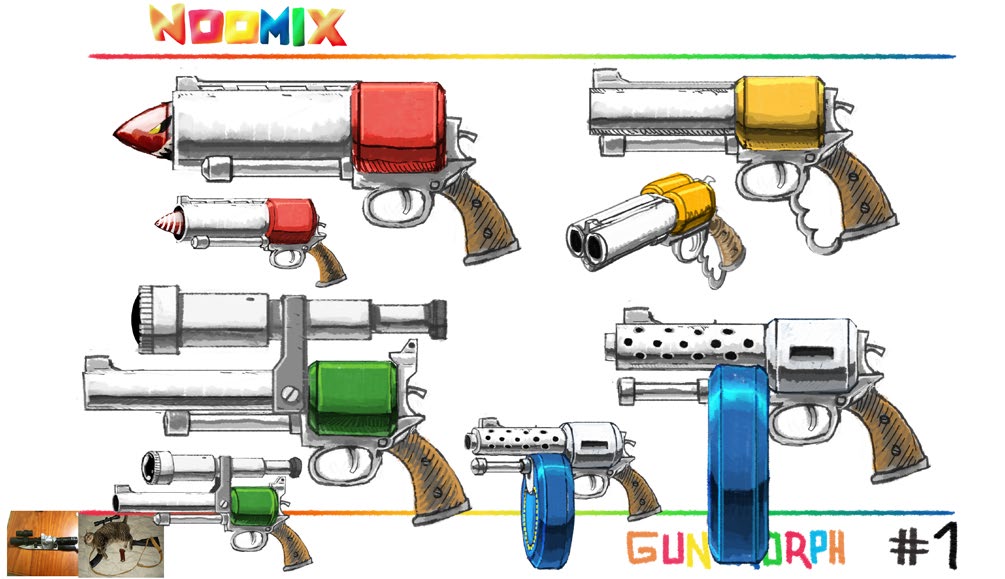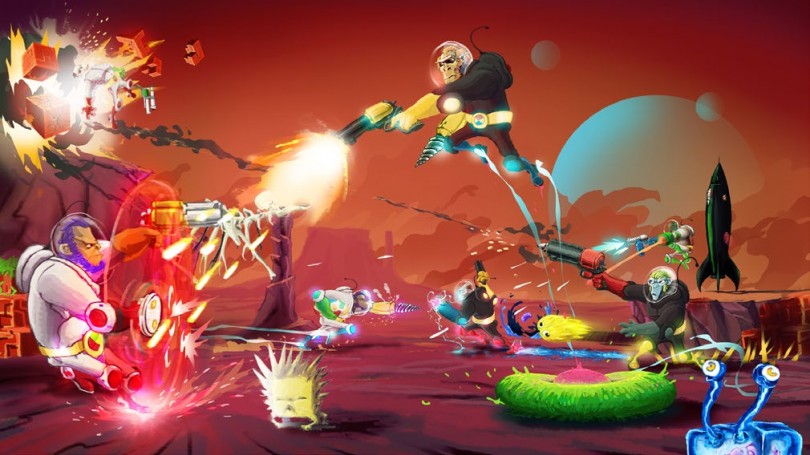 With the character defined by the gameplay we were coming up with an satisfying solution for both single- and multiplayer. When it came to Gordos face that gave us some headache. We tried different variations of form, mood, color, hair until we decided he should be "cool". Once we decided on a face, we tweaked his haircut. Violett wasn't allready reserved by any Noomie and we thought it would fit good. And we also wanted to add some beard to frame his face. Very apelike.
But here we made some really poor art. The problem with the final concept is that its not at all an ape. It reminds me of the first "Planet of the apes". The image you can see below looks more like a human with an apemask than a real animal.

But we were all pretty satisfied with the results anyway. The character was clear and had the right amount of seriousness and still potential for some in-game-humor. Giving him this edges and background was, what kept a lot of us working on the idea.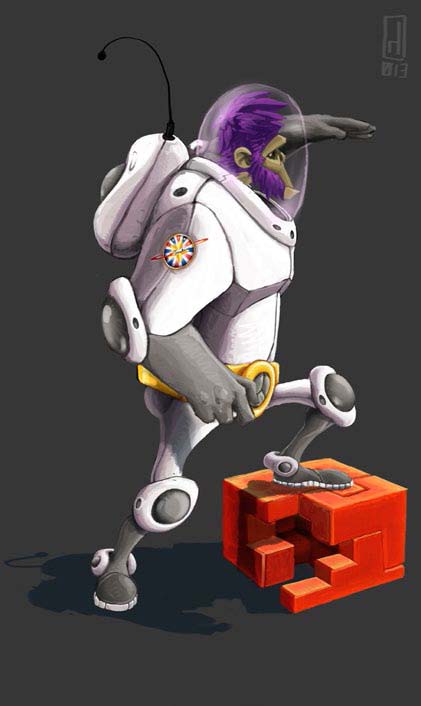 Over the course of this iteration we came to a character that wasn't perfect but we all liked him. We could stand behind him and during this process a world started to evolve and become more and more fantastic.
To me the things the character lacked were always backed up by my imagination for his future and past. In the game he will look like this human instrument, but deep down in him there lies a personality that will come out during his adventures in space, and how and where it all ends is not yet decided.