Hello everyone, we have some tidbits of news for you all! Since the 3.3 update, containing two new maps and a bunch of other fixes, we have been met by happier players and an even better experience out there on the public servers. We want to take a moment and thank all of you who continuously provide us with feedback, which we use to make the game better and to all of you who voted for us in the 2008 ModDB awards!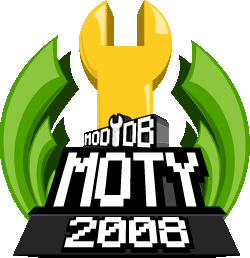 We made 7th place in the overall Player's Choice awards, which means a great deal to us, seeing as large parts of this community are less than two months old. We also recieved a mention in the Editor's Choice 'Most Innovative Multiplayer' and 'Best Multiplayer' categories, which seems appropriate, seeing as we are both innovative and multiplayer.
We are very happy with the results, and the increased amount of players on our servers.
Now to the development news. We have taken much of your feedback to heart and are tweaking parts of some maps, and infantry combat. Future updates will grant you greatly decreased reload times for many weapons, and weapons like the pistol will see more use.
There are also rumours that both factions are working on a new type of ship.. the current data points at a stealthy fighter, specialized at chasing bombers and gunships. Stay tuned for more detailed info as this development progresses.
We've had a spur of creativity on the forums lately. Community and Staff are all participating. I'd like to point out some of the amazing stuff being made by the members of our forum, so here are some pretty pictures for everyone's enjoyment:
Check out the Creative Discussion and Mapping Forum to see what else is going on.
Now get back into space, marines!