Hello everyone our wonderful team has done it again, we have updated our site with an updated UTF bomber concept and a beautiful NGM bomber model (based off the concept created only 2 weeks earlier!)
To see the full images, go into our site's gallery!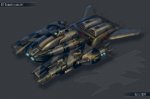 Also, an update on last week's update, we now have mirrors for the four fantastic orchestral music tracks mirrored at FPSCentral, and our section is found here! If you have not heard the tracks yet, please do!
As a reminder to all the fans, we will be releasing our first capital ship models very very very very soon (in the next update) and we know you will all enjoy it as it may just be one of the largest custom models for Half-Life 2 shown publically! We shall see! :)
~Iced_Eagle