Hello everyone! Hope you had a wonderful holiday season (or if you are still in the midst of it, hope it's going great!)
Anyways we have a present for everyone from our team :) This week we present to you all the UTF Hacker concept art piece by TDA. Colors will change, but you get the idea of him.
We also have attached a 1600x1200 wallpaper of the concept art piece, so you can all make your desktops look awesome!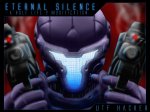 That's all for this week, expect some more things next week from the team! :) Be sure to post your comments in our forums!
Website: Eternal-silence.net
Thanks for reading!
~Iced_Eagle