Escape From Infinity is a small infinite runner game with completely random levels and a hover ship. It's now set for release on 26th June 2015 for $2.00.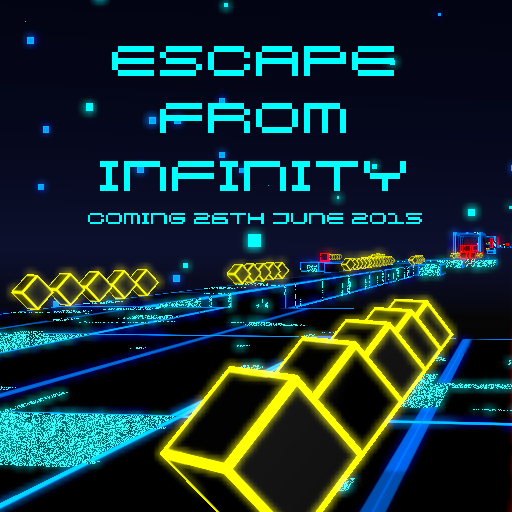 The Journey of Escape From Infinity:
It's been over two months since I started this small project, what originally started as a prototype and idea for a mobile game in the middle of march has been turned into a highspeed infinite runner for Windows and Mac.
Since starting this project and now there have been many changes in how I wanted the game to go and look, the original idea was as follows:
Escape From Infinity will be a small three lane infinite runner with basic graphics.

But now it's something along the lines of this:
Escape From Infinity will be an infinite runner with completely random levels on each race.

It's been really awesome working on this project as it's set the ground for one of my other ideas that will be going into development at the end of this year/the beginning of next year.
But more on that in another blog post...
The aim of Escape From Infinity is to get to the highest phase you can without damaging your ship to much and making it in the shortest time.
Story of Escape From Infinity:
E.F.I Technology have always been at the forefront of technology for the past 10 years, in that time they have made many advancements in ship technology. You are a test pilot ready to test the "E.F.I Hover System" ready for production of a set of new racing engines.

Good Luck Pilot.
Well I've babbled on enough now, I hope you're looking forward to the game. Spread the word, share it with everyone.
Keep an eye out over at Lparkermg.itch.io for a demo coming in the next few weeks and Moongate-uk.co.uk for frequent development updates.