Hello, everyone!
Today we'd like to show you some progress we've done both art and programming-wise.
We won't be showing as much as usual as we've been working on other smaller things for this project behind the scenes, which aren't ready to be shown yet, but even so, we'd still like to show some things.
So to start off, we'd like to show some of the environments for the train carriages our artist has worked on. There will be a few different carriages that will serve different purposes.
First, we have the bar area. It'll include a bartender and some tables where people will hang out.

Next, we have the bedroom for the passengers. The only accessible one will the main character's bedroom.

And lastly, we have the kitchen.

These aren't all the areas the game will have, but just the ones that were ready to be shown. The image with the train plan below are all the accessible areas in this game.

We hope you enjoyed the new look at the different environments that will be included in the game. We'll be showing the other carriages as we get closer to finishing them and adding them to our game.
Now moving onto the lights in this game.
For most of the game, the player will be in a dark train with only a lantern to light up their surroundings. As such, we've started implementing this light and dark system into our game.
As you can see in the GIFs below. The player will just barely be able to see things inside the train, and will have to get close to be able to see and interact with them.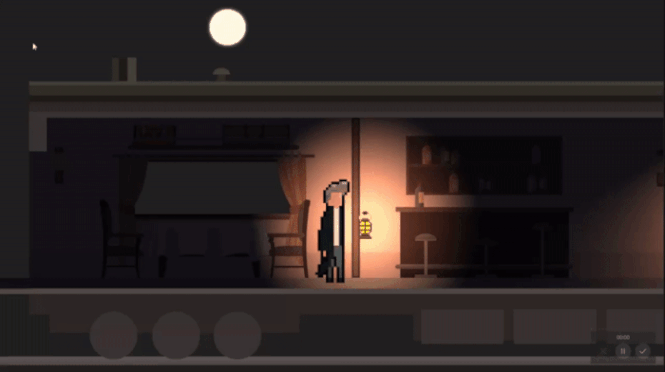 We've also applied some of the backgrounds on the carriages already to get a better feel for how the game will look. Tell us what you think!
That will be all from us for this post. As you might've noticed, we've strayed away from the black and white aesthetic that was planned at first. We'll be explaining this and showing the detective character's design and some UI elements soon, both on Twitter and here.
Thank you for reading and until next time!