Hello there, fellow followers! It's been a few weeks again since we posted an update, and we thought it'd be nice for you guys to know what we were doing.
First Environment
We have been working heavily on defining and tweaking how PAZE will look, and to find a good way to get the best possible visuals with the best possible performance. The entire scene is real-time (and running flawless), which means that once we finish a map and bake the lighting, we will get a good performance boost.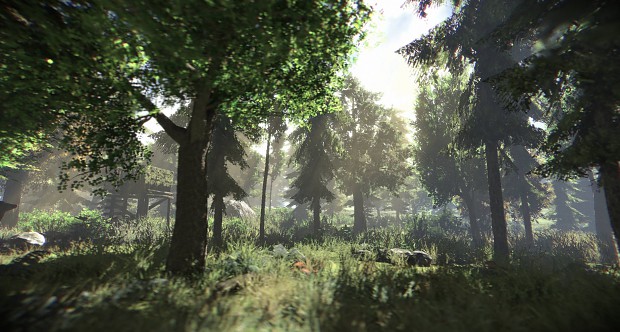 The environment has been created by Independentsoul (Postprocessing, Scene, Materials, Textures, Models) and me, Analdin (Textures, Models). It's still WIP though, as we are currently working on a street/path system, to ease creating the, well streets and paths ;). Also, the props, street meshes, houses, etc aren't in a presentable state yet, as we were focusing on the nature and foliage.
For those who want to read the technical side of it (and it is a lot of tech stuff you see in there ;) ), IndependentSoul is discussing that in his thread over at the UDK forums.
Music!
Our award-winning Composer and Sound Fx designer Kevin has crafted a main theme for PAZE, an Epic/Orchestral styled piece of art. Enjoy!
Future Plans
This update is a pretty small one, because we're heavily working on the game mechanics, to have a playable build soon; and the weapons and cars we have aren't in a presentable state yet. Though, we hope we will have a playable build soon, to record some game play for you guys (but before that, our next update will focus on the cars and weapons).
We are looking for talented people to join us!
OrangeCore is currently searching for people with experience in:
Vehicle Modelling
Weapon Modelling
Programming/Coding
Visit our recruitment thread to view the requirements and the list of abilities that'll give you a bonus ;). Take care!
- OrangeCore