Over the last few weeks I've continued programming the dev kit for my game, and the latest addition is the Entity Editor tool! This tool allows the user to create 3D entities for the game. All the settings for the entity can be easily edited, such as choosing the model and texture of the entity, and setting its ID. On top of that you can add multiple components to the entity, such as a collision box, particle effects, sound effect, and much more!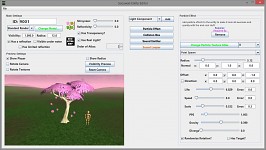 The two videos below show the entity editor tool in action! Have a watch and let me know what you think! I'll be releasing the dev kit in about one months time to anyone who would like to help create content for my upcoming MMO, so get in touch if you'd like to have a copy! Don't forget to subscribe to my Youtube channel for weekly video updates, and for more information about how you can get involved.
Thanks, and enjoy the videos!
Second dev log video: