Greetings Sinners,
It's that time of year again. No, not the holidays, it's Sins update Season! With a new mod breaking patch and cool new DLC released last week, once again I had to scramble to finish up some cool new features to release along with the updated version of the mod. Here's the breakdown of all the important changes.
It had been my policy not to mess with the pirates very much. I usually disabled the scalawags in my own games, and it seemed that for each person who wanted stronger pirates there was someone who wanted weaker ones. However, by popular demand I decided to look into the matter, and realized that SZ0, whose work already appears in this mod, had made some awesome hybrid pirate models. Since this is perhaps the only mod where Truce Amongst Rogues cannot be abused to easily exploit the pirates, I decided to add some rewards to players who choose the vanquish the pirate raiders, mainly access to a new hero unit, the Pirate Captain.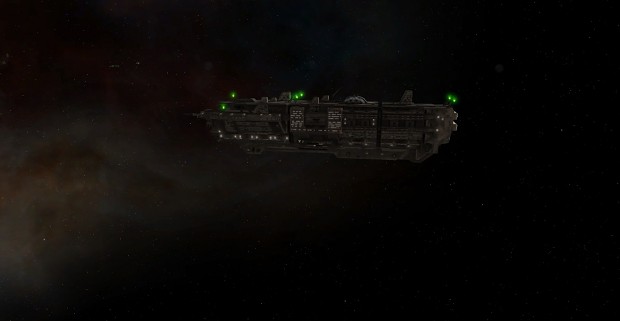 Commanding a modified Akkan battlecruiser obtained by ambushing the lone vessel and stranding its colonists, Pirate Captains are resourceful leaders with some rather unorthodox abilities. They can disable and capture ships, boost the firepower of nearby ships (at the expense of a lack of maintenance), place bounty on players that destroy friendly ships, and of course call in more pirate reinforcements. One spawns at each pirate base, and others may lead attacks on especially strong pirate raids. Players can recruit one to their side after capturing a new structure, the pirate outpost (first picture), at a pirate base planet. Unlike other heroes however, it is possible to have multiple Pirate Captains if you manage to become the overlord of two pirate bases. If you happen to take a pirate base from an enemy player, keep in mind you'll have to kill the existing pirate captain before a new one will come to join your side.
The pirate outpost will also allow you to hire pirate bands much like the TEC Rebel pirate mercenaries ability does in Vanilla Rebellion. However, it also makes the pirate base resistant to planetary bombardment while under control of the original pirate rulers, so using Novalith cannons to cowardly defeat pirates from afar will not work as well as it used to. In other pirate related news, you'll notice they occupy some uncolonizeable gravity wells more strongly than they used to, and pirates will send stronger raids to players with high bounties than before.
Stellar Phenomenon DLC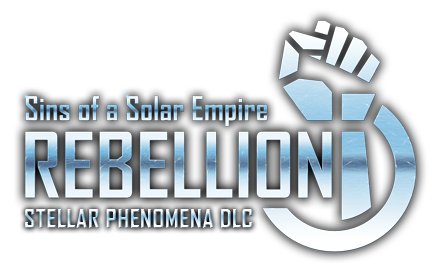 It appears Stardock is taking Rebellion in a more 4X direction with the 2 DLCs they've released so far, which is wonderful news for this mod. While as before you do not need this DLC to play the Enhanced 4X Mod, the 9 new celestial objects it adds fills a niche this mod and Infinite Space was lacking with the wonderful looking uncolonizeable gravity wells and stars, like the Antimatter Fountain and Pulsar. However, the big new addition was the random event system. Thankfully this new system appears to be extremely flexible, and while I did not add any new random events in order to update the mod as fast as possible, DLC owners can expect some awesome new additions in future versions. In the meantime, I'm sure the existing random events will compliment the 4X features this mods adds wonderfully.
On the other hand, this DLC has pretty much guaranteed the initial beta of Star Wars: Interregnum will not be released by the end of the year as planned, as I'll be spending some of the time that I had planned to work on it over the holidays making random events for Enhanced 4X instead. I apologize to anyone who was strongly looking forward to playing it soon, but rest assured I am still working on it and will release an early version with the Empire as soon as possible (I can already tell you it will be more polished than Requiem was in Diplomacy when you get a hold of it). Plus some these random events might very well be useful in Interregnum as well.
Other notable changes in 1.7 will be at least 1 new minimod, the non-Vasari Phase Gate mod. While the minimods won't be released right away with 1.7, once available this new minimod will let the TEC and Advent factions reverse engineer a Vasari phase stabilizer structure, letting them construct their own prototypes. While this is an extremely hard to get and expensive tech, and even once researched the prototype gates are much more expensive than the Vasari version, it helps the Advent and TEC compete on large maps where being able to jump between any two controlled planets is worth any price. If this is a very popular feature I may integrate it into the main mod.
Uncolonizeable Gravity Wells (including ones added in the new DLC) can now have planet bonuses like normal planets. Though the pool of possible bonuses is small since they don't have population nor can they be explored, it gives them some uniqueness to these otherwise similar gravity wells. Also, planet types added by the mod (like Inhospitable and Agricultural Planets) may now have bonuses added by the Forbidden Worlds for those with that DLC. Industrial and Cybernetic planets also new guaranteed planet bonuses that makes it cheaper to build ships at these planets, making even more valuable for a would be space emperor to control.
Hero Units have been reworked somewhat to behave more like I originally intended. Rather than needing to research somewhat arbitrary techs to get them, Hero units now have their own research that needs to be acquired to unlock. These techs are free and instant to complete, needing only some civic labs, but do require a certain amount of other research to be completed. Any techs will do, so you no longer need to change your playstyle and get techs you might otherwise not acquire. As a plus, the AI will now use hero units much more consistently with this system. Also, with hero unit techs much more clear, the old hero research overlay has been re-purposed to an Enhanced 4X mod overlay, so you can see at a glance which techs were added by the mod.