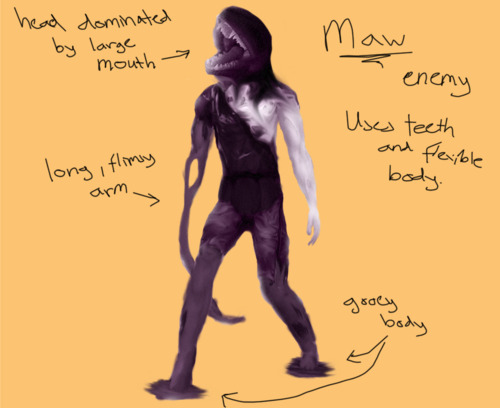 The proceeding picture is concept art for one of the creatures you will face inside the abandoned mansion. You've awoken here with four other people and now you must escape. The only way to do that is to survive.
This is the Maw. These creatures are of a basic intellect. They only have the sense of taste and touch yet they can sense your presence in the house.
As you play the game there are certain areas in which you can have random encounters (like the tall grass in Pokemon) and other areas of the house that are generated by conditional variables. You will never be truly safe, and as you maneuver the labyrinth of the mansion you will come into contact with either creatures or situations that test your fragile alliance with the other npc's. Trust is an obvious issue and feature within the game (hence the title "Akeldama: The Game of Trust).
The combat mechanics of the Maw are still being debated within my head. I want trust to take a step forward in combat. Obviously the Maw will use it's putty-like arms to create all manner of shapes and it's large "maw". I suspect that trust can come into play by the ability of the Maw to sense you and the other characters can give away your position. Would it be a good idea to make it impossible to flee from battle until you have disoriented the Maw enough to slip away quietly?
Does anyone have any suggestions to this system?