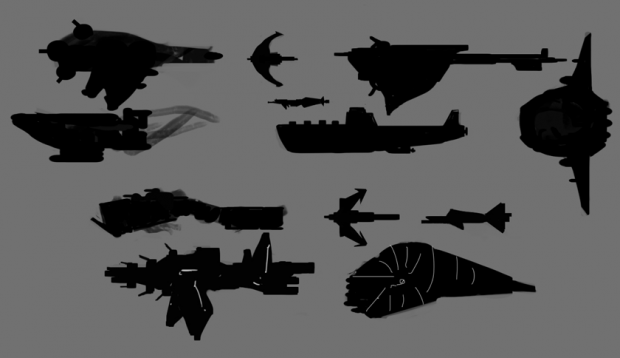 Hey hey!
My name is Teemu and im working as a concept artist and game artist for the game. I'm responsible for most of the designs in our game, some 3d modeling and quite a bit of texturing. We will probably be posting and talking about the design and look of our game every now and then so you can get a feel of how the game will end up looking and also for you guys to see our process of creating all the cool things for our game.
This time You'll get a look of the enemy set that I've been working on for one of our levels which is the water world.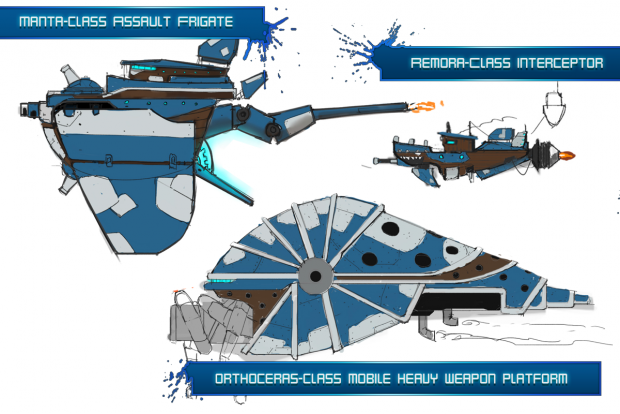 The water world is not set in space but on the surface of a planet covered in water and all the enemies are themed around marine subjects and animals from oceans. The idea behind these guys is that they are low tech, a bit quirky, rickety ships that are slow and clumsy but pack big guns. They are made of wood and plates of metal and they all have ship like cockpits. I wanted to give them the look that they're almost falling apart and not working very well and a lot of this personality will be shown also not just by the way they look but also by the sounds they make and how they are animated. So lots of loud bangs, heavy engine sounds, black smoke and stuttering and shaking. :)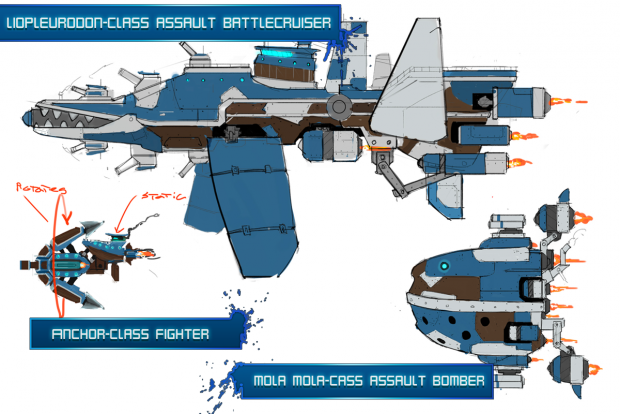 These guys were a lot of fun to design because they have such strong counterparts in the real world and very distinct ways of behaviour and this gave me a lot of cool ideas about the shape and details of each ship and I think they turned out quite good.
Anyway, look forward to seeing more concept art and other coolness from our game!
And remember! Why be a legend... When you can be a GALAXY WARRIOR!
- Teemu
---
You can also find us here:
www.facebook.com/stardustgalaxywarriors
www.stardustgalaxywarriors.com