So, it was almost the whole Summer since our last update. You might have guessed, that we were out of the project during vacations, well, that's true. It would be foolish not to use such an opportunity as to travel abroad and enjoy sunny days.
I used my recent trips to search some new ideas for level design, textures and even characters. After returning home we started to work on some of the aspects of Dark Pastime. Or should I say - continue our work?
Olgo made a wonderful job of creating new models for several non-player characters, that can be met on different missions during the game. Please, let me introduce some of them:
The Fearless Nikto
This humanoid aliens from Kintan are quite familiar now to all those, who played KOTOR, where they appeared to be one of the main enemies, especially on Taris, where Revan fought nikto members of the Black Vulkars swoop gang. As of late this species was reintroduced in the MMORPG Star Wars: The Old Republic, where a spacer comes across the aggressive Kintan Kings on Nar Shaddaa. Their very different physical appearance was shown both in Episode VI and Episode I.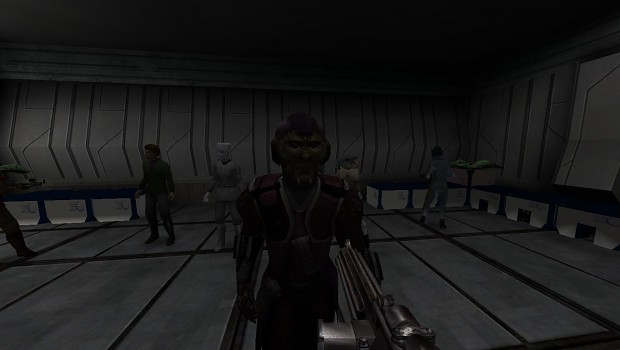 In Dark Pastime you'll have a chance of meeting the nikto species both as neutrals and foes. I promise, that at least one of these guys will be a notorious bounty hunter.
Too-Onebee
When it comes to battle, one must rely on his teammates, but he is also dependent upon the skills of a professional medic. 2-1B might be called like that, even though it's only a droid.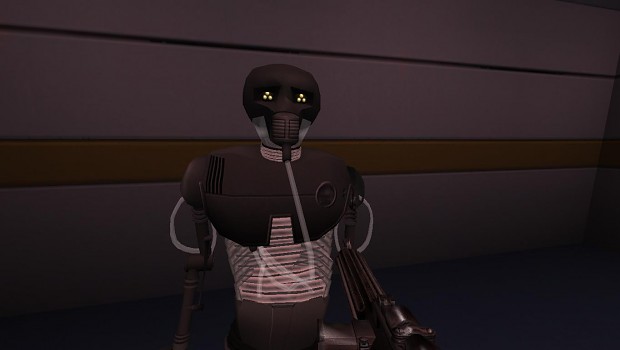 Star Wars offers a variety of different medical machines, but 2-1B is probably the most notable among many others. One such model was first seen in Episode V: Empire Strikes Back, where he helps Luke Skywalker to recover from injuries caused by extreme cold wind of the planet Hoth. 2-1B also helped the Jedi in attaching a cybernetic hand. One could also spot this droid in Episode III, where it assisted other meddroids in restoring the badly damaged body of Darth Vader.
I am not sure, whether you played The Phantom Menace video game, but in Dark Pastime 2-1B would have a role similar to the one in the game. Besides being a doctor after all (in Dark Forces II we could see him on Sulon).
I would like to tell more – about other new characters, but I'll introduce them in my next articles. Besides that I would like to unveil the fact, that there will be 2 downloads in the nearest future.
Interestingly, that rainy days might be just as inspiring as nice weather.