Hi everyone,
for last 3 years at different intervals I've been working on this project but sadly I just need to close this project. Im really sorry but I need to be fair towards you - this wad outdone my skills. I just can't complete that huge thing, through 2 years of development I made only 4 full levels and 1/4 of fifth map. When I started project, I didn't knew Doom Engine enough also I didn't knew what I can and can't do, so I wanted to create something HUGE but as I said it outdone me. Another thing that made it more diffcult was my private life, I just couldn't work on it regularly. Also I had few problems with my hardware ( for example: my SSD failed and I almost lost whole WAD).
Again Im so sorry for for abandoning this project.
What about future of WAD?
I'll upload WAD with last level to Moddb, and basically that's end of InSanity.
But don't get sad or angry, I want to create another Horror Wad, with most of InSanity features I think that 1 level map will be reasonable. But remember, at this moment it's just idea.
That journey was great!
I would like to thank everyone who helped with the work, who supported me, who supported the project, who advertised it, and every fan for everything.
Thanks to Wykop.pl community for feedback.
Thanks to Gaming Room for first review of WAD.
Thanks to Lenovo Polska for article about WAD.
Thanks to Wojti 2000 for help with starting project.
Thanks to ARHN.EU for talking about WAD on their DOOM 2 video on Youtube.
Thanks to Gry-online.pl for uploading WAD to their download site.
Thanks to Aquila Chrysaetos from Doom World for fixing half of my mistakes with resources.
sorry if I didn't mentioned someone
AND THANK YOU FOR PLAYING INSANITY!!!
sanemods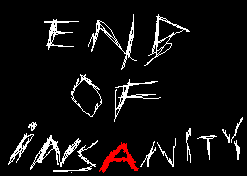 See you next time in 1947.